In a 17-and-under division loaded with some of the top club teams from Nike's EYBL, the adidas Gauntlet and the Under Armour Association, adidas' Game Elite 2019 may have put on the best show at the NY2LA Sports Summer Jam.
Playing up an age group, the Georgia-based squad rocks with perimeter talent to rival anyone they face.
Class of 2019 studs Ashton Hagans (#2 above), Josh Nickelberry (#20 above) and Christian Brown (#3 above) play the one, two and three, respectively, and each complement one another by bringing something totally unique to the court.
However, one thing remains the same amongst the trio.
"We just kill, that's our mindset," Hagans (below) says.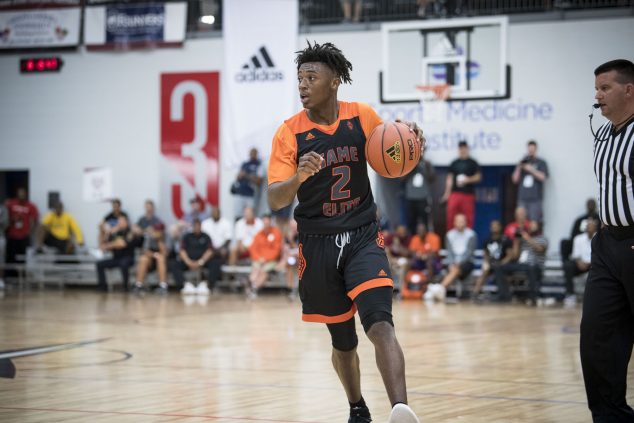 Hagans, a 6-4 five-star point guard from Newton HS (Covington, GA), is the head of the attack with the 6-4 shooting guard Nickelberry (Oak Hill Academy; Eastover, NC) and the 6-6 five-star small forward Brown (AC Flora HS; Hopkins, SC) on the wings.
With unique size and strength for the point guard position, Hagans utilizes a tight handle with a fearless disposition on the court to attack defenses by getting into the lane seemingly at will. His vision and passing ability seem innate. All that combined make him one of the top point guards in the class of 2019, and highly coveted by big time programs.
Hagans says he isn't as focused on which schools are in the stands since he's been getting recruited since ninth grade. Instead he wants to improve his midrange and three-point shot to make him a more complete player. For now, he's happy just spreading the wealth to his running mates.
"Really, I have the same mindset every tournament," Hagans says. "I want to come play and get my teammates involved."
Getting Nickelberry and Brown rolling, along with high major teammates like Jaykwon Walton or C.J. Walker, was key for Game Elite's early success at the Summer Jam. In their debut against CIA Bounce, Nickelberry put on a show from three-point land and in transition while Brown wowed the crowd with his aerial assault on the rims.
Game Elite fell late in the playoffs after Nickelberry broke a finger and had to miss the remainder of the game, but not after he had showed out a couple times in front of UNC head coach Roy Williams – who has been recruiting him heavily.
Brown is one of the most explosive athletes in the prep hoops ranks, and is a highlight waiting to happen in transition. He said his favorite player is LeBron James, and had a few LeBron-esque chase down blocks on fast breaks. While he did make some shots from the perimeter, shooting is clearly the one area he has the most room to improve. Defensively he can guard anyone on the perimeter.
Much like Hagans, Brown (below) knows there's still plenty of work to do in order to take his game to the level he aspires to.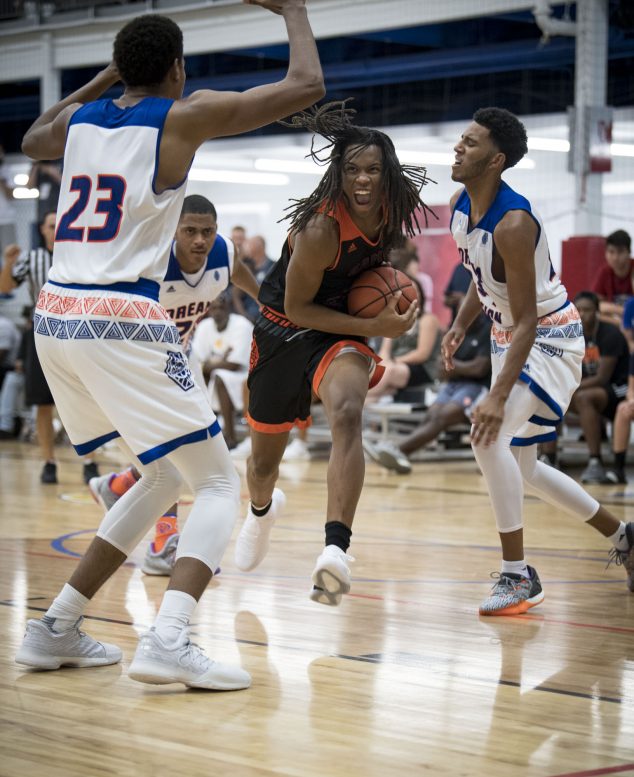 "People say my skill set needs to match with my athleticism, so I want to work on my ball-handling and my dribble pull-ups," Brown says. "I have to slow the ball down some times and have a better basketball IQ."
Brown is still relatively raw because he categorized himself as a receiver and defensive end up until the sixth grade when he started to take hoops seriously. Despite a rocky start on the hardwood, he found his groove and has quickly ascended into one of the best prospects in the Class of 2019.
"I started playing center, and I wasn't good at it," Brown says with a smile. "Then I went from that to a shooting guard and small forward after being in the gym non-stop. I was unranked and unknown, then I got ranked in the top 10 or 15 and got over 20 [scholarship] offers. It's all just a blessing.
"For me, I think about it every day that I never thought all this would come. I love my mom, who's a single mother, and I love my sister. So with all this coming on, I just never thought it'd be like this."
His dedication to the sport turned his early dreams to reality, and this past June it hit him like a ton of bricks.
"I was at the NBPA Top 100 camp on June 15th when the coaches could start contacting me, my phone was blowing up," Brown says. "It was exciting to just hear from coaches who are Hall of Famers and stuff like that. They're coaches and teams you look up to growing up, so when they started calling me that's when I knew it was real."
While Nickelberry will miss the remainder of the summer circuit with a broken finger, Hagans, Brown and the rest of Game Elite 2019 will take their road show to Vegas this week. If the three-headed monster remains intact next spring and summer, and they continue to work towards the improvements they've identified, they will be of high priority to high major programs attending AAU games.
For basketball fans, they will have plenty of chances to see their talents on display long after next year's club circuit.
(Photos courtesy of Todd Burandt/adidas)