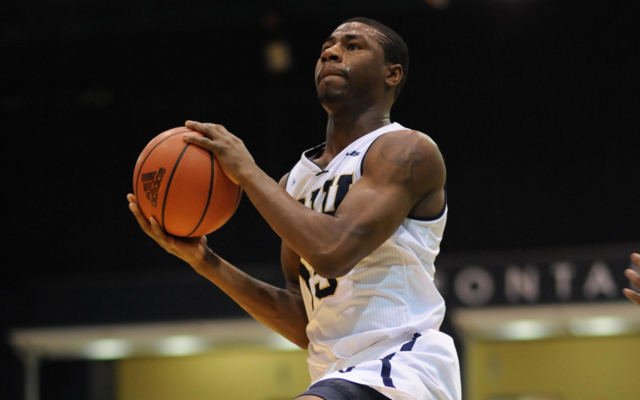 When asked if he ever got a chance to talk to his across-the-street neighbor Stephon Marbury growing up, recent Florida International University graduate and Brooklynite baller Tymell Murphy exclaimed, "Of course!"
"Having him talk to me, having him know my name—I was just amazed that a caliber player like himself would take the time out to talk to me, give me advice and stuff."
Growing up in Coney Island, Murphy lived within the same 10-12 block radius as Marbury, Sebastian Telfair, Lance Stephenson and Quincy Douby. He played in Marbury's tournaments with the former NBA player's nephew. Marbury gave his nephew's team pointers, and that experience stuck with Murphy forever.
When he was young, the only exposure Tymell had to basketball was the Knicks game on television his uncle made him watch. But when he turned 9, on a day he missed school with his older brother and a friend, Tymell picked up a basketball and shot around for the first time.
"And from that day on, every day I would try to play, play, play. I mean, I wasn't that good or anything…but I grew a special bond and love for the game after that."
Murphy's love for the game knows no bounds. The passion, the excitement, the competition, the one-on-one—everything. The only thing he dislikes is not playing.
"When I'm not playing, that's my least favorite part. I always wanna play, I love playing the game."
But love and passion don't always guarantee a smooth ride.
Upon entering Grady High School, Murphy stood at 5-9 or 5-10. When he walked into the gym, he saw a kid a good foot taller than him dunking the ball.
"I was like, Wow, there's no way the coaches here are gonna let me play over a guy like that. That kind of struck my confidence a little bit. But I still loved the game. I still played the game."
Where love and passion can't take you, determination and hard work can.
"After my fourth year of doing nothing at Grady, I had four credits in four years—it just wasn't looking too good for me when it came to school. But I kind of felt the determination, and something clicked with me. I made a decision of what I wanted to do with my life and the way I wanted to be and what I wanted to achieve."
That was when Peyton Mullings, a player at Grady, told Murphy about an alternative high school, Brooklyn Academy. Murphy transferred there with a clean slate. He finally put on a uniform and played the game he loved for himself and, after six years in high school, earned a diploma for his mother.
After high school, Murphy played at Mohawk Valley in Utica, NY, without a scholarship, where he was Third-Team All-American. He wanted to take his game to the next level, so he moved down to South Plains College in Texas. There, Murphy played with guys like Marshall Henderson, Stanton Kidd, Derrell Edwards, Greg Gainey and Yanick Moreira. The team went 36-0.
His success at South Plains caught the attention of FIU's then-coach Richard Pitino, son of Louisville coach, Rick Pitino. After getting the offer from the Division I school, Murphy hit the ground running to Miami to play at FIU. He became First-Team All-American and helped lead his Panthers to the 2013 Sun Belt Conference championship, where they lost by only two points to Western Kentucky.
Despite FIU's post-season ban this year, Murphy decided to stay with the school. He finished the year only 16 shy of the 1,000-point milestone and with a university diploma in his hands.
"It was a good ride for me, it was good times for me. I appreciate FIU and Coach Pitino and Coach Evans who gave me the opportunity to play Division I basketball, because that was my dream all along."
Now, Murphy prepares for the 2014 NBA Draft. He's in the gym each day, readying himself for NBA workouts, talking with his agent, and enjoying every step. If the NBA isn't his calling at the moment, Murphy knows there will be a place for him in other professional leagues.
"[I'm] just having fun with the process, working hard everyday, and letting God handle everything else."
That's been Tymell Murphy's journey so far. While no one can legitimately predict the exact future, when you ask if he's ready for whatever comes next, don't be surprised if he again exclaims, "Of course!" in response.
130