by Martinis Jackson / @Insiders13
Humble and Hungry—two words that have epitomized Under Armour's meteoric ascendance up the ranks of the summer basketball scene, a landscape that has historically been dominated by their apparel rivals: Nike and adidas. To be fair UA is not a complete stranger to grassroots basketball, they have a longstanding partnership with the NBA's player's association, sponsoring their Top 100 camp and have served as sponsors for local teams and event managers on the AAU level. However, last year the Baltimore-based company made a strong statement to its competitors that they are here to stay with the talent level in its youth circuit, the UA Association.
The rise paid immediate dividends as the Association traveled around the country showcasing some of the nation's top talent, including the likes of 2016 ESPN #3 Josh Jackson; Canadian star Thon Maker; 2016 ESPN #10 Markelle Fultz; 2017 ESPN #1 DeAndre Ayton, 2017 ESPN #5 Trevon Duval and 2017 ESPN #7 Billy Preston to name only a few. The players were as impressed as spectators.
"It was great and I had fun," says DC Blue Devils and Washington University commit Markelle Fultz. "There was great competition every game I played. The crowds were good; college coaches were at every game they could come to. Scouts were everywhere."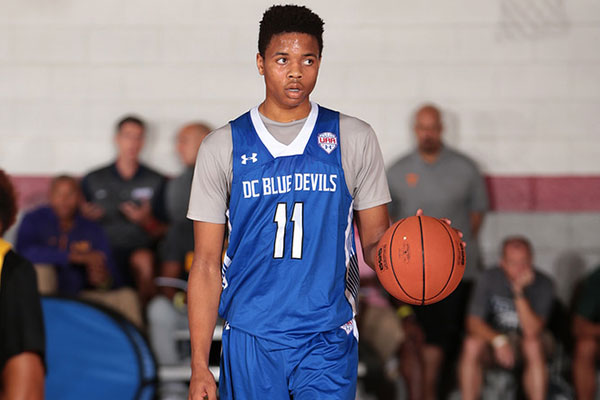 Temple signee & DC Premier point guard Alani Moore adds: "Every game was competitive and I had to show up every game to win!"
The Association consists of two conferences, aptly titled the Humble and Hungry divisions. Similar to Nike's EYBL and adidas' Gaunlet series, teams in the Association participate in multiple regular season sessions spread across the states in hopes of securing a spot in the championship tournament held in Atlanta in July.
However, unlike EYBL and Gaunlet, UA teams compete solely within their conference during the regular season making the final tournament even more unpredictable as certain teams meet for the first time in the finals.
UA has even higher expectations for the Association this upcoming season. With new regular season sites in Indiana and Los Angeles to replace last year's destinations in Louisville and New Orleans, this year's Association will give athletes exposure to all four regions in the U.S.
As expected, the season will also see newcomers.
"We really looked in those areas in the U.S. where we may not be as built up as we would like to be or simply have no representation," explains UA grassroots executive Chris Hightower. "Washington Supreme is a program that will compete. It is one that was merged together [from other local programs]. There is also Team Rio out of New Jersey and we have Oklahoma and Texas programs coming into the fold."
Despite many critics citing the dawn of AAU summer hoops as the source of the demise of fundamental basketball, Under Armour maintains that one of its goals is to make the game better.
"I think you hear a ton of talk about how AAU is destroying the kids and no one is teaching anything," says Hightower. "I think for us, we hear it and want to be a part of the solution and not the problem. Everything we are doing on the grassroots level is emulating that next step, being in college."
Nothing exemplifies these efforts more than Under Armour's Stephen Curry Select 30 Camp. The guard-centric, invite-only event follows a curriculum developed by Curry, his father Dell Curry and a host of elite coaches and trainers from around the country. Players analyze game film, participate in training sessions and have hands-on guidance from the reigning MVP himself as well as current elite college players. That camp is followed by Under Armour's very own All American camp, which provides its players additional exposure during the recruiting live period.
UA's leadership and execution has brought the goal of becoming the elite provider of grassroots basketball competition well within reach. One example of that success is demonstrated by their progress with the NBPA Top 100 Camp.
"We've been able to grow in leaps and bounds, from 2010 when we first had footwear and having kids select what shoes they wear, we would have less than five kids wanting to wear our shoes," recalls Hightower. "Now, in less than five years, we are 100% compliant having kids in all Under Armour footwear."
The next frontier for the Association appears to point towards securing a coveted broadcasting deal to have their premier events televised on the national stage akin to their peers.
"I think for us we want to make sure we can maximize exposure period," adds Hightower. "Most kids want to play on TV and some of these networks are looking for content during those summer months."
Paradoxically, UA's greatest challenge of being the newcomer in a mature market predicated on established brands may serve as its most considerable asset in attracting this new generation of shoe consumers.
"So many kids will have competitor products just because they have been around so long," says Hightower. "We want to educate the kids and help them understand what our brand is about. I think the more we do that the more they will want to be in the brand on their own [accord] and will want to go out and support the brand. This generation of kids is unique in a sense that they don't want to be like everybody else. They want to be different, they want to be special. For this generation, it's cool to be different."
UA Association 2016 Schedule
April 15-17 – UAA Session #1 – New York, NY *NCAA certified pending
April 22-24 – UAA Session #2 – Westfield, Indiana *NCAA certified pending
May 28-29 – UAA Session #3 – Los Angeles, Ca.
June – NBPA Top 100 Camp – TBD
June – Stephen Curry Camp – Northern California
July 5-8 – UA All-America Camp – Charlotte, North Carolina
July 13-16 – UAA Finals – Atlanta, GA *NCAA certified pending
August – Elite24 Game – TBD
(Photo Credit: Kelly Kline/Under Armour) 
795