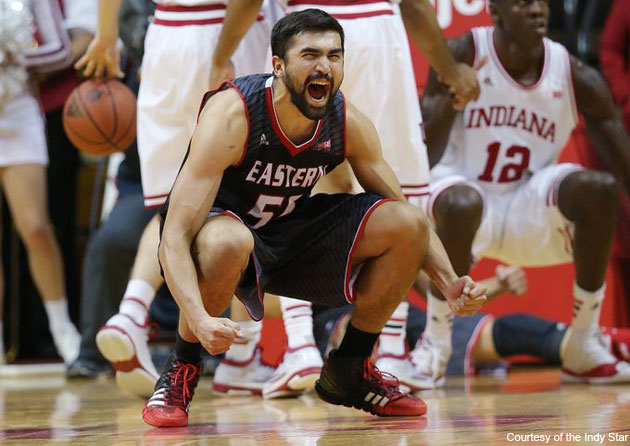 It's hard to get excited about the weather in Cheney, WA, during basketball season.
But when Venky Jois, a kid from the Melbourne suburb of Boronia, in the Australian state of Victoria, was deciding upon a college, something resonated about the atmosphere Jim Hayford was fostering at Eastern Washington. With uncanny camaraderie, Jois could do without much sunlight from October to March.
"A lot of schools can offer you things, but it's often the same thing," Jois says. "One thing that does stand out to you is the character of the coach and the character of the team. When you're playing away from home, you want a family."
And so, this 6-8 bearded bull of a junior forward, named after his grandfather Venkatesha, who comes from a family of biologists and is on a pre-med track of his own (he loves biology and basketball) became an Eagle.
When he spoke to SLAM, Jois was minutes removed from helping Eastern Washington to a gritty 81-76 road win over the University of San Francisco. He'd finished with 15 points, 11 rebounds, 2 assists and 2 blocks.
Jois is the Eagles' tallest starter. He's already the program leader in blocked shots, with 139. While his range extends to 18 feet, he is at his best offensively taking his man off the bounce. A shoulder shimmy here, a spin move there, and Jois is finishing at the rim. Damned uncanny. And a big reason why he's hitting 67 percent of his shots so far this season.
When he took the job in 2011, Hayford had recipe for building up Eastern: recruit overachievers. Kids well-versed in pushing themselves to their limits, undaunted by the fact that the groundwork will be laid in the dark.
Embracing the process: funny how it makes success taste that much sweeter.
At 8-1, Eastern Washington is off to its best start in 38 years. Jois has had a line on that number of late. Entering the USF game, he'd posted back-to-back 38-point games, playing his trademark brand of basketball.
"I'm an energy player. I just love the game," says Jois.
He's a living testament to Newton's third law. In fact, he's a perfect Eastern Washingtonian twist on it. For every action dude takes on the court, his reaction produces a reaction that's even more awesome. Take the end of the game against USF.
With just 3 minutes, 10 seconds remaining, the game was tied at 67. Here's what Jois did, when play resumed:
– coupled with Eagles forward Ognjen Miljkovic to deny a shot attempt by Dons forward Kruize Pinkins
– converted a three-point play over Pinkins,
– fired an assist for teammate Parker Kelly's three-pointer
– emphatically blocked a shot from Dons guard Tim Derksen
Unsurprisingly, after this whirlwind of impact, Eastern Washington had emerged with a lead it would not relinquish. And each play was followed by Jois-ian exhortation.
Let's GOOO!! THAT'S what I'm talking about!! WHOOO!!!
Jois's output is such that he doesn't even need to be on the court to provide energy. "When I'm on the bench, I'm the first one cheering," he says. "We just have so much chemistry that this season, it really feels like it's special."
In 2013-14, the Eagles were the winningest team in 26 years not to make the Big Sky conference tournament. But Jois and his teammates felt they ended the season playing better basketball than they had at the start.
It's helped explain this 2014-15 beginning, which includes three true road victories—one of which was particularly special.
All you needed was Indiana coach Tom Crean telling reporters, after a certain upset in Bloomington, "That's what attack basketball looks like."
An 88-86 win that will long live in Eastern lore. Hoosier faithful, stunned into submission, couldn't wait to see the back of Jois, who'd poured in 20 points, 14 rebounds and 5 blocks. The collective feeling after snapping IU's 43-game non-conference home win streak?
Before the question is even finished, Jois responds, "Crazy."
"I can't even describe it," Jois says. "It was definitely surreal. You have 11,000 people, or something like that (the final attendance was 11,636) and it feels like the stands go on forever, and when the ball dropped and the siren went, and the place has gone from deafening roar to complete silence, and all you can hear is your teammates, who'd been cheering you on the whole way, and now you're the ones making all the noise? That's a pretty cool feeling. It seemed like it was us against everybody, and to come out on top…you gotta love it. You gotta love it!"
Hayford calls this team "the little engine that can." He made a point of telling the Eagles that the Indiana win represented everything they had worked for these past few years.
So, in these upcoming cold winter months in Cheney, Eastern Washington's brand of "attack basketball" will forge on.
You might have thought Jois and company might enjoy a brief respite in San Francisco's historically temperate winter climate. But no—the worst storm seen in three years greeted the Eagles ahead of their USF win.
No matter. Eastern Washington will be back down to the Bay to face Cal on December 19. Better weather may yet await them.
Jois' favorite part about Cheney? Definitely not the weather. But when the team is mentioned, he warms immediately. Hayford has assembled a roster where a 7-1 redshirt center from Germany (Frederik Jörg) becomes fast friends with a 6-1 redshirt freshman from Las Vegas (Sir Washington). Coaches talk as much about star guard Tyler Harvey's 3.8 GPA as his 20.4 points per game.
You often hear of camaraderie when covering a team. Then you see Jois, currently averaging 21.1 points, leaping to greet his teammates in a huddle on the rare occasion he finds himself on the bench.
Hayford has referred to this non-conference flourishing as the moment when "the flower comes out of the ground." The biologist in Jois can certainly enjoy that metaphor.
And the best part about this 8-1 start?
"It's really, really fun," says Jois. That goes for viewers, too.
177