A buzzer-beater to win a National Championship. That's something you don't easily forget. It's hard to erase from your memory moments like Kris Jenkins sinking a three-pointer to give Villanova its first NCAA title since 1985. But it's even harder to forget about it when you're part of the moment. Like Villanova coach Jay Wright, who after not even flinching when Jenkins' shot fell, shared emotional hugs with his coaches, his family and Rollie Massimino, the 1985 Villanova coach and Wright's former boss. Or his players, who joined him for celebrations that included a parade in Philadelphia, a trip to the ESPYs in Los Angeles and a visit to the White House to meet the president.
But as difficult as it may seem, forgetting about all of that is exactly what Villanova is trying to do. It's the only way, the Wildcats believe, they can do it again.
"In order to win a second one, you can't really think about the first one," Jenkins says. "We're pretty much starting from ground zero, and we have to build it back up."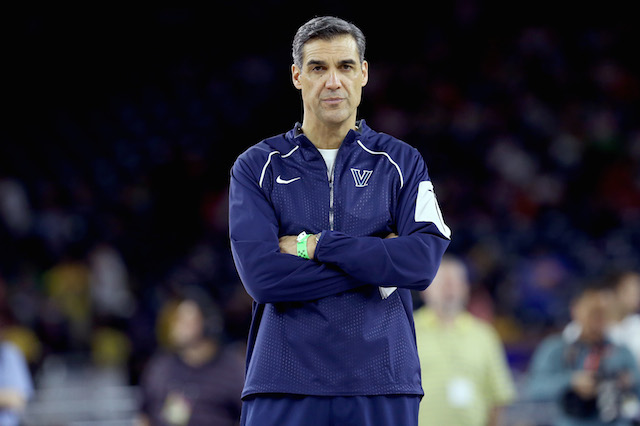 Those who don't know Jay Wright well might mistake him for George Clooney. His finely tailored game day suits, salt-and-pepper hair and tan skin have earned him the nickname GQ Jay. "You walk into his office and he's dressed nice and has his legs crossed," says Villanova senior Josh Hart. "He looks smooth." Wright swears he's most comfortable in track pants and a polo shirt, but his "respect for the game" forces him to wear a suit.
On Villanova's campus, there's no mistaking Wright. He's been the head coach for the last 15 seasons, but his history with the school dates back to 1987, when Massimino says he hired him as an assistant because "the clock didn't mean anything to him—he worked from early morning to late at night." Wright's a local celebrity, born 40 minutes from Villanova, and can often be seen driving around campus in a golf cart with his sunglasses on, waving at the students who shout his name.
Those who do know Wright well talk about how much he cares. As much as his time is in demand, he gives students and alumni his full attention when he interacts with them. "He's a fantastic ambassador for Villanova on every front," says Villanova athletic director Mark Jackson (not that one). He cares deeply about the school, and that's why he was so shook when the Big East Conference realigned in 2013, shuffling schools like Syracuse and UConn out, and leaving Villanova in uncharted waters.
"I was crushed," Wright says. "Even in the first year of the Big East, it just didn't feel right to me. It's like a long marriage—you don't just forget about it. It was still deep in my soul the first year."
Much of Villanova's identity comes from its basketball program. It's a private Catholic school less than 15 miles west of Philadelphia that has an enrollment about one-third the size of basketball powers North Carolina and Kansas. It doesn't have an FBS football team and gained most of its national recognition when it won its first title in 1985. "I come across people who always tell me where they were in 1985 when we won," says Ed Pinckney, the star of that '85 team.
Wright and Villanova have become the models of success in the new 10-team, non-football Big East. They've won the regular-season title in each of the league's first three seasons since the realignment and brought the new-look conference its first NCAA men's basketball title. Meanwhile, Wright has been voted Coach of the Year every year of the new league. "Jay, given the kind of guy he is, how long he's been in the conference, and what he just accomplished, is like the dean among [the Big East coaches]," says Big East commissioner Val Ackerman.
While he's enjoyed the last few months, Wright has officially flipped the page to the 2016-17 season. It's shaping up to be another good one, as Villanova returns three starters and six rotation players. The Wildcats figure to be one of a handful of pre-season national title favorites, but the odds are still against them. Only two teams have won back-to-back titles since 1973—Duke in '91 and '92 and Florida in '06-07.
"We used the analogy of climbing the mountaintop," says Donnie Jones, a Florida assistant on those teams. "The path was going to be different. The second year was going to be like climbing Mount Everest."
Villanova is the first title team since Florida to return its top two scorers (Hart and Jenkins), which makes the Wildcats the biggest threat in a decade to repeat as champs. But Florida brought back all five starters—not three like Villanova, and didn't have to place young players and freshmen in new roles. So while Wright reached out to coaches like Mike Krzyzewski, John Calipari and Bill Self for advice on life after a title, he avoided consulting longtime friend and former Florida coach Billy Donovan about how to prepare for the season ahead.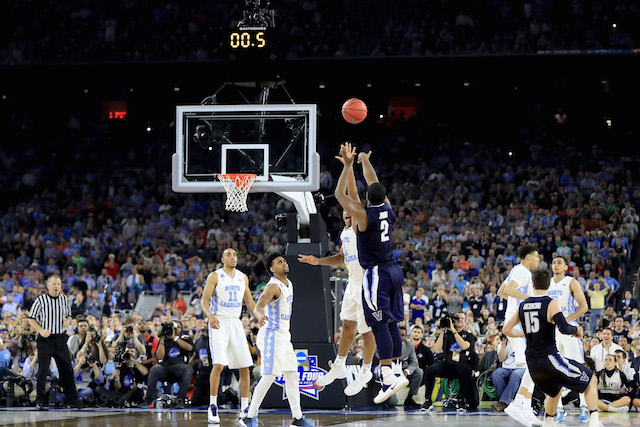 "I don't want to compare our team to that team," Wright says. "I purposely did not ask him about that because I don't want that to be our thought process. I want it to be a result of being the best team that we can be, and that's something we've focused on."
A new team starts with new leaders. While Villanova's two leading scorers return, last season's two senior leaders, Ryan Arcidiacono and Daniel Ochefu, have graduated. Both were instrumental in last year's NCAA Tournament run, but Archie's voice in particular will be missed—the guard was a team captain since his freshman year. Wright said the first summer meeting without those players was "eerie," but he's looking to Hart, Jenkins and senior Darryl Reynolds to fill the void.
Of those three, Jenkins—he of the hero three-pointer to beat UNC in the 2016 title game—will likely have the toughest time forgetting about last season. Jenkins, who when he was a kid used to say all he wanted to be in life was a good person, has become an overnight celebrity. Wright says the extra attention worries him. Jenkins was already the team's most active player on social media (something Wright asked about when they recruited him), and the senior forward says, "celebrities now know who I am." So, Wright's advice to Jenkins, whom he calls the team's most natural leader? "It's going to be a part of you for life, but don't make it the greatest part of your basketball career. Do other great things."
Jenkins is a typical Villanova success story—an under-recruited player who has evolved into a star. The 6-6 senior was 280 pounds when he showed up on campus. He's down to 240 now. As a junior last season, the man they call "Big Smoove" because of his size and style of play more than doubled his scoring average from the previous year (6.3 to 13.6 ppg) and hit 100 three-pointers. He's evolved into one of college basketball's best and most fearless long-range shooters, which is something he credits his mom, Felicia, a former college basketball coach herself, with developing.
"She didn't allow me to shoot deep shots until I was strong enough and didn't have to wind up or push the ball," Jenkins says. "That transitioned into always having a good base. When you have a good base you can shoot from anywhere."
The other guy expected to do much of the heavy lifting is Hart. The 6-5 wing is the team's top returning scorer (15.5 ppg) and rebounder (6.8 rpg) and was one of the last players in the country to remove his name from NBA Draft consideration. He's a potential first-round pick that some are pegging to be this year's Buddy Hield. "I would love to call Buddy right now and see what he ate last year to make that happen," Hart says.
Off the court, he's a funny dude who plays pranks on his teammates and seems to laugh his way through conversations. On the court, Hart plays with plenty of his last name, as he's "the hardest playing guy on the floor," according to Jenkins. And forgetting last season shouldn't be too difficult for Hart, who already had to forget how much he hated Villanova growing up.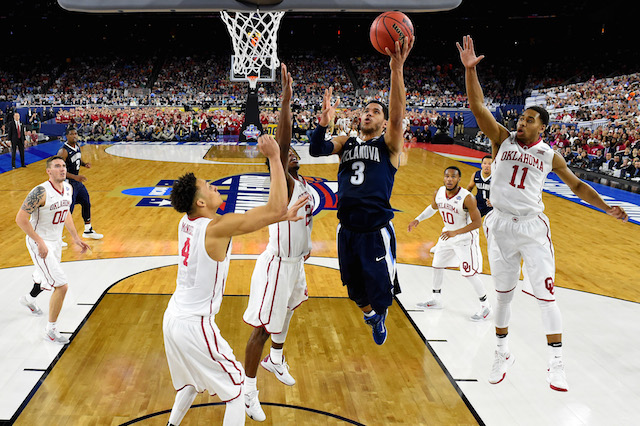 "I was a Georgetown guy," Hart admits. "I didn't know too much about Villanova, but I didn't like them at all. It's a little bit of a difference now."
While Hart and Jenkins will get most of the hype, it's sophomore Jalen Brunson who could be the key to his team's success. A former McDonald's All-American and the son of ex-NBA journeyman Rick Brunson, the Illinois native is set to become the next great Villanova guard. He's also one of the reasons that this Villanova team is different than last year's. Although he started as a freshman, Brunson was the team's fifth option on offense (9.6 ppg). Now he's one of the Wildcats' go-to guys.
"He sacrificed a lot to fit his game into everyone else's," Wright says. "This year we need him to be a little more dynamic and a leader on the floor, and that comes a little more natural to him."
Jenkins, Hart and Brunson give Villanova some consistency in the starting lineup, but that only tells part of the story. The Wildcats' depth is the main reason the team enters 2016-17 with such high expectations. Reynolds is a senior leader who is tough to move off the low block. Junior Phil Booth had a team-high 20 points in the NCAA title game. Sophomore Mikal Bridges is the team's top on-ball defender and a developing scorer. Newcomer Eric Paschall (a transfer from Fordham) is projected to have an instant impact. Redshirt freshmen Tim Delaney and Donte DiVincenzo are capable role players if opportunity arises. Even without five-star freshman Omari Spellman (academic redshirt), the 'Cats are deep.
The pieces are in place for this team. A different team, but one with the same goals and the same process as last season. Nova has a chance to win it all again, and talk of a repeat will follow the program all season. But the Wildcats won't be starting any of that conversation. Last year, and all the joys that came with it, is over for Villanova.
"We're not playing like defending National Champions," Wright says. "We have to build this team to be the best team it can be by the end of the year, and we have to be satisfied with what that is."
—
Images via Getty