Mouth of Wilson, VA, is one of the last places most would think to answer if asked which American city churns out top-level ballers on a yearly basis. The small town with a population of roughly 1,300 sits just north of the NC-VA border. And it happens to be home to one of the best, most storied high school basketball programs in the nation: Oak Hill Academy.
Since 1993, the tiny school of around 150 students has finished its season as the No. 1 HS team in the country eight times under the tutelage of head coach Steve Smith. The list of players who spent time at Oak Hill is long and impressive. Carmelo Anthony, Michael Beasley, Kevin Durant, Stephen Jackson, Brandon Jennings, Ty Lawson, Rajon Rondo, Josh Smith, Jerry Stackhouse and Rod Strickland are just a few of the many players who have suited up at Turner Gym before making their way to college and the NBA.
Unlike most traditional basketball programs, Oak Hill, part of Jordan Brand's Class of XXXI, travels the country playing the best teams in the nation, with a roster that features some of the top prep players from both the US and Canada. A small town in the middle of the Blue Ridge Mountains isn't exactly a prime location for a teenager, but the allure of the NBA and a shot to prove yourself against intense competition is enough to convince a handful of teenagers each year to pack up everything and leave their hometown for a shot at basketball greatness.
This season's squad boasts four seniors who are ranked in the ESPN 100, and after going 45-1 and winning the DICK's Sporting Goods High School National Tournament in dramatic fashion at Madison Square Garden in 2015-16, the Warriors are thinking repeat.
Big man Billy Preston, a Kansas commit and one of the most versatile players in the country, landed at Oak Hill after attending schools in Southern California and Dallas. At 6-10, 230, Preston has the ability to grab a defensive rebound, go coast-to-coast and finish with authority. The Los Angeles native, who is currently ranked No. 19 in the ESPN 100, isn't short on confidence. He told USA Today, "There aren't 19 players in the country better than me."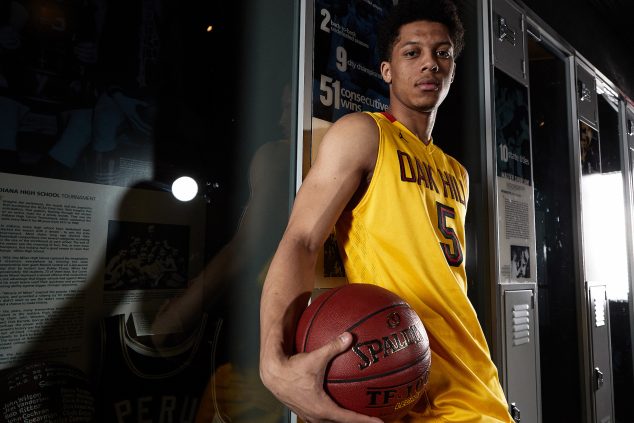 Guard Lindell Wigginton (above) is the first hooper from Canada to play at Oak Hill. The 6-1, 165-pound future Iowa State Cyclone hails from Dartmouth, Nova Scotia, and led the team in scoring the past two seasons. In last year's national championship against La Lumiere (IN), Wigginton converted a huge three-point play in OT to help push Oak Hill to a 62-60 win. "He's probably our best player right now," Smith told Canada's The Globe and Mail. "Lindell is a fierce competitor, you can see how he plays. He's aggressive. He doesn't mind getting hit, when he goes to the basket he wants to get hit, he wants to go to the foul line, he wants three-point plays. But he can shoot, too, he shoots pullups, he's got the whole game."
Wigginton's backcourt mate, Matt Coleman, is a smooth floor general who made his commitment to Shaka Smart and Texas during the Hoophall Classic in mid-January. Dishing out 6.1 assists per game for the Warriors, Coleman has a similar flash to his game as fellow lefty and Oak Hill alum Brandon Jennings, and is the setup man the Longhorns have been missing during Smart's tenure. "It's the perfect fit," Coleman (below) told ESPN. "I'm a point guard who makes plays."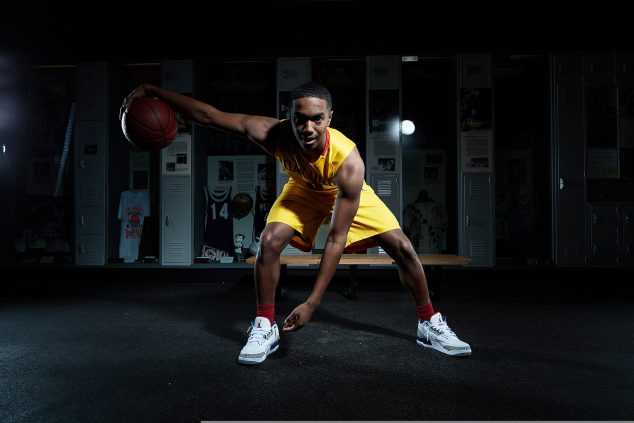 Ty-Shon Alexander, a 6-4 shooting guard who is on his way to Creighton, is the team's long-distance threat—he's shooting 40 percent from three-point range on the season. The Charlotte native earned his rep as a clutch player when he hit a buzzer-beating three-pointer to take down Sierra Canyon (CA) last season.
With a record of 32-4 record, Oak Hill ranks top-10 in the country this season just like they do every other year. Though they've already suffered four losses, it's been more indicative of the rigorous national schedule they partake in than anything else. Competition like this is the reason why so many Oak Hill players go on to have successful basketball careers after high school. To be the best, you have to play against the best. Oak Hill players learn that at a young age.
In early February, the Warriors snapped the Ball Brothers-led Chino Hills (CA) High 60-game winning streak in a comeback victory that saw them erase a double-digit deficit to pull away with the 96-91 win.
More important than going up against the best teams in the nation, Oak Hill offers kids a chance to get their minds right and focus on nothing but hoops and academics.
"Oak Hill is really just about books and basketball," Preston told USA Today. "No cellphones, no reception, my mom who I've been around every day my whole life isn't around, nothing. It's just woods and mountains and the gym. It's made me grow up a lot."
(Photos: Jon Lopez/Basketball Hall of Fame)