It's 2014, and 18-year-old Emmanuel Mudiay is learning about a new city. As he tries to familiarize himself with Guangdong in Southern China, he dabbles in learning a little bit of Mandarin, embracing the new culture, dealing with the bumps and grinds on the basketball court and the attention a blossoming star gets off of it.
It's 1999, and 3-year-old Mudiay has picked up a basketball for the first time in his life. He knows what the round object is, but beyond feeling the texture of the ball, he doesn't think much of it. In Kinshasa, the capital of Congo and Mudiay's birthplace, there are more pressing matters to consider, like the Second Congo War, which turns into the deadliest conflict on Earth since World War II.
It's 2002, and Mudiay has a basketball in his hands again. He's 6 years old and playing in his first organized game. The texture of the ball may not have changed as much, but everything else in his life has. Mudiay's family has left the violence and the hunger of central Africa behind them. He's in Dallas, TX, settling into a new country, a new culture.
We're back in 2014, and that bouncy ball has changed his life. Mudiay has just wrapped up his stellar high school years as a consensus All-American, and convinced scouts that he is set to become one of the NBA's top Draft picks. He seems to be destined to take the popular one-and-done route through college. He has even committed to the SMU Mustangs. Only, he decides to break from tradition, refuses to let NBA rules determine his chosen path, forgoes college and goes pro.
In November of 2014, Emmanuel Mudiay plays his first official professional game of basketball, representing the Chinese Basketball Association's (CBA) Guangdong Southern Tigers. A few months before the start of the CBA season, Under Armour inks him to a lucrative, multi-year contract that will span his time in China and a (hopefully successful) early NBA career, reaffirming the faith of many in the young guard's potential.
Before an ankle injury sidelines him just 10 days into the season, Mudiay shows glimpses of dominance for a team with championship aspirations.
Mudiay's China adventure took a twist toward uncertainty after his injury. At the time of writing, Guangdong had replaced Mudiay in its lineup with former Detroit Piston Will Bynum, and there was no offical confirmation from the team that Mudiay would take the floor again before the CBA season concludes. That said, we spoke to a source in the US who is close to Mudiay's camp who assured us that Emmanuel has every intention of getting healthy and finishing his season in Guangdong, and that the Southern Tigers are (smartly) happy to have him.
Regardless of any uncertainty around Mudiay's future, it's guaranteed to be as interesing, if not moreso, than his past.
You'll hear from him a lot more in the coming months, whether he is helping Guangdong make a push for the CBA championship or impressing scouts at pre-Draft workouts in preparation for the NBA.
From Congo to Dallas to China, Mudiay has already charted a course that has taken him further at 18 years than most people get to go in their lifetime. But for the young phenom, this is just the beginning; With an ambitious, long-term plan for his future, Mudiay wants to leave no doubt that his tomorrow will be better than his yesterday.
In China, I speak to Mudiay about the journey and struggles of yesterday, the juncture at which he stands today, and his ever-so-bright tomorrow.
"It's a blessing," he says, "It makes me happy, but at the same time, I'm not satisfied. I'm still working as if I'm struggling. That's my mindset and I'll work like that 'til the last game I play in my career. I don't wanna see nobody in my family, my kids, my grandkids, struggling for money. I know I'm still young, but I think that far ahead."
***
Mudiay was just an infant in Kinshasha, capital of the country formerly known as Zaire, when he lost his father. After the First Congo War, Zaire became the Democratic Republic of Congo. Peace didn't last much longer: By 1998 the large-scale Second Congo War displaced and destroyed the lives of millions in Congo and nearby nations, mostly from disease and starvation.
"I don't remember much of that time," Mudiay says. "I just remember that my mom and my brothers had to all take care of each other."
In 2001­—when Emmanuel was 5 years old—his family was granted asylum to the USA and found a home in Dallas. The adjustment to a new culture was much easier for him as the youngest member of the family. "For me, it was OK," he recalls, "but for my older and middle brother it was a little bit different. They were older. But eventually, we all settled."
The rest has been pretty well-documented history. Mudiay grew into a 6-5 point guard, blessed with the explosiveness, strength, open-court athleticism to match the world's best and the size to overpower many others who play his position. He excelled at Arlington (TX) Grace Preparatory and then Prime Prep (of Deion Sanders' fame/infamy) in Dallas, capping off his high-school career with invites to the Jordan Brand Classic and the McDonald's All-American Game, as well as a commitment to nearby SMU, where he could have had a chance a play for legendary head coach Larry Brown.
But instead of heading to SMU, Mudiay took the road less traveled to play professionally overseas to fill in the year between high school and the NBA. He chose China over college, a decision that came with its share of doubts and questions in the basketball world.
"I didn't wanna see my mom and my family struggling no more," Mudiay says. "They're my motivation. My family is good now, but I'm thinking about their kids, my kids…I never wanna see them struggle.
"My goal is to be in the NBA, but right now, I'm just trying to get better and learn as much as I can to get to the next level. People are gonna talk, and whether it's good or bad, I only care about my team and let God decide the rest."
Mudiay's decision has rubbed some critics the wrong way, as they fear his decision might boost the tide of young players choosing big money in leagues like China instead of a shot at college. Even Coach Brown—who still maintains a strong relationship with Mudiay—told a few publications back home that, although he was excited for the young Emmanuel's future, he wasn't too high on the precedent that it might set for others.
When I shared Brown's comments with Mudiay, his response displayed a maturity far beyond his years. "He's right," Mudiay says. "I got a lot of respect for Coach Brown. I know he's proud of me and what I'm doing. But this decision is not for everybody. The opportunity was there for me so I took it. Some people might wanna do it, some might not. It's different for everyone.
"I'm here with my family and that's helping me a lot. Your circle has to be strong. For the long run this was the better choice for me. [Coach Brown] is probably right: This is not for everybody. But for me it was the best thing. If more players do it, I hope that they'll be mentally ready and have the right people around them."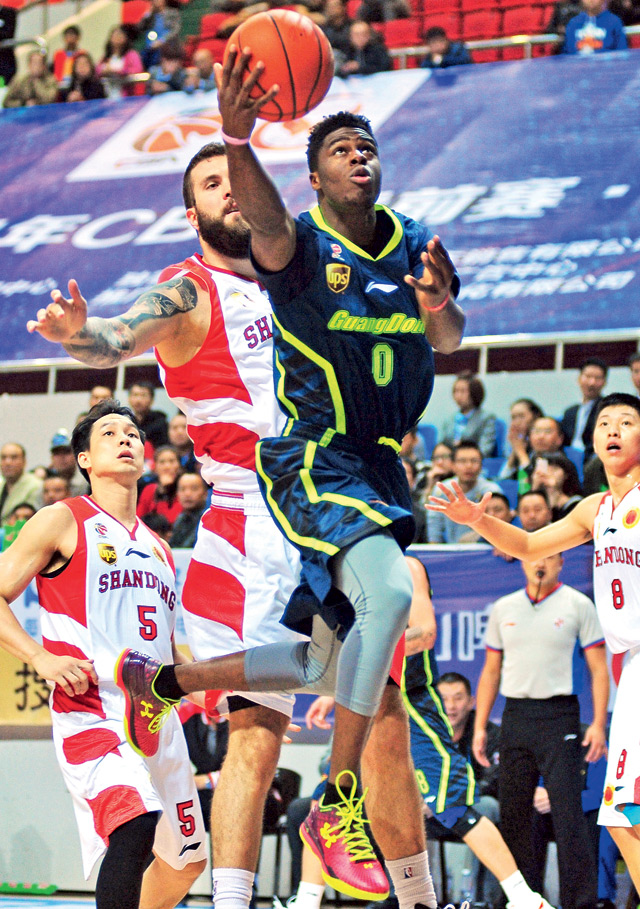 Before his ankle sprain in late November, Mudiay's early performances in China displayed glimpses of the potential that has made so many scouts rank him as one of the top picks in the upcoming NBA Draft. By his third professional game, he had notched a triple-double. In Guangdong's win over Qingdao, Mudiay had 29 points, 9 rebounds, 7 assists and 4 steals. Through the 10 games he played in before the ankle injury and before we went to press, Mudiay was averaging close to 18 points, 6 rebounds and 6 assists per game in China.
But CBA stats should be taken with a pinch of wei jing. This is a league where, a month into the new season, undrafted American Errick McCollum was averaging over 40 points per game. Former Brooklyn schoolboy hero and short-time Sacramento King Quincy Douby channeled his inner Wilt Chamberlain a couple seasons ago by dropping 75 points in a game, a CBA scoring record.
In most cases, the foreign or "import" players in the CBA (usually, each team is allowed only two) are handed the responsibilities of dominating every aspect of the team's play on the court and the stat sheets. But Mudiay's Guangdong has long been an exception to the rule. The Southern Tigers usually have a much more democratic approach, where each player—even the most talented imports, such as Mudiay—have had to play as a part of the system instead of becoming the system itself. Currently, Guangdong features seven players from the Chinese national team, including four-time CBA MVP and former NBA Lottery pick Yi Jianlian.
"Most teams want [the import players] to just score," says Mudiay of his time with Guangdong. "But here, they want us to be part of the team, not just focus on scoring. We have a gameplan to follow, of course, but Coach [Du Feng] lets me play my game, whether that's finding teammates or scoring myself. Whatever the 'D' shows me, that's how I play. Being a point guard, you have to be a leader from Day One. I'm an 18-year-old, directing 30-year-old men on court."
***
It's the end of 2014 and as he tries to capitalize on the present moment, Emmanuel Mudiay—still a few months shy of his 19th birthday—is keeping a watchful eye on the future.
I ask Mudiay if he has already charted a vision for the rest of his career. He leaves no doubt that there is already a highly detailed blueprint. "Oh yeah, I know what I want by the time I'm 40 years old. I won't be satisfied until I'm in the Hall of Fame. I won't be satisfied until I'm that successful. Everybody says that they want to be the best, but when I say it, believe me, I really mean it," Mudiay emphasizes.
"I love new challenges—I'm going through one right now. So anything that comes by way, I'll be ready. No doubt, my goal is to be the No. 1 pick. It takes a lot of hard work, but I'm putting in that work and I'm keeping my faith. Honestly, it's all faith. I'm a very spiritual person. Everything I do—sports, school—I just have to credit God before any decision. It's been a blessed journey and it's far from over. I'm only 18, but the best is yet to come. I'll keep working."
photos by Yin Di
Karan Madhok is a SLAM contributor. Follow him on Twitter @Hoopistani.