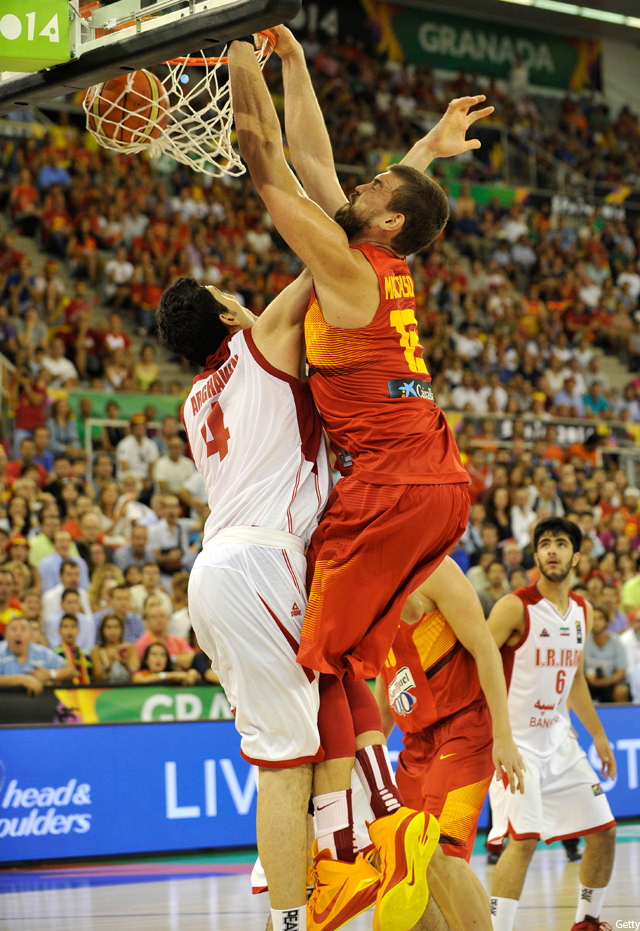 This is what 1992 has wrought. Not just Spain winning gold in the 2006 FIBA World Cup, but the fact that nearly any international matchup features at least a few NBAers. Gone are the days when a national team's best player—think Oscar Schmidt or Arvydas Sabonis—would be satisfied playing in the best pro league his country had. Even Sabas eventually found his way to the L.
So, this. In a tiny arena in Southern Spain, one NBA player dunking on another, Spain showing their might in a 30-point W over Iran. In fact, Spain is playing something of a Dream Team role now, featuring not only the Gasols, but also Rudy Fernandez (whose pass made the above possible), Sergio Rodriguez, Jose Calderon, Ricky Rubio and Serge Ibaka, who didn't even play against Iran. Not that they needed him.
This team may be even cooler than the Dream Team. First, both Pau and Marc wear their full names on their jerseys. And Marc finished off this dunk with the Carlos Boozer-patented "I'm being electrocuted by the rim!" twisting shake. Sorry, Hamed. Maybe Iran's time will come. But, um, don't count on it.