Every year, an international prospect surprises NBA fans on draft boards. Last year, it was Frank Ntilikina, who guided France to gold as their second leading scorer at the 2016 FIBA U18 European Championship. The player ahead of the current Knick: Sekou Doumbouya, who was only 15 years old at the time.
Now, Doumbouya is the one getting ready for the 2019 NBA Draft, playing as the youngest face on Poitiers Basket 86 in France's LNB Pro B division. Standing at 6-9, close to 230 pounds, and still growing, he has one goal in mind: "I want to dominate the players I'm going up against in all facets of the game," says Doumbouya. "Be dominant for myself and my team, help them win anyway I can."
Doumbouya, 17, has had his fair share of highlights with Poitiers, from pin-down blocks, to posting 26 points on 12 shots. On Monday, it was announced that he was making the jump to France's top division (Pro A), to further help him get ready for the NBA. He'll be joining Limoges CSP, where he'll most likely play as the youngest member on yet another squad, which is nothing new for the French-Guinean prospect.
At 13, a year after he discovered basketball, Sekou was already playing with kids two years his senior. While his mom started receiving 40 phone calls a weekend, Sekou was out putting on a show, from reverse slams to only using his left hand to score more than 30 points after injuring his right shooting hand. It was those type of performances that got him invited to train with the U18 national team at 14, leading to his 2016 FIBA performance, and ultimately his first pro contract with Poitiers at 15.
"He always had a drive to get better, to dominate," says Poitiers' head coach, Ruddy Nelhomme. "Playing against kids his own age is just too easy."
Over the past two seasons, Doumbouya has gotten used to the physicality and speed of the pros by playing with grown men. His mature game has garnished comparisons to Paul George, with his ability to guard one through four. Sekou's teammate Anthony Goods, who's played in the G League, says he's similar to Carmelo Anthony, because his strong frame helps him produce with limited dribbles, with range that stretches to the three-point line. Ron Anderson Jr., whose father played in the NBA, also sees flashes of Lamar Odom. Just like Odom, Sekou uses his left hand to attack and often pushes fast-breaks after crashing the glass.
"I have the talent," says Doumbouya, on one day becoming France's best player. "I just to need to keep working, that's all… It just depends on me."
Even though it's easy for Doumbouya to coast on his athleticism, he's fixed on the technical and mental side of the game. Along with attending private school to earn his high school diploma, he's working with a sports psychologist to develop the same focus he saw in Michael Jordan, whose highlights he regularly enjoys.
"Sekou definitely has a killer instinct in him," says Goods, who notes that unlike other youngsters, Doumbouya isn't shy around his elders. It's to the point that the team reminds him to understand his game, such as what shots he's capable of making.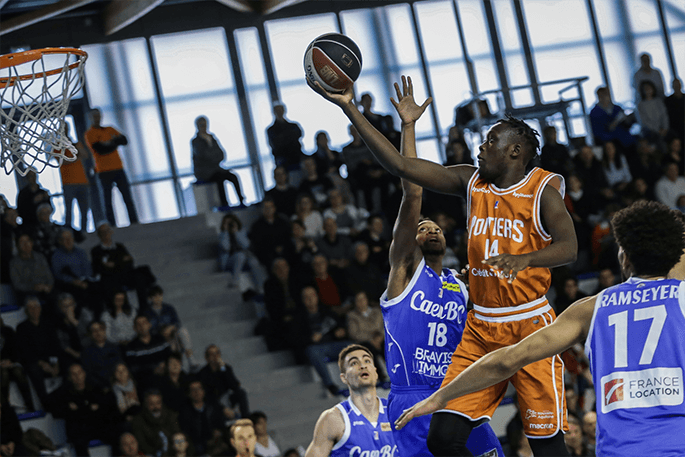 In Poitiers, Doumbouya is often the last to leave the gym, working to become as versatile as possible. This time around, after a two-hour team practice, Doumbouya is joined by forward Mike Joseph for a half-hour of speed and strength training. He encourages his 24-year-old teammate, yelling "allons-y" (meaning "let's go," in French), then follows his own lead by working out until he's flat on his back, shaped like a starfish, drenched in sweat.
M' Mah Marie Doumbouya says her son is a born leader, having grown up as the man of the household, as his father stayed in Guinea on military duty. "He knew that he needed to be the example," says M' Mah Marie, who moved to France with Sekou when he was one years old. "He always wanted to know how everyone was doing, to give his advice to his younger and older sisters."
At 17, he's still learning how to use his leadership, such as when he should speak up around a team of vets after a tough loss. But Sekou is said to be constantly coming to Nelhomme and teammates for advice. His willingness to learn has helped his jumper, improving from a 57.6% to a 79% free throw shooter, while he's upped his points and rebounds per game averages from last season.
There have also been bumps along the way. After his 26-point performance in February, he followed it up by going for zero points in the next matchup. Instead of soaking up, he was in the gym the next day, working on his game.
"What surprises me most about Sekou is his ability to bounce back," says Anderson. "I don't recall many 17-year-olds growing up, who would take it that personally… He's a young man who's trying to play basketball for a living, but still trying to enjoy being 17."
On his way to a video game event at a mall in Poitiers, organized by his team, Sekou sits in a compact Opel Corsa. He pulls the front seat all the way back to make space for his legs, which are clothed in black jeans with self made rips at the knees. Comfortable, he pulls out his phone to blast Kodak Black's "Skrilla," which he raps along to.
Songs blare from his phone until he climbs up the mall's staircase up to the ground floor, where he admits to his teammates that he's horrible at 2K. He's still the first to play, trying to engage local kids who pass by. He then picks the Utah Jazz, featuring Rudy Gobert, but leaves his own game when Goods screams there's a "barbecue chicken alert." After exchanging laughs as his teammate's game winds down, Sekou returns to his own, ultimately losing by double-digits to a 13-year-old.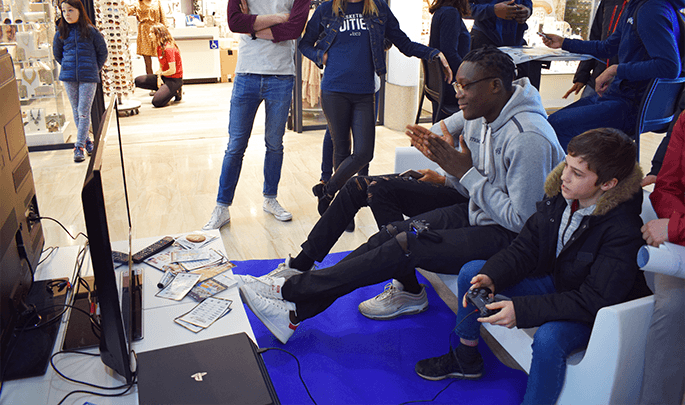 Despite the loss, Sekou is still all smiles. He says he fell in love with basketball after experiencing the energy surrounding it. He loves hearing the oohs and ahhs after a dunk or an ankle-breaking crossover, whether that be in a real game or in 2K.
When he made the trip to Los Angeles during NBA All-Star Weekend for Basketball Without Borders, a camp for the world's top international prospects, that part of the game was only amplified. There, he saw how many people loved basketball as much as he did. From the all-stars who rooted for their fellow players, to Migos, who Sekou only dared to stand beside as he snuck his way down to the court.
"There was an enthusiasm around the game that was unlike anything else I've experienced before," says Doumbouya. "It's what I want to be part of. It motivated me."
(Photos courtesy of Poitiers Basket 86, Jordan Bonneau, and Bryan Meler)