After a morning of meditation and philosophical exercises, Thakpa Kunga and his classmates—all Buddhist monks-in-training—decided to temporarily skip spinning prayer wheels and start spinning basketballs.
They snuck out of their monastery in McLeod Ganj—a mountain town in India, more than 6,500 feet above sea level in the Himalayan Mountains—and rolled down to their neighborhood court, wearing traditional monk robes: a decorated golden or yellow chogu (undershirt) with a red shawl covering their bodies. The niftier monks among them found sneakers, while the rest descended in flip-flops. To save time, Kunga and his friends played unchanged in their robes. A few hours later, they snuck back into the monastery for more lessons in spirituality.
Nearly a decade later, I meet Kunga on another court. He's continued on his path to full monkhood, and the 27-year-old is now enrolled in Tibetan Higher Studies at the Sarah College in Dharamshala, which is a larger mountain town a short walk down from McLeod Ganj.
But Kunga hasn't abandoned his love of hoops. Every year, he played for Sarah in the Martyr's Memorial Basketball Tournament, a championship for the community of Tibetan refugees in Dharamshala and beyond who escaped Tibet's Chinese rule. "Basketball is like meditation on court. Sometimes, I play just to clear tension. When you play basketball, there are no problems."
For years, I held the mountain hamlets of Dharamshala and McLeod Ganj in great regard, partly because of my addiction to the Himalayas, and partly because of the organic love for basketball among the area's refugees. So when I found out about the Martyr's Memorial Tournament, I traveled back up the mountains. I met a myriad of people, including monks who had devoted their lives to achieving nirvana, refugees with stories of pain and danger, and young men and women with ambitions like every other young Indian in the country's growing economy.
And I found that the game of basketball—in its own small way—bonded them all together.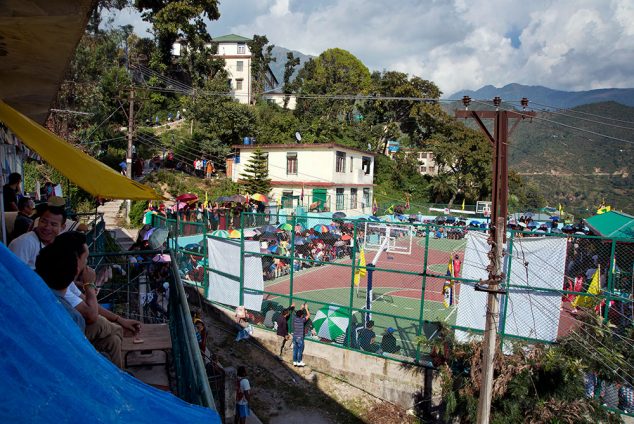 Tibet—Xizang in Chinese—is China's second-largest province. It sits on the world's highest plateau and has long served as a buffer between the planet's two largest and occasionally hostile populations: China and India. In 1950, the Chinese People's Liberation Army (PLA) "liberated" Tibet and soon, China's government won complete sovereignty over the region.
But many Tibetans have opposed China's claim and have been fighting for Tibet's freedom from Big Brother in Beijing for decades. There was much violence and bloodshed in the late '50s, and in contemporary times, the largest uprising for Tibet's cause was in the lead-up to the Beijing Olympics in 2008, when hundreds were shot by the Chinese and thousands arrested. In recent years, over 140 Tibetan monks have performed self-immolations in opposition to Chinese rule.
Back in 1959, Tibetan Buddhism's spiritual leader, the 14th Dalai Lama, Tenzin Gyatso, fled to exile in India, where he eventually settled in McLeod Ganj. Scores of refugees followed him.
Estimates have about 150,000 Tibetans living in exile around the world, with over 94,000 in India. As the birthplace of Buddhism (the Buddha received enlightenment and gave his sermons in North India) and current home of the Dalai Lama, India was an easy choice for refugees hoping for a new life. About 2,500 Tibetan refugees make the journey out of China annually. They cross glaciers, trek through mountain passes and walk in the blanket of night to avoid detection. In Dharamshala, the Central Tibetan Administration (CTA), a government for those in exile, has been set up.
Two schools of thought have developed among Tibetans for the political status of their homeland: the Dalai Lama-supported Middle Way that asks for autonomy for the Tibetan people as a part of China, and the Tibetan Independence Movement that demands complete freedom.
Despite protests and support of many world leaders, neither approach has worked. As far as China sees it, Tibet, unsettled and rich in resources, will always be a part of its country.
Directly below where the CTA is located in Dharamshala is the newly renovated Gangyi Court, which is playing host to the Martyr's Tournament. On the day of the finals, the hillside is abuzz. Young hoopheads wearing NBA t-shirts mingle with monks in robes and enthusiastically cheering girls in traditional chupas. Tibetan flags and Buddhist prayer flags fly around the court.
Among the fans is Tsetan Tenzin, age 30: by day an assistant at a Tibetan herbal medicine clinic, by night a long-range threat for Example Team, which was ousted earlier in the tournament. Tenzin was born in Tibet but his parents hired a guide to help him escape to India when he was 7. He hasn't seen them since.
Tenzin's love grew when he was in school at a refugee orphanage in Mussoorie, in North India. He carried it with him when he moved to Dharamshala. "We play basketball so much in Dharamshala because, surrounded by mountains, there is no room for bigger games," he says. "Tibetans love the NBA. My favorite player is Stephen Curry; I love to shoot from outside."
The refugees' love for the game is also an ode to their "motherland," where basketball is one of the most popular sports, too. "In Tibet, people play a lot of basketball, too, especially in school," Tenzin adds. "So it's normal for refugees to come [to India] and continue playing."
***
China, with more than 1.3 billion people, has the largest hoops fan base on Earth. The sport was always popular, but after Yao Ming was drafted No. 1 in 2002, it took center stage. China has a fast-growing league (CBA) and is one of Asia's most powerful national teams. Their second-tier league, the National Basketball League (NBL), expanded to Tibet this year, where the region's capital city of Lhasa will host rivals in what China Daily called "the world's highest basketball court" at 3,658 meters above sea level.
China pushed swift development in infrastructure and economy in Tibet, but what they call development and modernization, Tibetans call environmental deterioration and cultural genocide. International human rights groups have exposed stories of violations and the unwelcome indoctrination of Chinese communist thought and philosophy among the Tibetan population, replacing centuries of lifestyle, language, spirituality and culture.
To raise awareness, the Dalai Lama has traveled the world speaking to leaders and humanitarian organizations. He won the Nobel Peace Prize in 1989.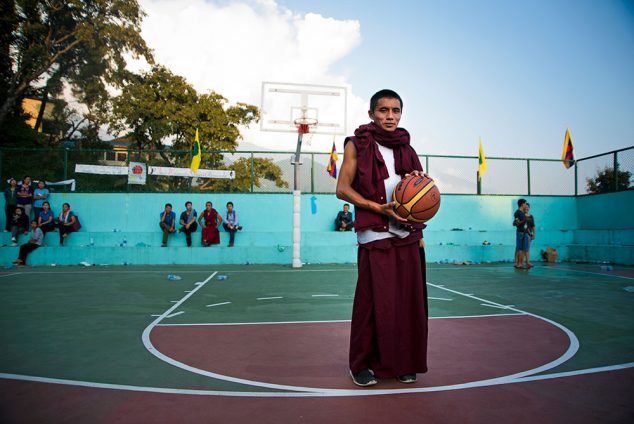 Hours before the tourney's finals, I met Wangden Krab, president of the Regional TYC office in McLeod Ganj, who organizes the event. "The purpose is to remember the Tibetan martyrs who have sacrificed for their country," Krab says. "Most Tibetan youth are now born in India or come here very young. In this tournament, we want to remind them of their martyrs. We want to bring youngsters together and unite them."
The TYC is the largest Tibetan non-governmental organization of Tibetan exiles, mostly young Tibetans with hopes of Tibetan independence. They have around 80 chapters and over 20,000 members around the world.
"We are still fighting for complete independence," Krab says. "We report to world governments, the UN and other human rights organizations about the critical situation in Tibet, including losing freedom of speech and fighting for human rights. Many refugees are not ready to settle in India; they always dream of Tibet."
Krab has dissent in his blood. His grandfather fought in the war against China in the late '50s before being imprisoned for 30 years by the Chinese. His father was arrested for protesting Chinese deforestation in Tibet's Dzorge area. Krab himself escaped to India in '99, at age 16.
But today, his main agenda is basketball. "In Tibetan schools here, all types of players—tall, short, good, bad—stop and try their hand at basketball and are eager to learn," he says. "It is a more 'freestyle' sport, with less structure and has rules that people can understand. There are no limits to basketball. Everyone can come to the ground and play."
***
McLeod Ganj is a vibrant community where Tibetan refugees, NGO workers, tourists, monks and locals live in relative harmony. Tibetan culture is still preserved strongly here. Most refugees can speak and read the Tibetan language, know folk songs, speak of Tibetan "freedom fighters" and dream of Lhasa as their Promised Land.
Around town, there is also talk of the tournament—among the youth, monks, working men and women. The girls' final is won by Men-Tse-Khang (Tibetan Medical and Astrological Institute), dressed in Miami Heat colors. The boys' teams—both wearing practice jerseys that have slogans like "Free Tibet" or faces of the Dalai Lama—step out for their final. Before the game tips off, both teams greet each other with traditional Tibetan presents of white scarves.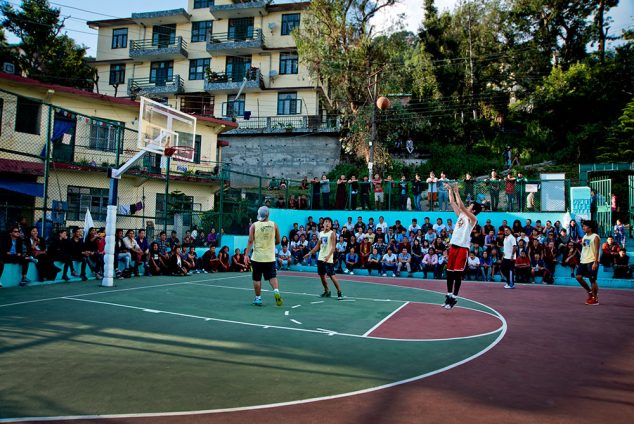 The last two teams are "Dhasa," comprised mainly of second-generation Tibetans born to refugee parents in India, and "Nomads," who feature 20-somethings who escaped from China more recently. The action on court immediately speeds up. Each fall takes a little longer to recover from. Tough layups between crowds of defenders are the go-to approach. There are no dunks, but athletic lay-ups with the and-1 call prevail.
Eventually the Nomads break open the contest with a barrage of long-range shots. They win by 3 and the crowd rushes the court.Players are lifted on shoulders and drenched with water under a flurry of happy prayer flags.
Despite the differences between the Tibetans and the Chinese majority in politics, philosophy and the fight for freedom, basketball could close the gap. Nearly every refugee I spoke with had played basketball at some point. The Han Chinese love basketball, too; the sport is a common thread between two cultures that have such a wide cultural gap and often view each other in suspicion and distrust.
Days after I left Dharamshala and McLeod Ganj, I reflected on a sense of incompleteness among the refugees. They are exiled from China but not fully assimilated into mainstreem Indian society. Stuck in this purgatory, all they have is their community, their culture and their spirituality to accompany them. And basketball.
—
Portraits by Angad Sodhi