Walk around the adidas campus in Portland and you'll quickly learn two things: The Three Stripes has put a premium on storytelling and Damian Lillard might as well have a desk on-site. The whole basketball and PR team jokes about how much Dame shows up to talk about his sneakers. They also talk about how seriously he takes his sneakers.
"Every step of the way, he understands that process," Jesse Rademacher, the 3's lead designer says. "He comes along with us. And he trusts us, that we're gonna get to that next stage. Bring not just the product, but bring his stories to life. The story of the Dame 3 this year is about the man, the basketball player and the musician," Rademacher says. "
A storyteller himself, Dame D.O.L.L.A.'s debut album, The Letter O, isn't about the ways he's spending his millions or how many girls he has hanging off his arm. Instead, the Oakland native tells his life's story, speaks about his family's influence and tries to uplift today's kids. He gives an honest description of the world. It's obvious he put time and effort into it, which, after speaking with his adidas team, is a theme that runs throughout his life.
"He really loves the creative process and being involved," Alex Zerzan, adidas Basketball Global Product Manager says. "We're incredibly fortunate that he is local and that he can come up and pop in to review sketches and designs and give us real time feedback."
All his feedback led to the Dame 3, a peak performance sneaker that's being used to continue to tell the story of not just Dame, but the friends and family who have helped shape his life.
"Because he's local and because his brother and sister and family and friends are here, we're able to talk with a lot of them, to get a lot of different stories," Zerzan says. "Not only just a story through Dame's eyes, but maybe through his brother or sister's."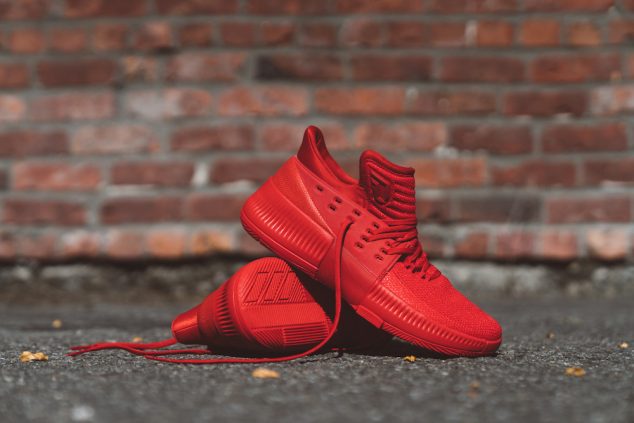 Just because adidas focused on narrative for the Dame 3 doesn't mean they didn't pack it with a bunch of new tech. Rademacher put in a new lacing system that's reinforced with a TECHFIT bootie to hug the foot. The lacing system features different lace holes starting from the mid foot and concluding close to the heel, allowing for a totally customized fit. There's also a new fused mesh upper that will help the sneaker already feel worn-in straight out the box, something Zerzan says was high on Dame's wishlist.
The traction pattern is constructed with geometric simplicity that ties back to Dame's milk crate origins. The silhouette's unique cut is a result of Dame's preference towards a lower collar. Rademacher and Zerzan call it a "5/8s" height.
The TPU on the mid foot provides support and the 3's BOUNCE cushioning is for more than just support and comfort. BOUNCE helps to keep the sneaker cheaper so that it's affordable for all of Dame's fans, another key request from Lillard (the sneaker costs $115).
"Working with adidas, every step of the way is about telling my story," Lillard says, via press release. "It's allowing kids and people to relate to what I've been through. Everything has a story behind it. Similar to how I express myself through my own music, adidas embraces who I am to the fullest. That means more to me than anything else."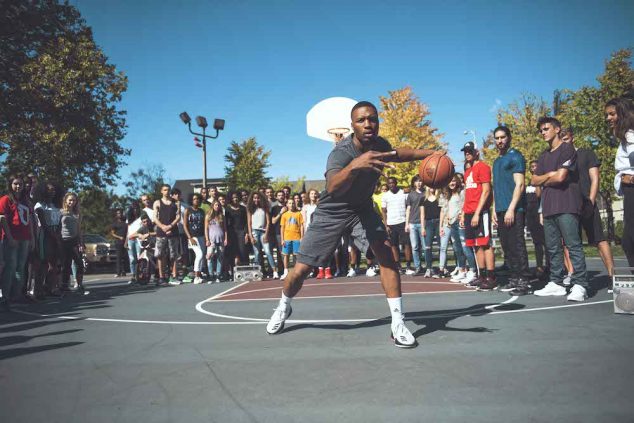 There's the initials of his mother and two grandmothers (Gina:Cecilia:Ruth) on the right toe and the initials of his father and grandfather (Houston:Albert) on the left. "WEARING THE LETTER O" is printed on the left sockliner as tribute to both Dame's pre-game introduction in Portland and his album. And Oakland, Ogden (where Weber State's located) and Oregon is on the right sockliner.
"Dame is a man of the people. It's not a story about him—it's a story for his fans," Rademacher says. "He's a human being. He's been through a lot of the things that everybody else is going through. He wants to use those as inspiration to get people through those hard times that he struggled through himself."
—
The Dame 3 "Roots" colorway is currently sold out for now. The "Rip City" Dame 3 drops on January 19.