The newest adidas Dame 4 colorway is inspired by Damian Lillard's ability to consistently deliver in the clutch.
The "0.9" on the laceband is a callback to when Lillard broke the Rockets' hearts in the 2014 playoffs, ending their season by drilling a three-pointer with 0.9 seconds on the clock.
"I just couldn't believe that a moment like that happened to me," Lillard said on Desus & Mero. "As a kid you walk away from the court like, '5, 4, 3, 2, 1…' and on that stage to make that shot it was just crazy. I remember when I made the shot and I turned around, in my mind I really felt like it was going in all along. But when I turned around and I couldn't hear my teammates, I had a two or three second moment where I was like, 'I can't believe it went in. That really happened.'"
The all-black "Dame Time" 4 drops on adidas.com for $115.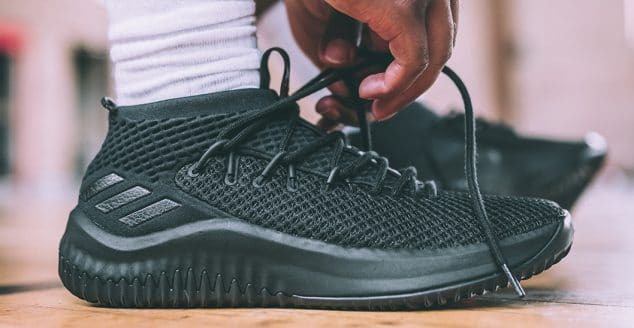 The adidas Dame 4 makes use of a hybrid-cut silhouette that features a mesh upper and reworked BOUNCE outsole.
"If BOOST didn't exist, BOUNCE would be the greatest cushioning technology in the market, in terms of energy return and responsiveness," Jesse Rademacher, the 4's lead designer, told us in October. "We really wanted to amplify all the benefits of BOUNCE. BOUNCE is really meant for Dame's style of play. With those extreme angles and unpredictability, BOUNCE actually provides Dame with that cushioning setup he's looking for."
Related
Inside the Design of the adidas Dame 4
Photos courtesy of adidas
633