When Michael Jordan left basketball in 2003, his Wizards lost to Allen Iverson's Sixers in Philadelphia. But that game wasn't about the final score. It was about a celebration of the greatest to ever do it. The City of Brotherly Love fully lived up to its nickname that night, showering Mike with multiple standing ovations full of deafening cheers.
https://youtu.be/m_H7g-jnhMM
The GOAT finished the matchup with 15 points, 4 rebounds and 4 assists. In a rare moment of vulnerability, when he checked out of the game for the final time, he sat on the Wizards' bench, alone, and smiled like he had just won the 'chip. The moment wasn't lost on him. He knew how important that game was.
And he knew that the sneaker he chose to wear for that game would go down in the history books. He laced up the White/Royal Air Jordan XVIII, a sneaker that he had been showing favor to throughout that '02-'03 season. The XVIII was the brainchild of longtime Nike and Jordan Brand designer Tate Kuerbis. Kuerbis, who just cooked up the Air Jordan XXXII for the Jumpman, began his time at Jordan with the XVIII.
He built the sneaker with a one-piece upper and dual-layer Zoom Air cushion unit. And like so many of MJ's sneakers, the XVIII was inspired by Italian craftsmanship. This time around it was the Lamborghini Murcielago, one of MJ's cars, that was Kuerbis' main influence.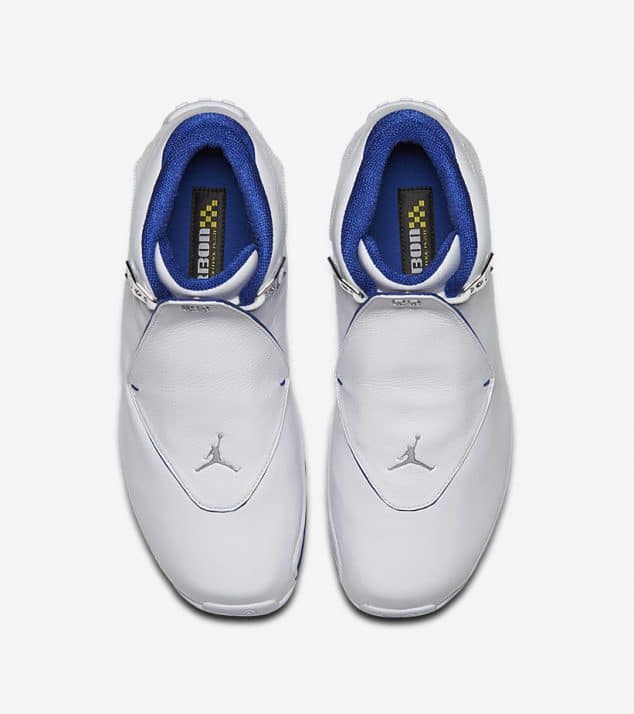 The colorway that Jordan wore in his last game is getting a retro release this Monday. The "OG" Air Jordan XVIII returns with a $225 price tag and it'll drop at 10 AM EST.
https://youtu.be/MDAsNZqxN4A
Love is playing every game as if it's your last.
Top photo by Joseph Sherman, body photo courtesy of Nike. Videos courtesy of Oldskoolbball and 3danaable1