Bradley Beal is a basketball player. Simple enough. The three All-Star Games, the two seasons of averaging 30-plus points per game and all the individual awards that he's stacked up in between being a McDonald's All-American in 2011 and an All-NBA member in 2021 tell that story. But they don't tell the whole story.
The fluidity of a jumpshot whose current has been raging for years tells more of the Bradley Beal story. The artistry of his jumper is pure expression of him. Balanced, disciplined, learned and earned.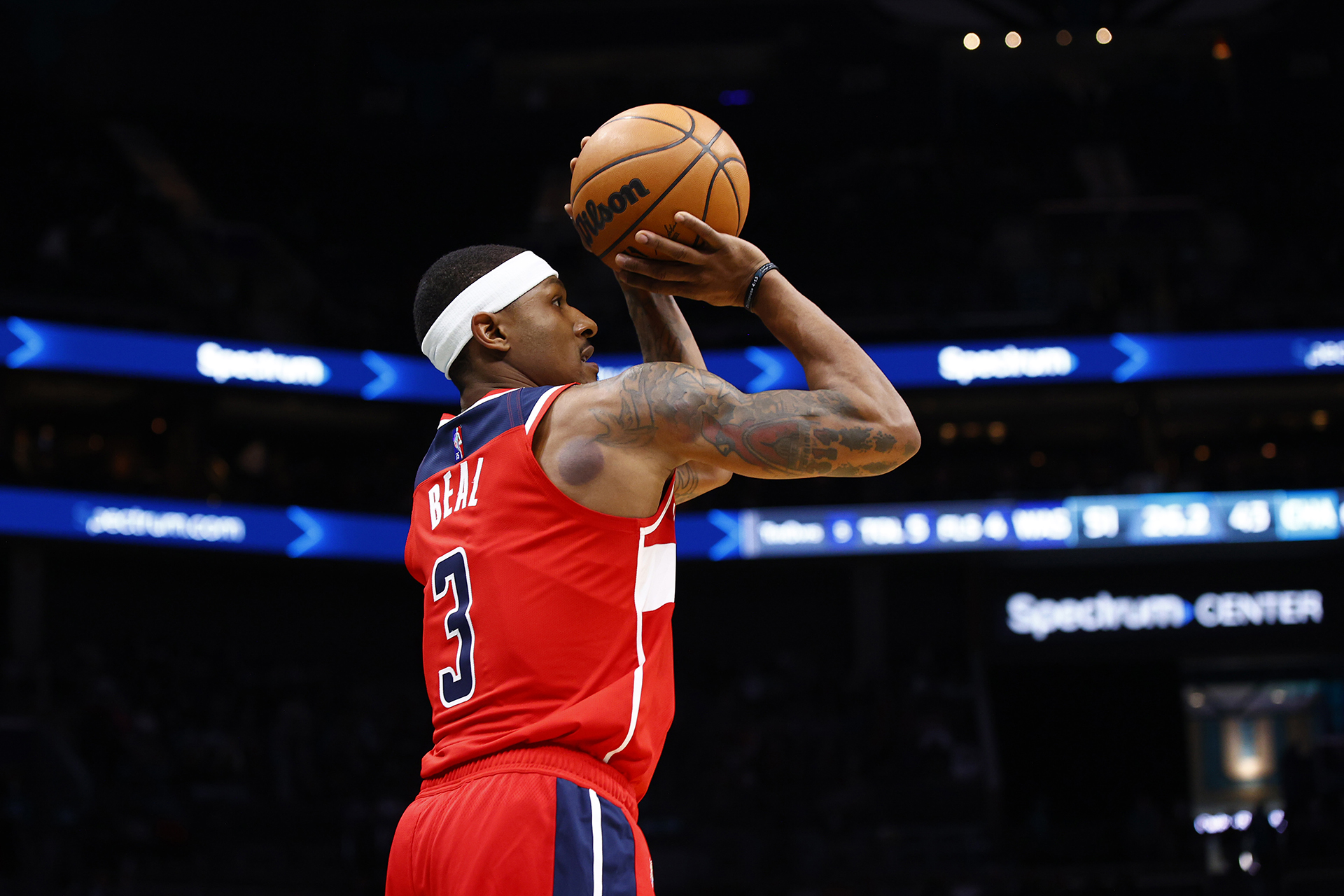 Beal is a communicator and his language of choice isn't always language. At different points, it's been basketball and it's been activism and it's also been art.
"I was a big sketch guy when I was younger, but I love abstract art now and mixed art," Beal tells SLAM. "I'm huge on it. I love the fact, especially mixed art, with the use of different materials, whether [it's] paint or different, just fabrics or whatever they may be using to express their art. And then just abstract art, I love the wave of it. I think it's just more modern. There's so many expressions into the story they're trying to tell. And it draws my eye a lot."
He's still picking up the pencil and the paper and he's the one who initially got the production of his brand new personal logo on the move.
"It really started off with me kind of sketching," Beal says. "Obviously, you want your logo to tell a story, you know, you want it to stick out and stand out. You want it to be able to be recognizable, people to know it's yours and then it has to be able to tell a story. Me, naturally, I'm a silent assassin. That's what people kind of call me. I consider myself humble and quiet and shy and reserved in some ways. But on the floor, I'm an assassin. I go attack hard, I'm aggressive and I get to it.
"And just kind of how do I intertwine those and what are some symbolic things of life, nature to implement into the design as well? So, one, my biggest representation of me is my family," Beal continues. "I'm family-oriented and so what represents family? A family crest. So you have the protection part of it. So the logo looks like a big shield in a way. It's a huge 'B,' but it's very modern-esque in some ways. But it's a big 'B' and then intertwines all in one stroke of a pen into a little 'B,' which is my name for Brad. So big 'B' represents the big family and little 'B' is me. And then intertwined in that is, like, a lightning bolt off the little 'B.' And so silent assassin, you know, lightning and thunder. What do you hear first? And then lightning strikes. That was kind of a dope concept that we threw in and then the intertwined 'Bs' formulate a three naturally, which is my number inside of the logo.
"As soon as I [saw] it, it was the perfect representation of me," Beal concludes a few moments later. "It told my story."
With today's official launch of the new logo, it's not just going to be a digital piece. It will eventually be seen in real life, on hats, clothing and, of course, on his Air Jordans.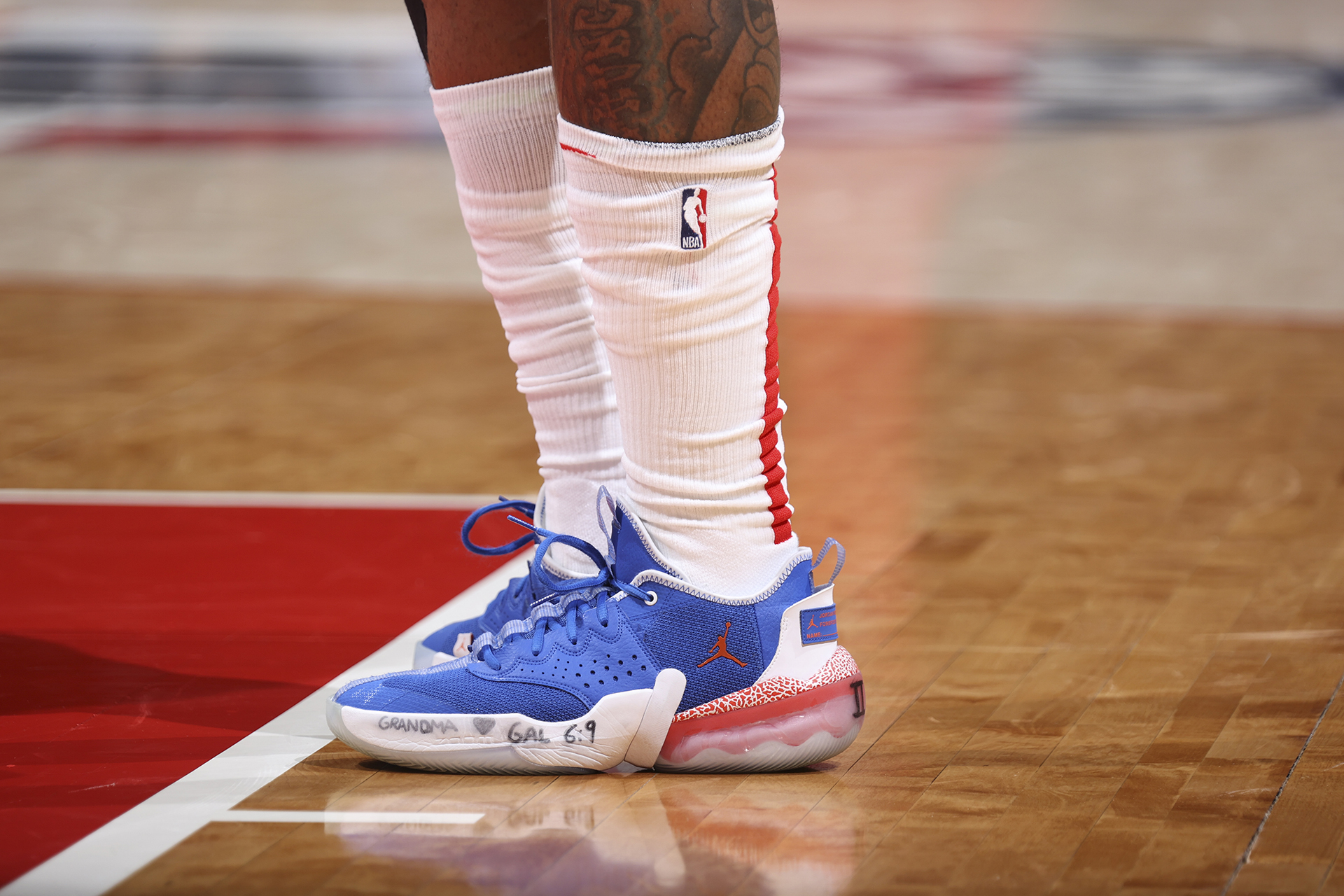 Beal's grown most comfortable in the Air Jordan 36 and the Jordan React Elevation. Both of those silhouettes have Nike's famous Zoom tech in their forefoots. Beal launches up for his flowing jumpshot off his forefoot. He says that he gets nerdy about his footwear and their performance benefits. He's aware of those pairs' construction and he likes them because they automatically keep him on his toes a little bit more.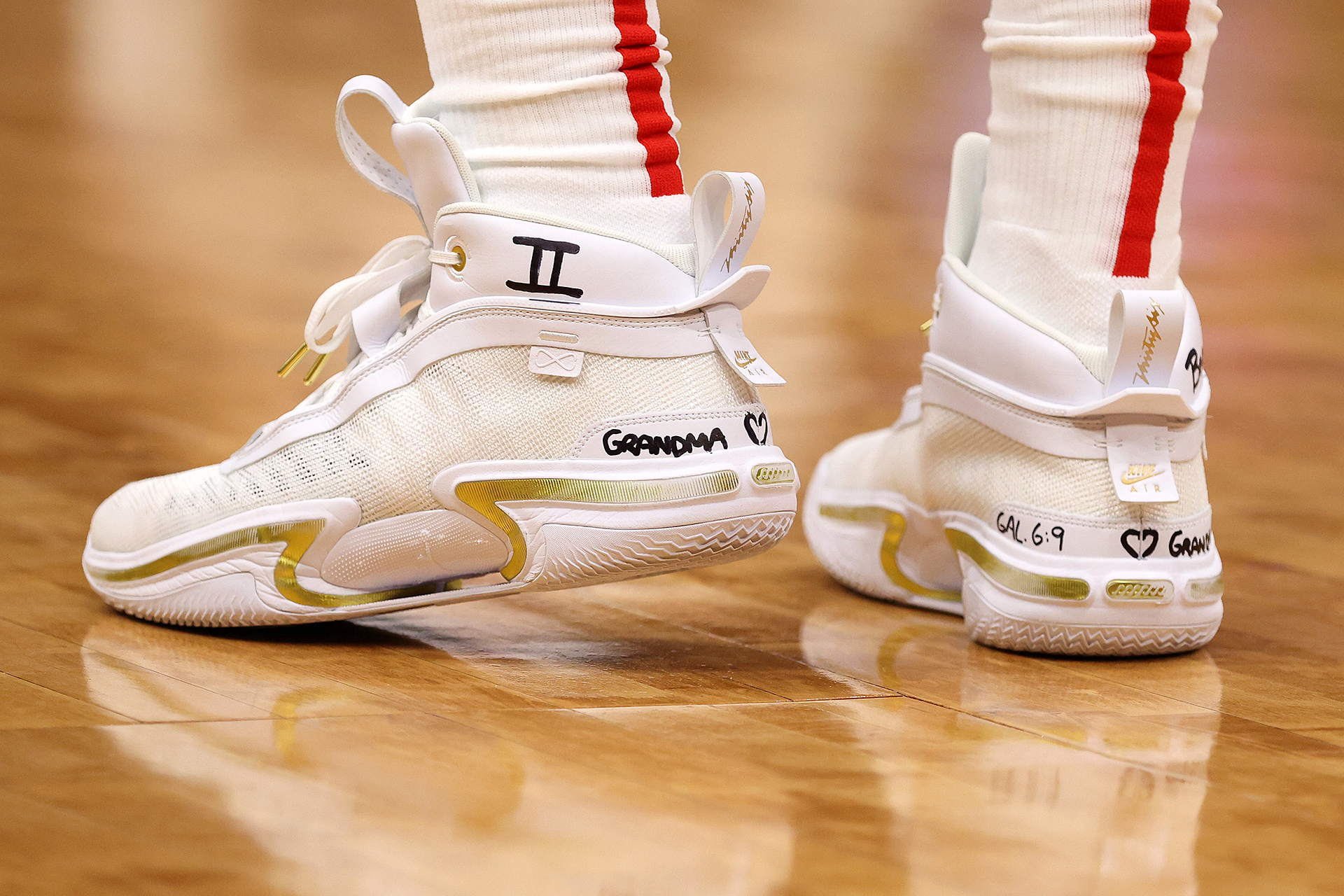 Beal, in addition to showing off his new personal logo, also is making it official that he's re-upped with Jordan Brand for a multiyear contract extension.
"It's an elite group," Beal says about the JB family. "It's invite only, that's what's so unique about it. And then to understand his story and how he's taken the Brand from where he was as a player to where he is now. It's just crazy to think that he wanted me to be a part of his Brand. That speaks volumes. Like I said before, he was who I watched growing up, watching his footwork, watching his killer instinct, watching how he dominated the game and how he worked. And he didn't fear anything because he trusted his work. That was one of his greatest quotes. Now that I can be a part of a Brand, like, I grew up wearing his shoes."
He grew up with them and he's glowing up with them now. The plan is for Beal's expression to extend to the Air Jordan 37, when his logo will touch the hardwood of NBA arenas. In all of his successes and all of his messages to the public, that specific moment won't be lost on him.
"It's what every player dreams of and every player wants and every player should have, in a way," he says about being able visually inform people. "It's just dope. It's kind of surreal in a way. But I'm definitely excited about it, now it's kind of finally happening and coming into fruition. It won't hit me until I actually see it. I've seen it actually a few times, like on some clothing pieces and things like that and it hits me every now and then too."
The moment's weight will continue to increase because this is the realization of a whole lot of years, of his love for hoops, art and fashion melding together. In all of his trips around the sun, with the surging water of his jumpshot causing downpours from St. Louis to Gainesville to Washington DC, and with the calm reliability of his sketchbook, there's always been one constant—the sneakers.
"My mom wouldn't let us wear anything but Js or Nikes," the 28 year old says. "That's our household rule. So I haven't owned another pair of sneakers, another brand besides Nike and Jordan. My mom has a Nike tattoo logo on her ankles. And that was the actual first tattoo she got. She got it when I got my first tattoo. I probably had some XIs on at the time."
That incredible story about Mrs. Beal is just another part of Bradley's story, a story that's not just about basketball.