Nineteen-year-old Brandon Ingram came into the League with a strong reputation. The former Duke Blue Devil was the No. 2 overall pick in the 2016 Draft and earned himself a spot on the Team USA select team.
With those accolades already on his résumé, adidas signed him before the season started and proceeded to hook him up with multiple player exclusive colorways of the adidas Crazylight 2016 and the adidas Crazy Explosive.
"Something we set up earlier in the year was colorways—what colorways we wanted to go to and what we could do that'll match the colors on the [Lakers] jerseys," Ingram remembers. "They gave me ideas, they picked my brain, I picked theirs and we just got some good ideas out of it."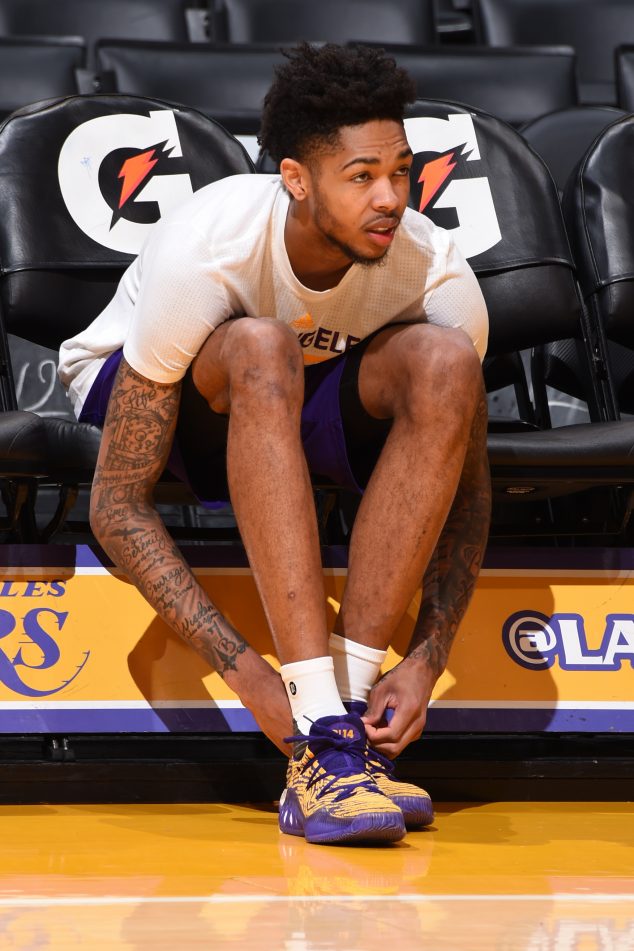 "I liked the yellow and black pair [of the Crazy Explosive]," he adds. "They got those stripes in it and, of course, my initials."
Ingram's initials and his No. 14 were on all of his kicks, a rarity for rookies.
"I wasn't aware of that, actually," Ingram says about being part of the PE club. "That's cool. It definitely gives a little motivation to my hometown—to give them motivation to try to be a basketball player some day. Maybe not even a basketball player—just being something."
The Kinston, NC, native averaged 9.4 points in his rookie season. His sneaker future, like his on-court future, is bright. He likes Yeezys and the Pharrell NMDs and promises to have more heat for us to see next season. He says he's picking from a collection of off-court kicks that runs almost 600 pairs deep.
—
Photos via Getty Images