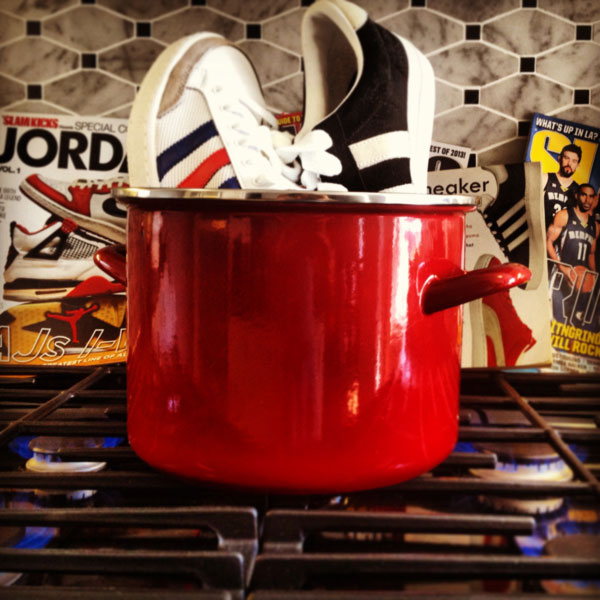 On paper, the job requirements of chef and ball player are almost identical: Both demand a special kind of stamina by being on their feet for hours, both are publicly critiqued on a nightly basis, and some—as in the case of some particularly spicy Indian restaurants and the 2013-14 NY Knicks—can make their patrons nauseous.
In addition to the gifted combination of finesse and fortitude, chefs and ball players are placing greater thought into what sneakers they wear with their uniforms. Similar to the current NBA's modernist mélange of stretch 4s, 5-foot dunkers and 7-foot sharpshooters, today's new batch of superstar chefs are reverently connected to their professional lineage but bring their own flavor to the field.
The restaurant industry is one of the fastest growing in New York City, with the number of eateries increasing by more than 40 percent during the past decade. The marketplace has become extremely competitive and to stay relevant, kitchen standards have had to improve. Literally from the feet up, the expectations of the game have changed.
Traditionally, those cooking wore rigid shoes, clogs and Crocs, with the common assumption that this footwear offered firm traction and protection. "No shoe is going to help when a thing of hot grease falls on you in a kitchen; it is going to burn regardless," says Colt Taylor, executive chef at New York's oldest and most romantic West Village restaurant, One If By Land, Two if by Sea. Taylor honed his craft in the old style of French kitchens where the dress code is all white—with clogs. When landing his top position, though, this chef opted to wear his Chuck Taylors and blue jeans to work. Colt, whose grandmother was the private chef of the Vanderbilt's, spends 14 hours a day on his feet and is very much a believer in being comfortable. "I played professional rugby in Ireland and my knees were hurting due to the arches of the shoes." His pain went away upon switching to sneakers, which to him was not particularly enlightening, but simply obvious and practical.
While culinary culture does not necessarily shape society, it often reflects the environments in which we are eating. "It wasn't that long ago that only white males were allowed in the kitchen. Whatever social progression is happening outside of a restaurant eventually makes its way in," notes Marcus Samuelsson from Harlem's Red Rooster and TV's Top Chef. Samuelsson, who is in his 40s, is part of the first hip-hop generation to have grown up.
Graffiti has gone from the train station to art galleries, break-dancers are on Broadway, and sneakers are a profound part of this culture. Samuelsson continues, "It's not just the sneaks, it's the values that come with them." Diets are changing, palates have evolved and the world is more connected and gastronomically more inclusive. The yellow, blue, white and black Nike Dunks which Samuelsson sports represent his Swedish, African and Harlem sensibility, as does his menu.
These culinary masters are not just people who happen to be wearing sneakers. They are legitimate sneaker heads that have worked their way up the food chain. From calling the shots in the kitchen to preparing great food for their clientele, the aim also includes creating a less rigid environment for their staff. They are bringing a new language to an old medium where preparing a meal is not generic but plate-specific. These toques ardently include their kicks passion in the workspace and are vocal about stating that they think it positively affects their creative process. This boast is not meant to be contrarian or disrespectful toward tradition, but rather an evocation of a certain unwavering dedication to their craft. Both Taylor and Samuelsson agree that if they and their employees are comfortable, this positivity is manifested into more love toward the food.
What people put in their stomach and place on their feet are personal decisions that are played out in public spaces. The head chef in Brooklyn's Southern casual foodie gem Elberta, Akins Amoroso, also feels that his personal aesthetic effects how he performs his job. "The vibe in the kitchen reflects the space we are occupying and the people we are serving," he offers while featuring a clean pair of Puma Clydes in black suede. Akins came up through numerous Michelin-rated establishments and ascribes that what is eaten in a neighborhood, should be of that neighborhood. Not a mirror but a reflection.
Athletic shoes and culinary arts encompass the visually exciting and physically rarified forms of expression. Historically, people who wear basketball shoes and those in charge of kitchens have been predominantly male. But the presence of women in today's sneaker subculture and culinary mass culture is more pronounced than ever. Neither is gender neutral or specific. Tara Norvell is Spanish, from Baltimore and makes Japanese food at New York's Yuji Ramen. "There is an intimacy with food and footwear which is not necessarily mutually exclusive." Tara has a rotation of three pairs of Converse that she switches up and washes regularly.
Perhaps the most telling sign of sneaker aficionados in the restaurant industry is not necessarily what he or she has on, but rather what they will not wear in the kitchen. Akins Amoroso leaves his 'holy grail' Air Jordan IIIs far away from the potentially messy workplace, and Colt Taylor knows enough to keep his original PONYs safely back at home. While all the chefs have their own special cherished pair, they agree that there is an untapped market for slip-resistant sneakers that can keep good footing on top of those rubber mats found in the kitchen.
Today's new vanguard of chefs have style, provide sustenance and are individuals of substance. Instilled within them are values of social consciousness and care for community—the foundational pillars in which hip-hop and sneaker culture were born. Taylor is a board member of the Restaurant Opportunities Center of New York. "People are concerned about where their food comes from, what about the people serving and working in the industry?" he exclaims. With the sad statistic that 70 percent of restaurant workers are on food stamps, ROC NY lobbies for decent wages, benefits and paid sick days in the restaurant field.
It is no coincidence that Harlem's most recent renewal coincided with the arrival of Red Rooster. The restaurant is in and of Harlem. Along with civic pride comes a sense of responsibility. Of Samuelsson's 110 employees, 80 live in the neighborhood. In this community of 22 percent unemployment, the block where his restaurant is situated has 0 percent. And Samuelsson sends sneakers all over the world to his adopted hometowns, to friends and family and strangers in need.
Amoroso and the owners of Elberta, Erica and Erwin Caesar, support wellness in schools and education toward nutritious eating habits. Tara Norvell and her business partner, Yuji Haraguchi, follow strict rules of efficiency. Every part of raw food material is used and nothing is wasted, which reduces trash, saves energy and keeps their prices and eco footprint low. The function and fashion crossover appeal of sneakers, coupled with these cooking artisans' unwavering evangelical belief in quality and comfort, seem to be serving numerous appetites.
Photo courtesy of Joe Zollo
114