CJ McCollum's coming off his best season yet. The 26-year-old averaged a career-high 23 points a game, establishing himself as a lethal scorer. He showed he's capable of getting buckets in any fashion, off the dribble, in the lane, or from three-point range. McCollum's carrying the momentum he picked up last season into this one by agreeing to a multiyear contract with Li-Ning, the Chinese brand that also counts Dwyane Wade, Udonis Haslem, Glenn Robinson III, Tyler Johnson and Evan Turner as endorsers.
"I felt like we were both on the same page," McCollum says about his decision to sign with Li-Ning. "There was mutual interest and admiration. Some of the things I want to accomplish, I think that Li-Ning is the right brand for me, allowing me to be more involved with the brand and with that Eastern influence, allowing me to get into that market in China. I felt like it was the right move at the right time for me in my career."
McCollum spent the first four seasons of his career as a Nike athlete, after spending the four years before that at Lehigh University, a Nike school. McCollum steadily climbed the ranks with the Swoosh, working his way up to wearing PE versions of the Hyperdunk last season.
This season he'll be playing in the Yu Shuai, Li-Ning's flagship sneaker and the sneaker that his teammate, Evan Turner, helped to introduce this summer.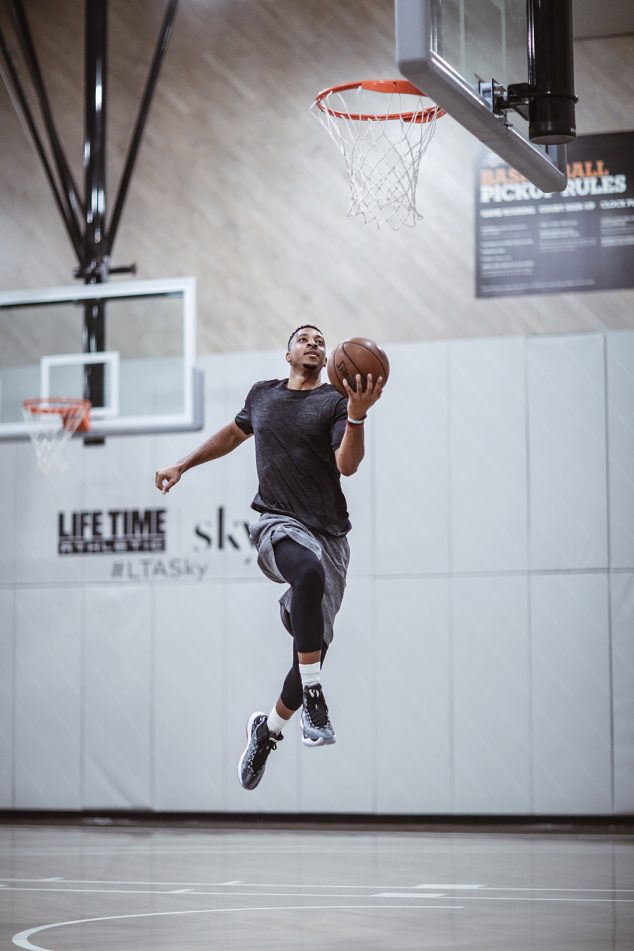 "It's a very functionable shoe," McCollum says. "It's in that mid to hightop range. It's kind of similar to what I played in last season, when I played in the Hyperdunk PEs. It's a similar build, similar mold. Some of the colors I play in will look really nice."
McCollum says the next step in working with Li-Ning is picking out his logo and nailing down the specific colorways that he'll be rocking on-court. And though there could be a signature silhouette at some point, he's not focused on it yet.
"I'm sure we'll discuss a lot of things here in the future," McCollum says. "I'm sure the sky's the limit in terms of opportunities."
One of the early opportunities includes outfitting his older brother, Errick, who plays overseas, in the latest Li-Ning sneakers.
"I've already spoken to my contacts from Li-Ning and once we start getting some PEs and colorways underway, my brother will be getting blessed with whatever he wants," CJ says with a laugh.
That's what drew McCollum to Li-Ning. He wants to be able to have a voice within the brand. That's what Wade and Turner told him about Li-Ning.
"Evan's locker is very close to mine," McCollum says. "And I also reached out to DWade earlier in the summer, just to get a better idea of the brand and what to expect from the transition. They were telling me they're very happy with their situation. The brand has transformed and evolved since 2012. The shoes are comfortable. They've never had any setbacks with the shoes. Most importantly, they have input with the brand. They have input in some of the decision making. And obviously D-Wade with his Way of Wade brand, he's able to be very involved in the production of on and off-court lines that he wears."
Li-Ning's headquarters are based in China, a basketball-hungry country that loves the game and houses die-hard fans of players that hoop in the domestic leagues and in the NBA, which makes the brand an attractive alternative to the powerhouse American sneaker companies.
"They're amazing," McCollum says about the fans in China. "They're eager to learn more about basketball here in the United States. They're eager to learn more Western culture, in general. I've been to China twice, my brother plays in the CBA so I understand their support of basketball and how much time and effort they put in to it with the time difference, staying up to watch games. You see the turnout when we do go to China, selling out shootarounds. It doesn't even have to be a game. 20,000 people will come out and watch us run through some drills. The fact that it's about four times the United States is a huge factor. All those people, willing to learn, willing to put their time into our sport. Why not dive into that market?"
McCollum's portfolio with Li-Ning will continue to grow throughout the season and in the next few years. The Blazers shooting guard is definitely excited for what's to come.
"I'm extremely blessed and thankful to be in this position of where someone even wants me to wear a shoe of theirs coming from where I come from."
Top photo courtesy of Getty Images, body photo by Joseph Sherman