Legacy, Legacy, Legacy: The 'Concord' Air Jordan XI's Spot in History Is Undeniable
They were shining underneath the lights in Orlando. They were damn near glowing, an everlasting flash that hadn't been seen before. It was the patent leather. A glistening shade of black, contrasted against a clean white base. And when Michael Jordan rose up for his jumpshot, hints of purple peeked out.
It was that Sunday, in May of 1995, that MJ gave the world its first look at the "Concord" Air Jordan XI.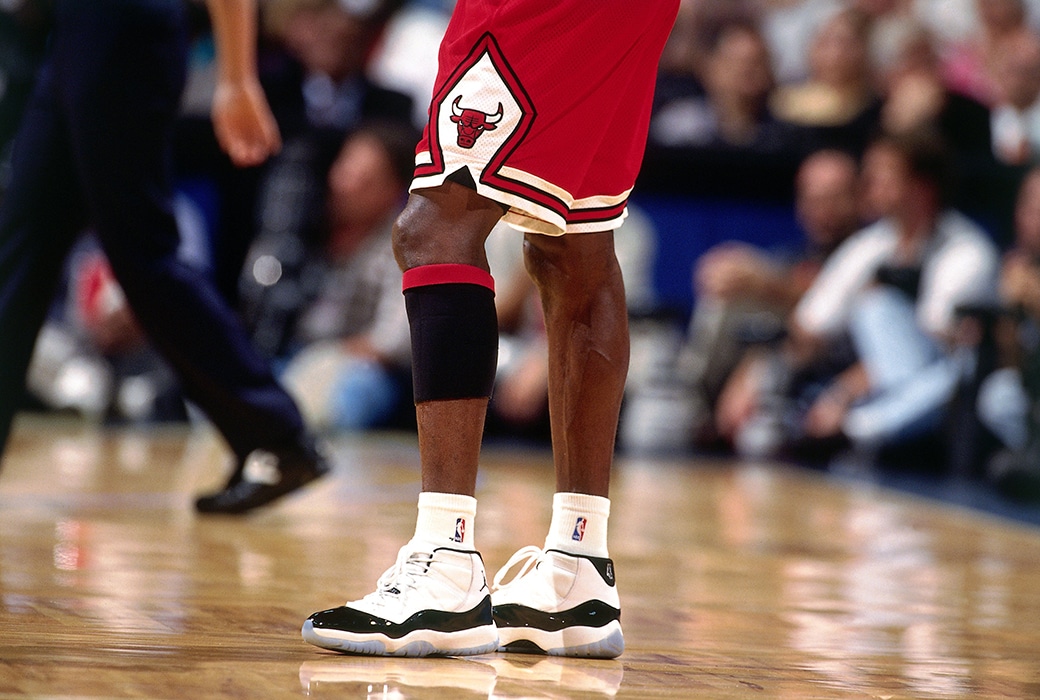 It was just a preview. Tinker Hatfield, the man that brought the XI to life, had asked MJ not to wear the "Concords" because the silhouette was actually meant for the following season. But Mike knew that he had an instant classic on his hands.
"I remember when we first showed MJ, he was like, 'That's it! That's what I'm talking about. You got it,'" Howard White, now Senior Vice President at Jordan Brand, tells SLAM.
White and Hatfield were part of the team that continually set the standard for basketball footwear. MJ provided the inspiration, Hatfield brought the vision to life and White continued to push the Brand further and further. They've been responsible for an endless stream of iconic kicks. And yet the "Concord" Air Jordan XI might be their most revolutionary creation.
Its clean, understated, flowing design impacted basketball sneakers for years. The XI's on-court performance traits also helped to inform construction, too. Carbon fiber can still be seen in sneakers today.
The desire for the XI hasn't faded since that Sunday in Orlando. The "Concords" are set to drop on December 8 and its legendary reputation isn't lost on White. We linked up with the Jordan Brand's Senior VP to discuss the storied pair.
SLAM: What was the moment when you guys took a step back and realized that you not only had a certified classic on your hands, but a sneaker that would influence the overall design of footwear for an entire generation?
Howard White: Well, I don't know exactly when that moment is that you realize you're shaping history, when you realize you have helped create something that people will someday consider the ultimate grail. But I do know that Michael was always adamant with Tinker about doing something with patent leather. He had this vision that it would be something bigger, that folks would wear it to their prom. He had that envisioned in his mind. But then Tinker took that idea and he was the one who brought it to life. So, do you realize at the time that you are shaping history, or do you just know you're an artist? Did Michelangelo realize that he was doing something historical like the Sistine Chapel? He didn't really want to do that because he was a sculptor at heart. But look at how that came out. So, I think Michael Jordan, in his heart, is an artist. It just so happened that this vision came to him as he was coming back from pursuing another love–baseball. He stopped that and when he came back to do this, some people were saying, 'We want the real thing back, the real MJ,' because they ended up losing that series [against Orlando.] But let's look at what that did to him. I got a call from him that summer and the call simply said, 'If I had done my part we could have won.' I told him, 'Michael, this is a team game, so it can't all be on you.' He said, 'I know but if I had done my part we could have won.'
That was the summer he was shooting Space Jam and Warner Brothers built him a gym in one of the parking lots. He'd take two hours for his lunch break and Tim Grover and him would just lift weights. At night, when he was done shooting, guys would come from all around to play. He would get the best of the best there and play them.
SLAM: What was the benefit of the patent leather on the XI, in the functionality of it?
HW: To this day, MJ is still obsessed with how the Air Jordan performs on the court, so the patent leather was first and foremost an idea to help his foot stay locked in on hard stops and cuts.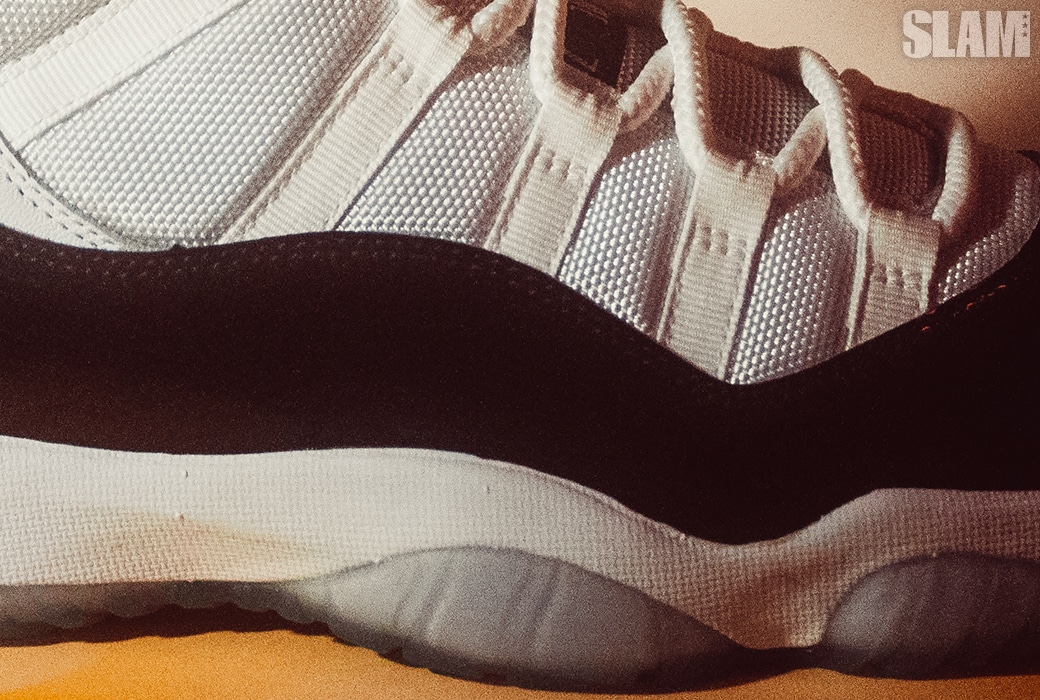 SLAM: The white and black is so, so clean. But the hint of concord purple on the sneaker is amazing. Why was that little hint of purple added to this colorway, in turn giving it the famous 'Concord' name?
HW: Tinker was being Tinker. I can't tell you if there was a specific reason, but he had a way of putting together the perfect and sometimes unexpected mix of colors.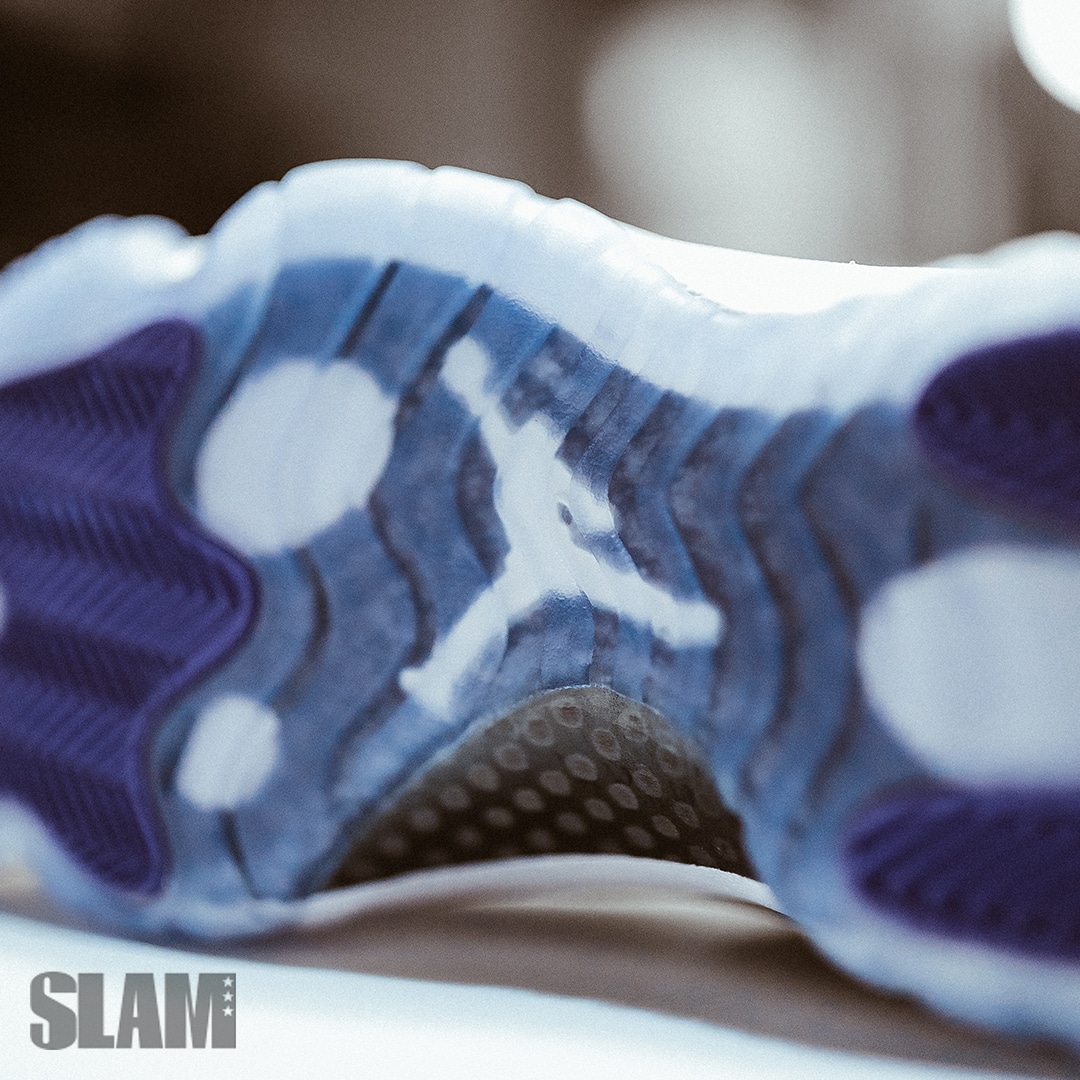 SLAM: Why is it important to include the '45' on the heel for this retro release?
HW: In one man's opinion, where we are as a people, I ask 'How do you climb out of where you are to get where you want to be?' That No. 45 really represents how he left something that he loved to come back to the game of basketball again. What's amazing is that he didn't get over the hump that year. The amount of effort it takes to get over the hump and return to the top, the amount of effort it takes to not give up, to push a city, a team, a country past their own perceived limitations. So, No. 45 represents pushing past your own limitations or those that someone places on you. Like, 'Hey, you aren't quite that good.' That either breaks you down or makes you put everything into it. And we obviously saw how MJ reacted to that with three more championships.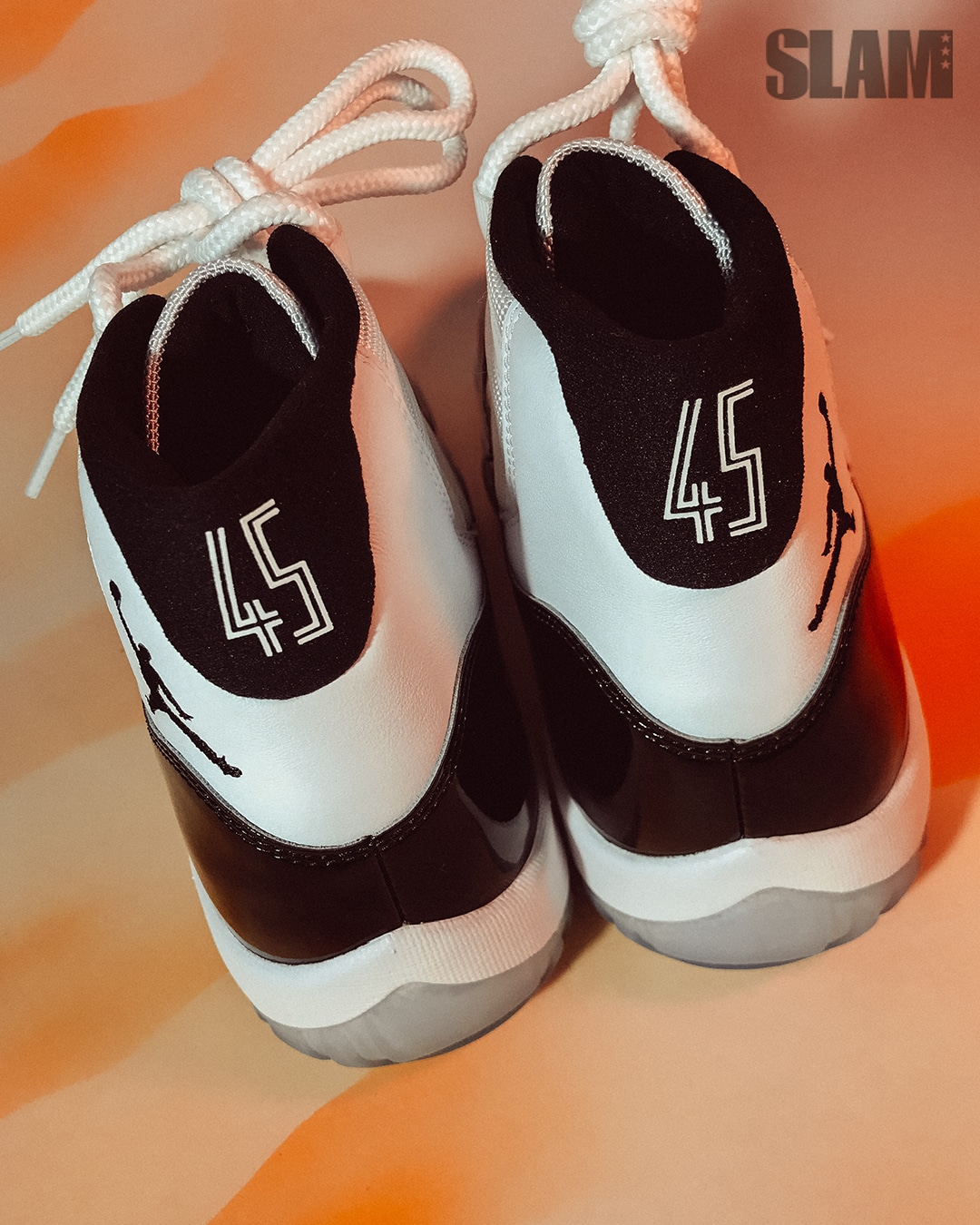 SLAM: What is the legacy of the 'Concord' in sneaker and basketball history?
HW: I think when you look at legacy, when you look at how something becomes 'the grail,' when you look at what this single item can mean to a populous, it really breaks down to what sacrifices are people willing to take to repeat a dream. Coming back as No. 45 and having to feel like you aren't living up to who the world thought you were. That shoe says you're really not worried about what the world thinks. It says you really want to be your self-conceptualization of who you know you can be. So, are you willing to push through those boundaries?
I was right there with him when he came back. No one saw the times when we would be in the gym and it was just him doing wind sprints and liners. Then he would go shoot foul shots. Then jumpshots while he was tired, then he would go back and run those lines again and then he would come back and take those jumpshots again. Really, all people saw was the outcome, but it was those quiet moments when nobody else was around. Just me and him and he was putting in work. So that year that he chased his love for baseball, he sacrificed that year. His body was totally different. When he went to play baseball, he changed all the weights he had in his house. He swapped out all of the basketball gear for baseball gear. Getting his wrist strong, his hands strong, getting his arm strong. He changed everything. So, when he came back to basketball, he had to start all over again to become the best in the world, again. That's the legacy of the Air Jordan XI 'Concord.' That's why it's earned its place as the grail.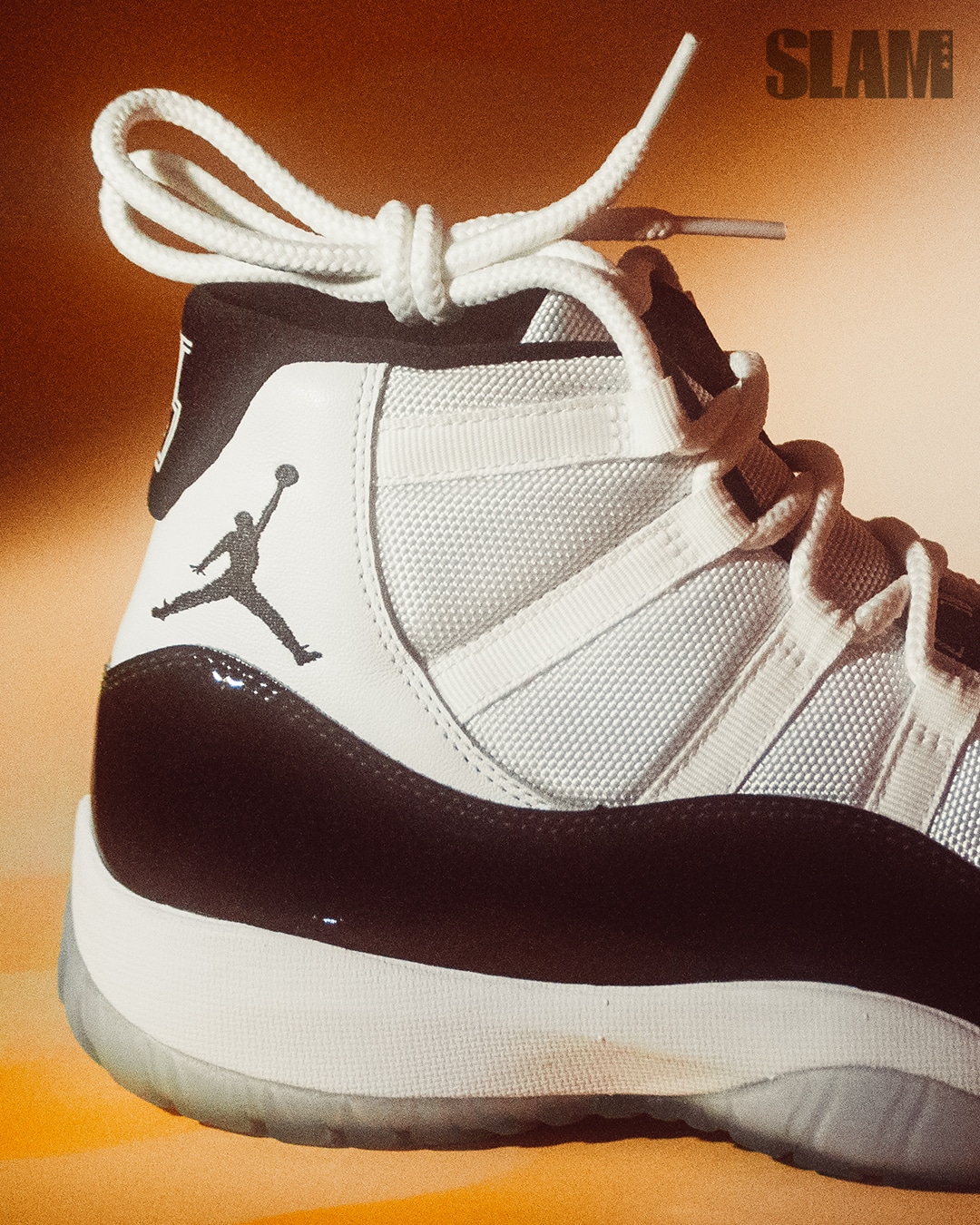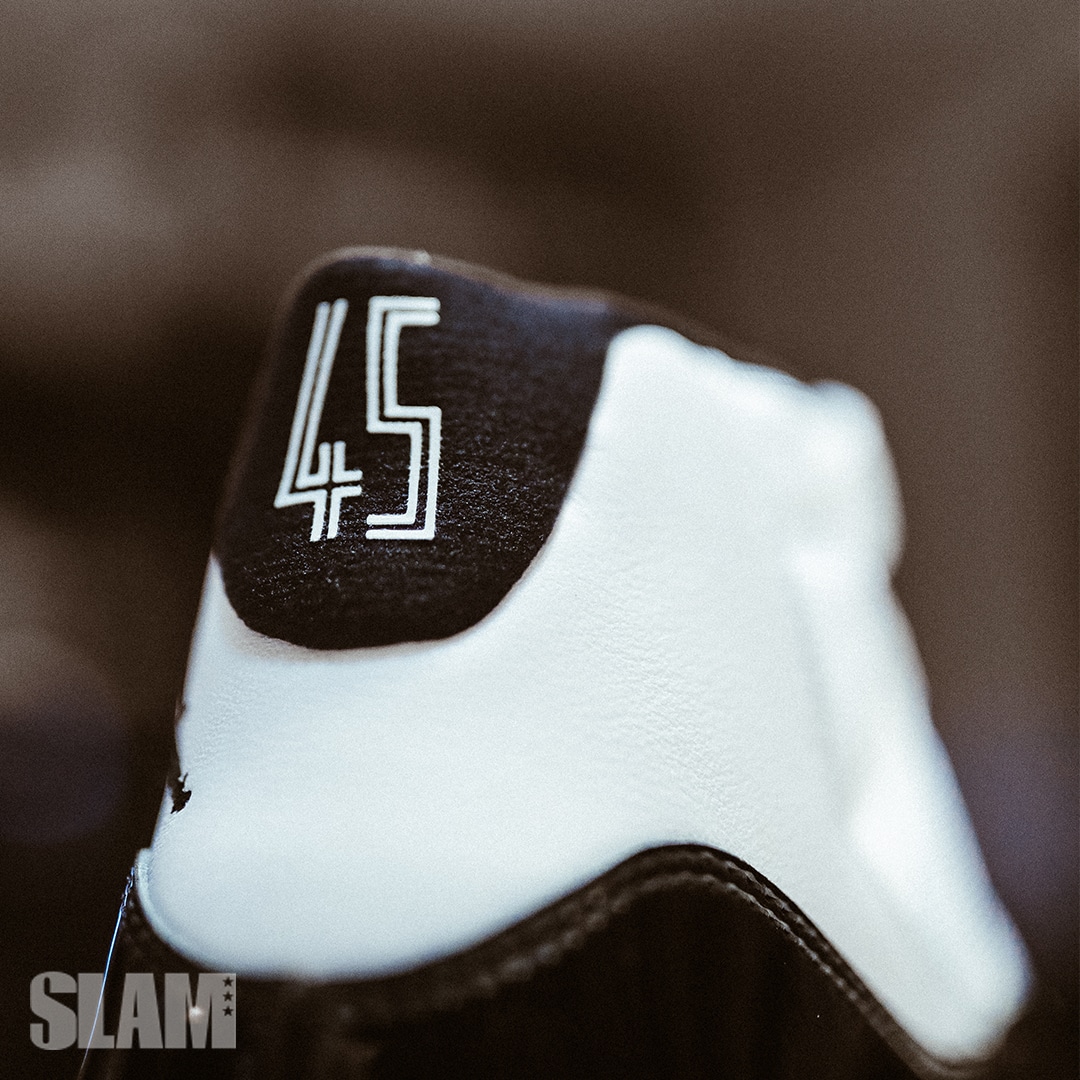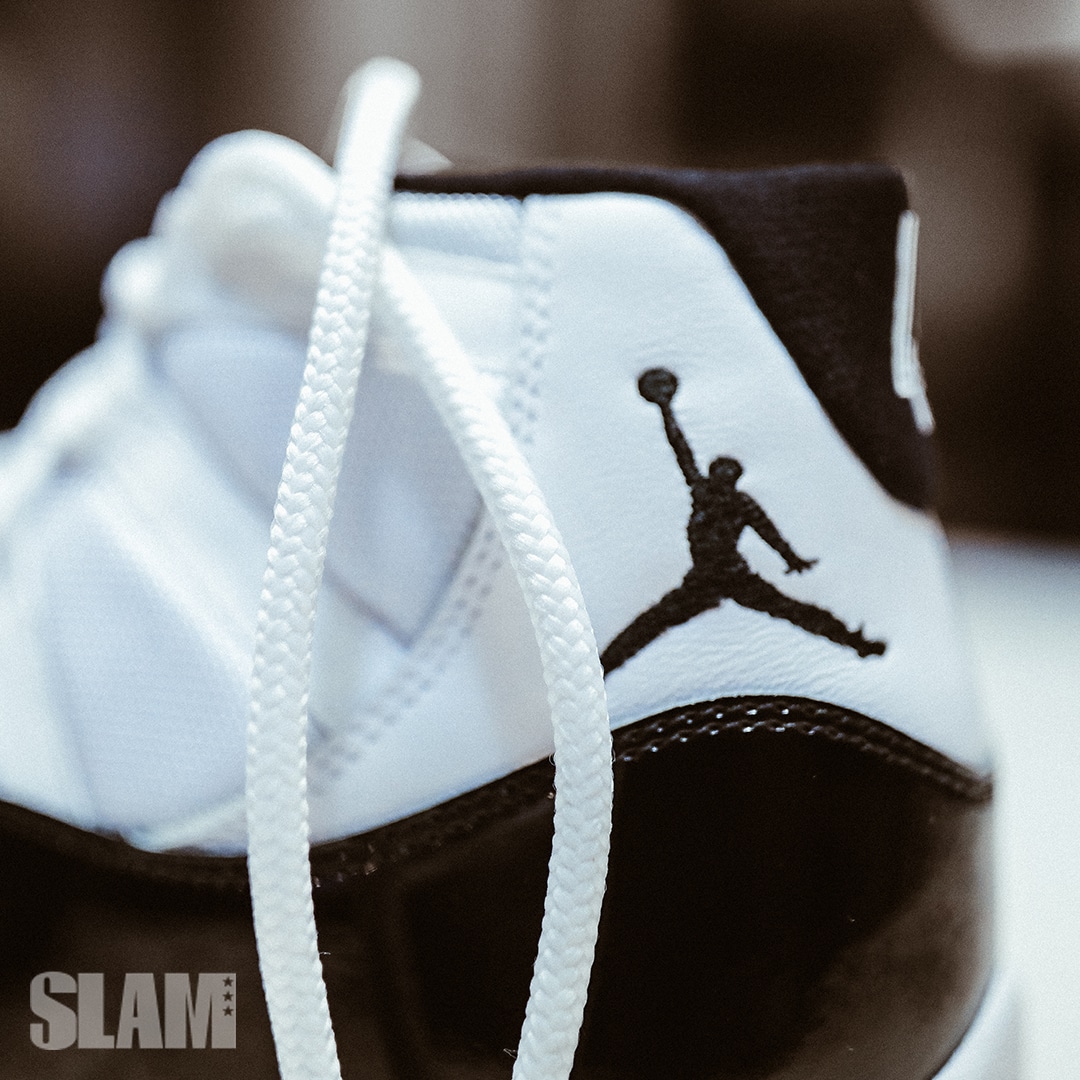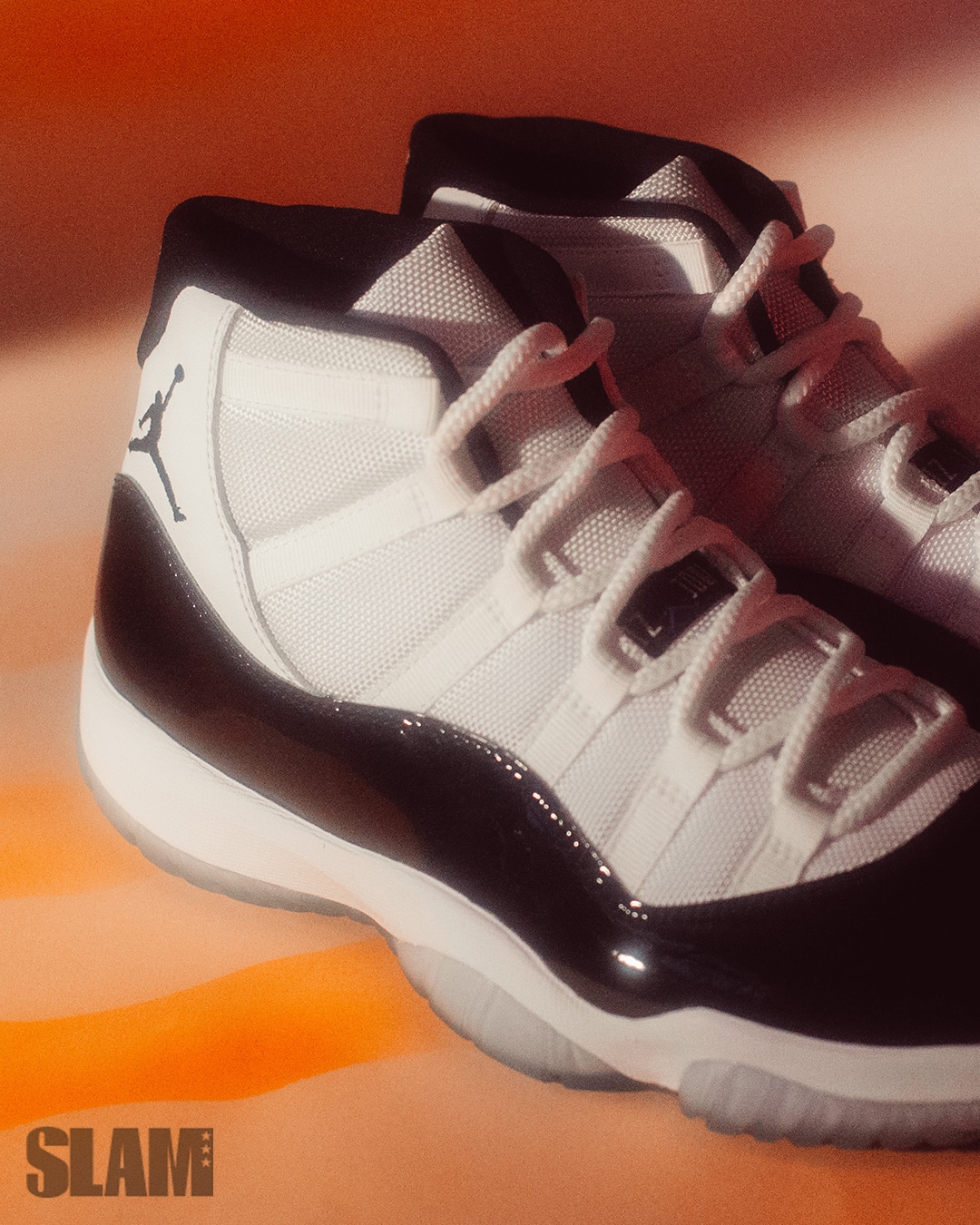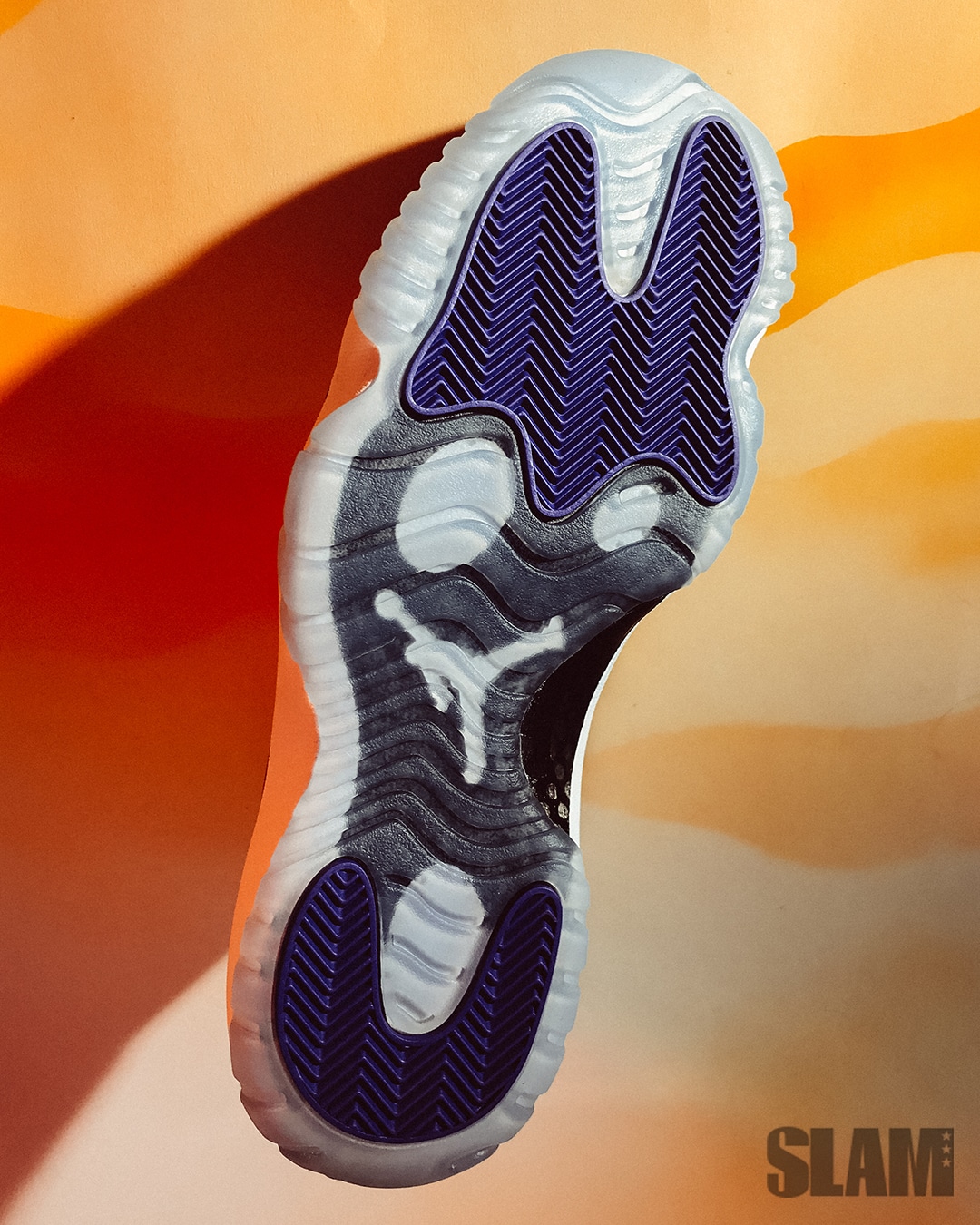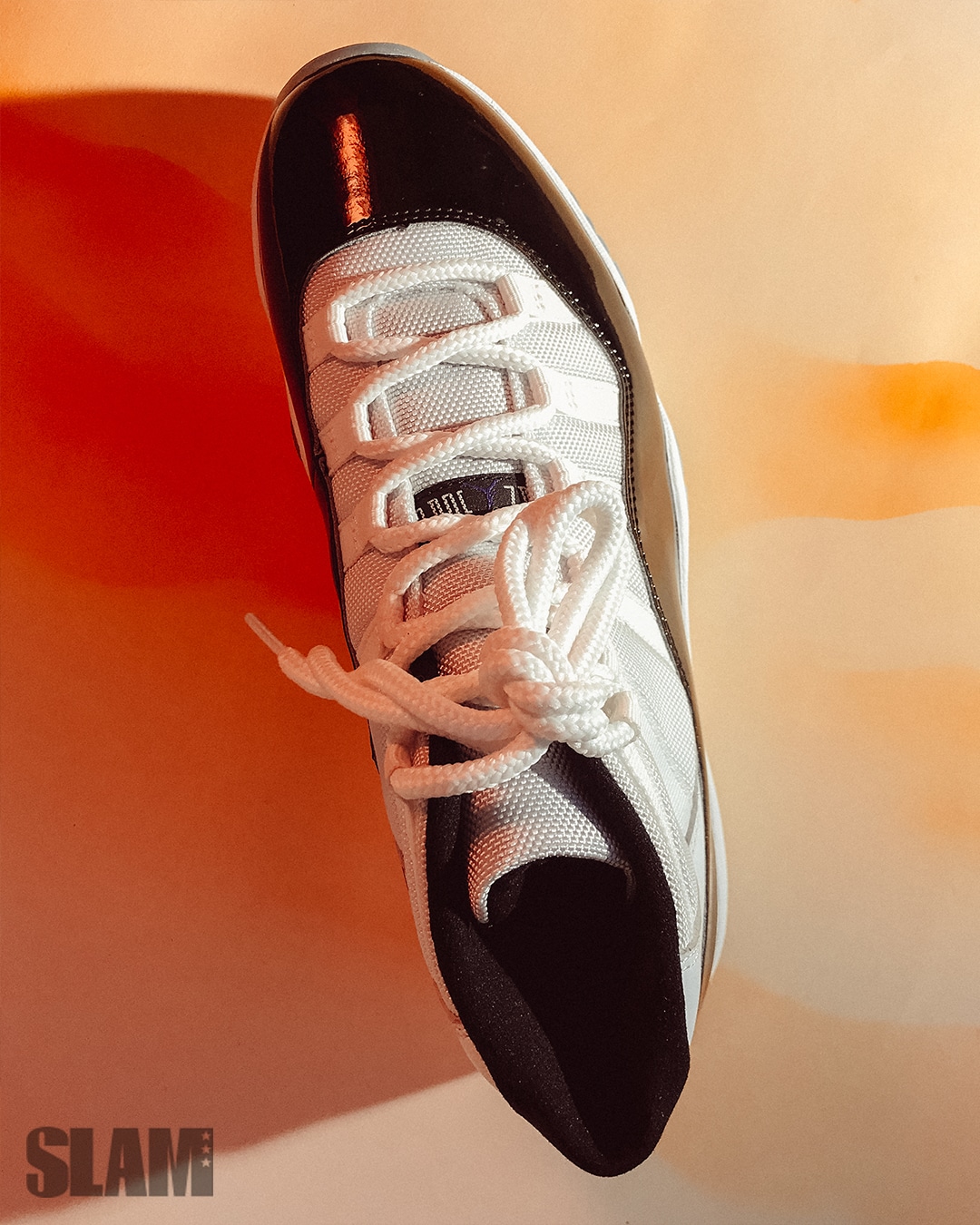 —
Max Resetar is an Associate Editor at SLAM. Follow him on Twitter and Instagram.
Original photos by Joseph L. Sherman and Devlin Claro Resetar. Additional photos by Nat S. Butler.
The "Concord" Air Jordan XI releases on December 8 for $220.