What if I told you that there once was an athlete who could do it all?
In high school in Florida, Deion Sanders was named All-State in basketball, football and baseball. He was drafted by the Kansas City Royals in the sixth round of the 1985 MLB draft but did not sign a contract. In college at Florida State, he once played the first game of a baseball doubleheader, then ran in a track meet (while wearing baseball pants), then played the second game later that day. After clocking a 4.21 40-yard dash (while wearing pads and sneakers), he was drafted by the Atlanta Falcons in 1989, and quickly established himself as the NFL's preeminent defensive back and return man. During his offseasons, he played his way through baseball's minor leagues, eventually making it to the majors with the Yankees. He hit a home run and scored a touchdown in the same week.
All the while, Sanders promoted himself with an unrelenting fervor. For FSU's rivalry game against Florida, he arrived by limo, wearing a tuxedo. Upon being drafted to the NFL, Sanders arrived at the Atlanta airport wearing tons of jewelry and a black leather sweatsuit with his "Prime Time" logo and nickname emblazoned on the back. Each time he stepped into the batter's box, he drew a dollar sign in the dirt. On the football field, he high-stepped into the end zone. And he squeezed in time to record a rap album, produced by MC Hammer. As Sanders once explained to Sports Illustrated, "They don't pay nobody to be humble."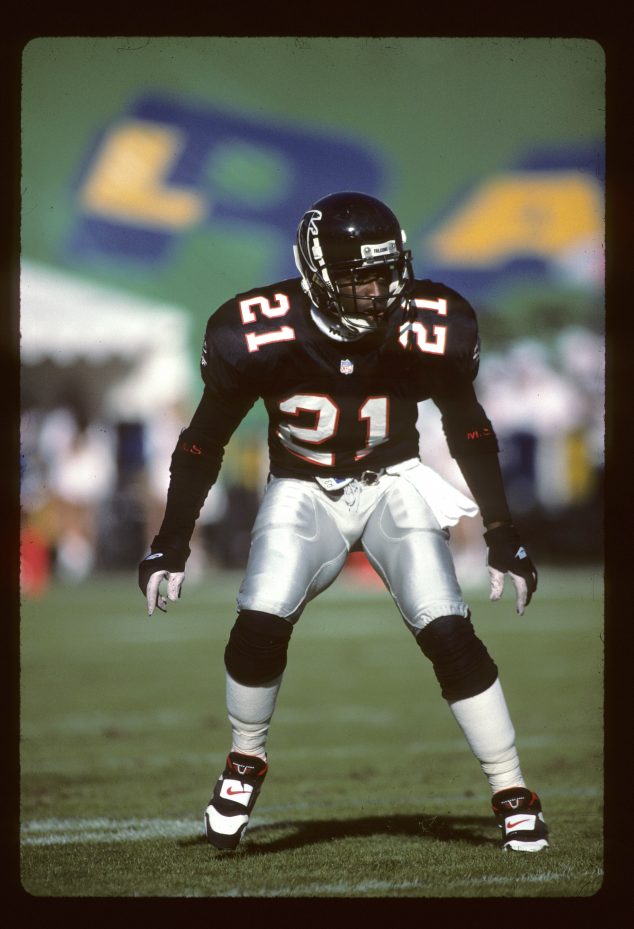 It very easily could have been rather ridiculous, and in all of the best ways, it probably was. Deion was a walking viral social media campaign before social media, and it was impossible to not keep your eyes on him at all times. Hate him or love him, you had to watch. There is, after all, a fine line between being awesome and awful, and the history of athletes who weren't able to walk their talk is vast. But what separated Sanders from those who'd come both before and after was that he was, quite simply, elite at everything he did. Growing up back then in Atlanta, we'd never seen anyone who not only talked so much trash and flexed so much flash, but was able to back it up. It was, to be certain, enthralling.
As Sanders expanded his marketing footprint, the brands came calling. After wearing Mizunos early on and turning down deals with a few upstarts, including British Knights, he signed with Nike. The only other person to have a modern day two-sport impact similar to Sanders was Bo Jackson, who split time in the late '80s between the Kansas City Royals and the Oakland Raiders. Nike famously capitalized on Jackson with the "Bo Knows" campaign, which helped crack open the nascent cross-training market. But almost as soon as Jackson's star went meteoric in 1991 at the end of his fourth NFL season, a hip injury ended his football career.
One year later, in 1992, Prime Time went primetime, making All-Pro with the Falcons and batting a career-best .304 with the Braves. In response, Nike dropped the Air Diamond Turf, Deion's first signature shoe. It was a cross-trainer, built for speed and support, with a mid-foot strap for stability. It would be the first of five signature shoes Nike produced for Sanders, shoes that matched his material flamboyance while supporting his athletic performance. He cycled through these kicks as he left Atlanta and played in cities from Dallas to San Francisco to Cincinnati to DC. Toward the end of his career, Sanders broke out several exclusive PEs, including cleated Jordan XIs in various colorways (of which one pair resided in the SLAM Dome for many years). After retiring in '05, Sanders went on to link with Under Armour to become a leader in the youth football space.
In this age of specialization and risk-aversion, Deion Sanders may be the last two-sport star we see, that rare specimen able to sustain two professional careers and simultaneously be world-class at both.
And look clean while doing it. Imagine that.
—
Photo via Associated Press