Delon Wright says his Draft day started like any other prospect's. Except it didn't.
For starters, the sure-fire first-round pick wasn't in New York. He woke up across the country in California, where he listened to music with some friends before hopping a car over to Hyde, a club on the Sunset Strip in West Hollywood.
Surrounded by family and more friends, he did something else unusual as the Draft began: He told his agent not to hand him the phone if it rang. "I told my agent, Don't tell me nothing," Wright says. "I wanted to find out when everybody else found out, because they were all asking me where I was going to get drafted. I said, Just leave me alone, we're all gonna find out together."
Instead, each time Commissioner Adam Silver walked to the podium, Wright said the words with him aloud—"With the first pick in the 2015 NBA Draft, the Minnesota Timberwolves select, Delon Wright…" And so on, until with the 20th pick, his words matched the Commissioner's. The crowd went wild as Delon's face flashed on the big screen with a Toronto Raptors logo beside his name.
So what was his next thought after the "I just got drafted" feeling wore off? "Drake," says the 23-year-old. "Drake was the first initial thought." What a time to be alive, indeed.
His agent handed him back his phone. He got a call from long-time friend and new teammate DeMar DeRozan. Then from Raptors GM Masai Ujiri and head coach Dwane Casey. "And then they told me I had two hours to get to the airport."
Wright grew up in South Central Los Angeles, where his earliest basketball memories are of heated one-on-one games with his older brother Dorell, a first-round pick of the Miami Heat in 2004 who has spent the better part of the last 11 seasons as a sharpshooter in the League, and who currently plays professionally in China.
"He used to make me cry, I'm not gonna lie. He's six years older than me, so when we'd play in the backyard, he'd always block my shot, he wouldn't let me score," Delon says. "He made me cry a lot. But I think it helped me as I got older, just in terms of competitiveness, and me wanting to be good enough to beat him.
"I can beat him now," the younger Wright adds with a laugh. "He can still beat me, too, but it's not going to be easy."
When he wasn't getting shots stuffed by his brother, Delon remembers being one of the best players at local St. Andrew's Park, which sits near the corner of Manchester and Western—follow Manchester two miles West and you'll hit The Forum, home to the Los Angeles Lakers from 1967 to 1999, among other teams and attractions. At the park, a 9- or 10-year-old Delon would dominate his peers. But, he remembers, "We started playing AAU, and I started realizing that I had a lot of work to do."
With work and the help of a growth spurt that took him from a 5-7 ninth grader to a 6-3 junior, the self-proclaimed "late-bloomer" led Leuzinger High to a California state title in his senior season, and he earned CIF Southern Section Division 1A Player of the Year honors. But academics kept him from going big-time a Division I university right away.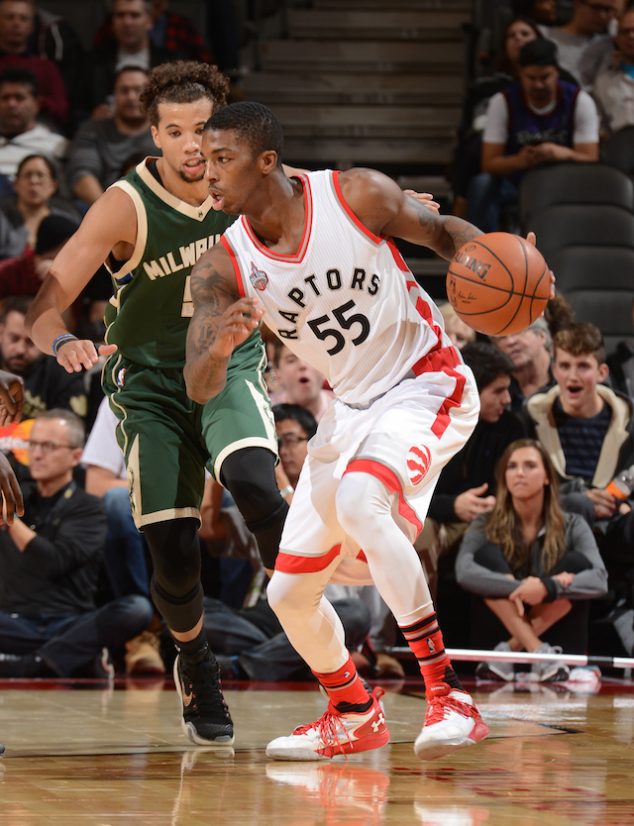 "After high school, I didn't know what I was going to do," Wright admits. He headed off to Rise Academy, a prep school in Philadelphia, but it just didn't feel right. So he flew home, and after consulting with his family, opted for junior college at City College of San Francisco the following season—to get his grades in order and be closer to Dorell, who was at that time a member of the nearby Golden State Warriors. There, while Dorell's career kept Delon's sneaker collection booming, he had to pay for his own books, gas and rent. But he shined bright enough on the court to attract the attention of D-I college scouts up and down the West Coast. (Seriously, pull up his CCSF highlight reel on YouTube and you'll see why.)
Meanwhile, he was making the best of his summer vacations, too, often joining big bro and his NBA buddies at the Drew League. Delon remembers pros like DeRozan, Kevin Durant, Brandon Jennings, Josh Smith, Amir Johnson and JR Smith giving him words of encouragement during those summertime runs.
"Everybody would ask me 'Where you going to school? Where you going to school?' And I'm like, I'm in junior college still, man," he recalls. "That gave me a lot of confidence, guys telling me I would kill it in college."
Eventually, the bigger schools came calling. One Delon hadn't ever given any thought to was Utah. After all, the Utes had won just six games in 2011-12, and were sub-.500 again in 2012-13. But his friend Jarred DuBois, who was finishing up his only season with the Utes as a grad student transfer, told Delon he could be a program-changing talent.
"He asked me, What would I think about Utah? At first I was like, Yeah, alright," Wright says in an overly sarcastic tone. "I was getting recruited by a lot of big schools, so I'm like…Utah? But they recruited me really hard, they were one of the first big schools that offered me. I took my first visit there, I loved it, and I felt like I could make an impact right away."
Ultimately, DW picked Utah over schools like Washington, Washington State and Gonzaga. And he was right about making an impact: His first season in Salt Lake, Wright finished in the top 10 in the Pac-12 in scoring, assists, field goal percentage, free-throw percentage, steals—even blocked shots. The Utes won 21 games.
"Utah was perfect for me because I flew right under the radar," Wright says. "When I got there, fans didn't even know who I was. I could go anywhere without getting recognized. I loved that part." Of course, he admits that all changed by his senior season, when he won the Bob Cousy Award as the top point guard in the nation and led the Utes to a 26-9 record, a top-25 ranking for most of the year and trip to the Sweet 16 in the NCAA Tournament. It wasn't only fans taking notice, either. Suddenly, the slender 6-5 PG's name was popping up in the first round of NBA mock drafts.
"The middle of my junior year, going into Pac-12 play, that's when I felt I could get drafted, and potentially first round," Wright remembers. "But I still had things to prove to the scouts, they wanted to see more from me. I was someone that just came onto the radar and they didn't know anything about me. That's why I had to come back for my senior year and kill it during the summer, kill it during the season and take us to the tournament. That's when I knew I'd be a first-round pick."
Having accomplished that, Wright remains overlooked by the masses given how little national exposure he's received, even as one of the top players in the country at the collegiate level. And, with All-Star Kyle Lowry and free agent acquisition Cory Joseph in front of him on Toronto's depth chart at PG, his early-season minutes have been pretty limited. Being underrated is nothing new for Delon, though. He thrives off it, in fact. Which is why, as he puts it emphatically, "Me and Under Armour works perfectly right now. I'm the underdog, I'm still a sleeper in the NBA, and they're the underdog coming up into the sneaker game."
Under Armour Basketball's leading pitchman, Stephen Curry, welcomed Wright to the brand with an Instagram post over the summer. It was perhaps a simple gesture from Steph's end, but it was a big deal to Delon, who saw an instant jump in followers for his recently reactivated social media handles (he shut down his Twitter and IG for stretches during school to help stay focused on the tasks at hand). Similarly, watching Wright take in all the sights at UA headquarters, the humble kid from L.A. comes out. He laughs when he sees a giant poster of Jennings hanging in one hallway, whipping out his phone to tweet a pic. When he smiles in front of the camera, he reveals a set of braces to go with his baby face.
"It's still surreal, to be honest," he admits of the whole experience, beaming with genuine, refreshing humility. "When my agent told me I'd be coming here to do a photo shoot, I didn't realize how big it was. And now I'm starting to see, this is really a big deal."
Then again, after hooping in their gear for two years at Utah, the decision to sign with Under Armour was an easy one. "I think they took the jump this year specifically, with Steph," Wright says, pointing to his own recent college experience as evidence. "When I first got to Utah, the shoes were like, whatever. I'd wear any shoe because they all look the same. But last year, all the different colorways, I was switching up the colors of the Curry Ones. I've been wearing those all summer, too."
The fact that UA sponsors a handful of players on his favorite baseball team, the L.A. Dodgers, is a nice bonus—Wright showed up rocking an Under Armour Dodgers hoodie. Because everywhere he goes, from Utah to Baltimore to anywhere in between, Delon Wright is repping South Central L.A. Next up? Taking things international in Toronto. Word to Drizzy.
—
Abe Schwadron is an Associate Editor at SLAM. Follow him on Twitter @abe_squad.
Photos via Getty Images, Under Armour.