If it wasn't for the Air Jordan I, Stadium Goods simply wouldn't exist.
The renowned retail and consignment store, located in SoHo, NY, that also has a popular presence online, just celebrated its three-year anniversary in October. Established in response to a thriving kicks culture and a growing demand for premium, luxury products, founders Jed Stiller and John McPheters were determined to provide a global marketplace that catered to the most passionate of sneakerheads. And they have definitely succeeded.
"We wanted it to be a premium experience, whether it's on the web or in person at the store," says Yu-Ming Wu, the Chief Marketing Officer of Stadium Goods and one of the few people who has been there since the very beginning. "With the store, we obviously want to create this kind of gallery, museum-like atmosphere where people can come in, learn a little history, buy some stuff and just have a great time shopping for shoes."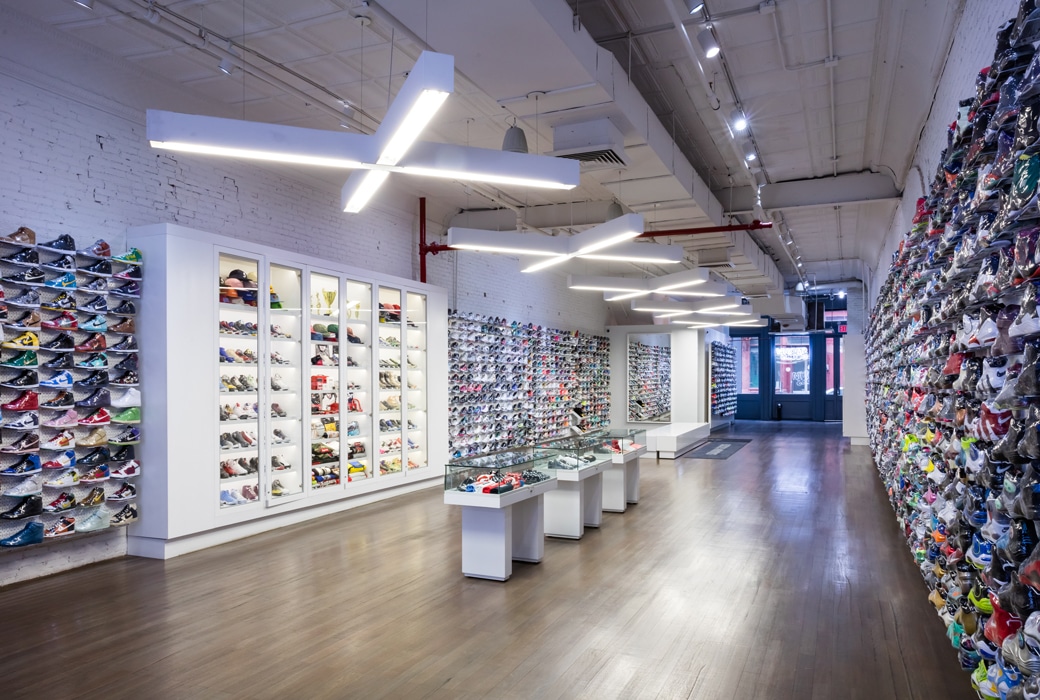 GRAB YOUR COPY OF SLAM PRESENTS JORDANS VOL. 4!
This museum-like feel, along with its distinct collection, has led Stadium Goods to become a go-to destination for everyone from rappers to NBA players. The walls of the store are lined from top to bottom with highly coveted sneakers, all organized by brand and athlete. Mike's kicks come first, followed by LeBron and Kobe, then SB Dunks, Air Max silhouettes, NMDs and Yeezys. There's a trophy-case display with items selling for upwards of $15,000, such as the ultra-rare limited-edition Eminem x Carhartt Air Jordan IV.
And it's likely that none of it would be there had it not been for the AJI, introduced to the world at the end of 1984.
"If it wasn't for the Air Jordan I, there possibly might not be sneaker culture," Wu says. "There might not be this universe of people who love sneakers on the level that we do."
Wu credits Jordan Brand with cultivating his own love of shoes, which dates all the way back to the sixth grade. Driven by his obsession, Wu has been instrumental in building the culture up, starting the well-known website Sneaker News and the kicks convention Sneaker Con before getting involved with Stadium Goods. His knowledge of the industry has helped the store blossom at a remarkably fast rate.
"Yes, there have been other shoes that have come—Converse and Chuck Taylor obviously have had a really long history—but had it not been for the Air Jordan I, I don't think we'd be having this conversation today," Wu says.
It was the Air Jordan I that truly ushered in the kicks movement that's still ongoing. As Wu describes, it was the "perfect storm" to ignite the fire. There was the ascendance of Jordan on the court; the partnership with Nike; the striking red, white and black colorways, designed by Peter Moore; the famed Banned advertisement. It all came together to form this compelling narrative—one that is widely viewed as the foundation of our modern fascination with shoes, and has led the classics to be followed by a run of retros, exclusives and collaborations. There have been tons of versions of the AJI in the 34 years since its debut.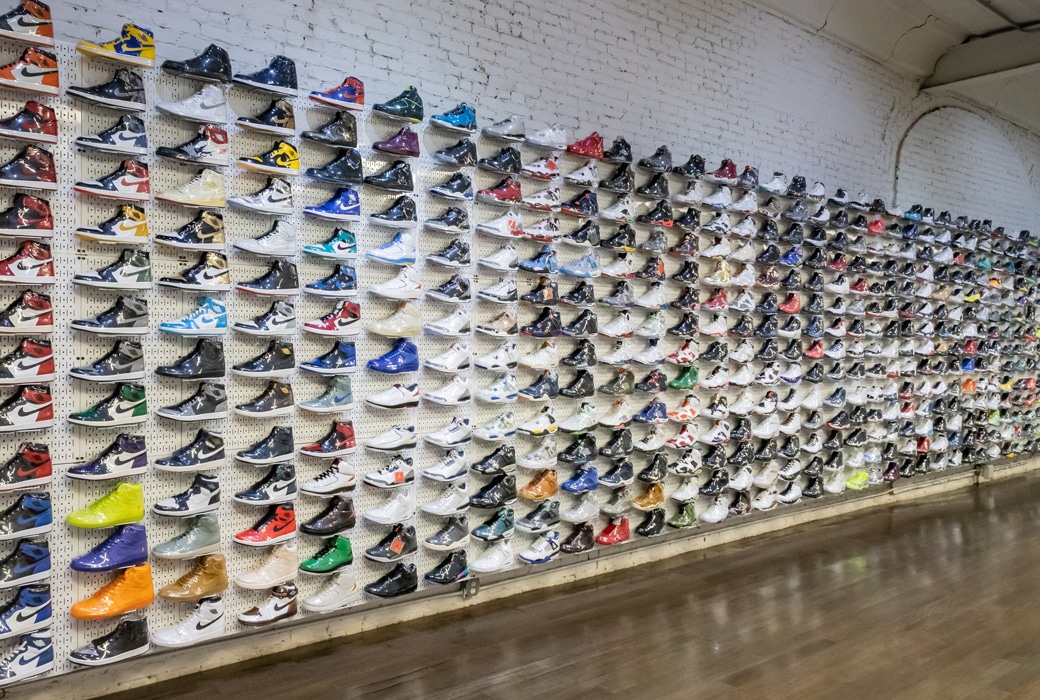 "The Air Jordan I is the most incredible sneaker ever created," Wu says. "Some people will challenge me with the Jordan III or the Jordan IV, but without the Jordan I, there would be no Jordan III or Jordan IV."
Due to its rich history, the Jordan I is still one of the top-selling pairs at the store, where they offer high-, mid- and low-top variations and a mix of OGs and new iterations. According to Wu, the boys' sizes have actually become more valuable than the men's sizes, as younger kids and female sneakerheads are gravitating toward the shoe.
"In China, the Air Jordan I is right now the most popular model out of the entire Jordan catalogue," Wu explains. "I can't think of anything that comes close to the Jordan I's importance. The key word there is the importance of that shoe."
Evidence of that importance lies on Howard Street in New York City, filling a wall inside a booming store called Stadium Goods.
—
GRAB YOUR COPY OF SLAM PRESENTS JORDANS VOL. 4!
Alex Squadron is an Associate Editor at SLAM. Follow him on Twitter @asquad510.
Photos via Stadium Goods.