The San Gabriel mountains lie just past northern Los Angeles. On the other side of the mountains is Palmdale, a small city in the desert. It's dry and hot and known for its airport and surrounding aerospace community.
Paul George grew up in Palmdale and developed his love for fishing and camping in the small city. His hometown is part of the inspiration for George's first signature sneaker, the Nike PG1.
Designer Tony Hardman says that he and his team built the silhouette to reflect the duality of the superstar.
"He's this down-to-earth guy from a small town, but he's also this red carpet, bright lights kind of dude," Hardman says.
Hardman souped-up the PG1 with Flywire cables, bottom-loaded Nike Zoom tech that helps with explosiveness, an internal bootie and a little bit of volume on the sockliner so that the step-in comfort is nice and crispy. The forefoot strap? That was George's idea.
"Initially, Paul had a little sketch that he did," Hardman says. "It wasn't a great sketch, but it had a forefoot strap on it. We knew aesthetically that's what he wanted.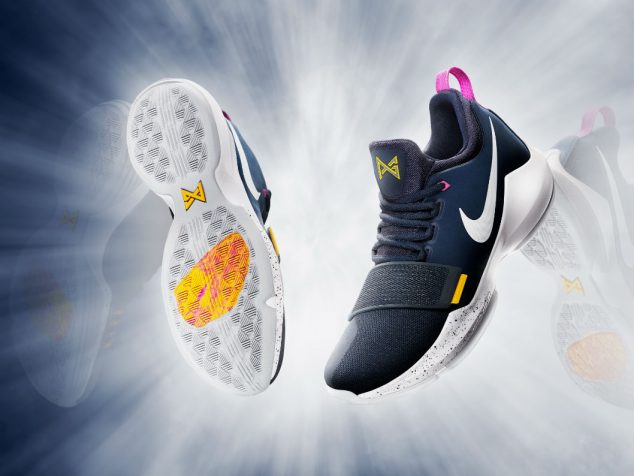 "It was cool just for him to have something like that," Hardman continues about the sketch. "Paul was really involved, more so than we usually can get our athletes involved. His injury actually extended the time we were able to spend with him and learn about him and his personality."
Hardman and his team also had to learn about George's feet. Hardman says the four-time All-Star was wearing sneakers that were too small. But while he was smashing his toes against the front of his kicks, he grew to like a snug fit.
"He really likes that tight feel around his foot that he's been used to," Hardman says. "The goal was how do we get him a little bit of room in the front so he's not smashing his toes, but make him feel locked down?"
Hardman's solution was to put Zoom Air in the forefoot, ensuring responsive cushioning. It's impressive problem solving, but the design team quickly found out that PG isn't a sneaker tech guy. He's into style, comfort and storytelling.
"The scales were just to harken back to his love of fishing," Hardman says about the "2K" colorway. "That was one of his requests, was to bring some natural materials, some leathers, some 'bucks into the shoe. We've been able to use that as almost like a canvas. Think back on how we were able to use graphics on some of the Kobes, really bring some different flavors to the uppers, that really allowed us to veneer the shoe differently and bring a lot of value to it, especially from a stylistic standpoint.
"He's really about comfort," Hardman continues. "He doesn't care too much about Flywire and techy things. He just knows he wants to be comfortable and locked in. He's got Foams and J's. He's into all that retro footwear. He loves that."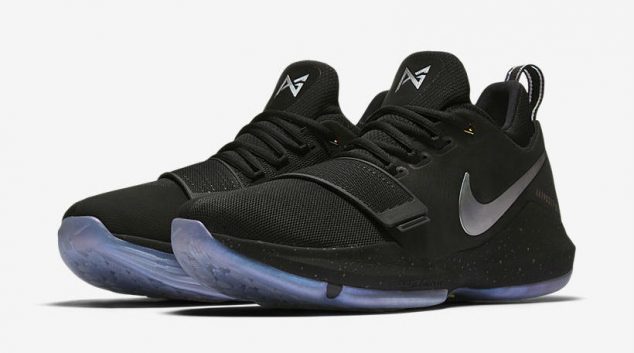 There are also small touches that were inspired by George's life. The medial side of the left shoe is inscribed with "5-1-15," honoring the first birthday of George's daughter, Olivia. His birthday, "5-2-90," appears on the medial left side. The right heel tab features a stripe–a reminder of the titanium rod used to repair George's devastating right-leg fracture. And with each new colorway, Hardman and his team used varying materials.
The PG1, in part because of its $110 price tag, is coming in with a bunch of buzz around it. People from Palmdale to Providence are gearing up for this Saturday's first release of the "Shining" colorway, for $110.
"It's usually a little more polarizing," Hardman says. "You've got people that hate it, you've got people that love it. For this one, it's really been overwhelmingly positive, which is great."
—
Max Resetar is an Assistant Editor at SLAM. Follow him on Twitter @maxresetar.
Top image courtesy Getty, other images courtesy Nike