Rey Mysterio is not an NBA great. Mysterio is not a streetball legend, either. In fact, he probably wouldn't know a crossover from a cronut. That's because Mysterio is a professional wrestler, not a baller. And yet, WWE fanatic and Atlanta Hawks point guard Jeff Teague says he can see similarities to Mysterio in his own game: "He's quick, fast," Teague says. "A high-flyer, fun to watch."
Cross-sport comparisons are tricky, but when it comes to sheer entertainment value, Teague's got a point. While Mysterio makes his money flying around a wrestling ring smashing heads in, Teague makes his by flying around a basketball court breaking ankles en route to easy buckets.
If you were somehow still sleeping on JT's talents, the 2014 NBA Playoffs were a convenient snooze button. After dropping a career Playoff-high 28 points to shock the East's top-seeded Pacers in Game 1 of the first round, Teague helped Atlanta push Indiana to seven grueling games, averaging 19 ppg along the way. Ultimately, the Pacers fought back to win the series, but the way Teague carved up Indy's much-lauded D had the national audience finally showing love. Regular season averages of 16.5 points, 6.7 assists and 2.6 boards per game hardly begin to illuminate what he means to the Hawks.
Last season, Teague's first under new head coach Mike Budenholzer, the 6-2 point man took the kind of strides Atlanta hoped he might when the team matched a four-year, $32 million offer sheet dangled his way by Milwaukee last July. Now, Budenholzer is hoping to mold Teague into a leader like Tony Parker, with whom he worked for TP's entire career in San Antonio. With the way he gets in the paint and sets up his teammates, while still leading his team in scoring many nights, it's not hard to view Teague as a young Parker. Only one problem.
In June, Teague took to Twitter and typed, "Yo boy getting old."
Wait, what?
He laughs. "I'm in there, in the gym today, and Dennis Schroeder and John Jenkins and them guys are in there, and I'm like, damn, these are the young guys," explains Teague, who at just 26 years old is preparing for his sixth NBA season, all with the Hawks. "When Dennis Schroeder told me he was 19 last summer, I was like, OK, I'm the old guy. I was the young guy in the locker room not too long ago."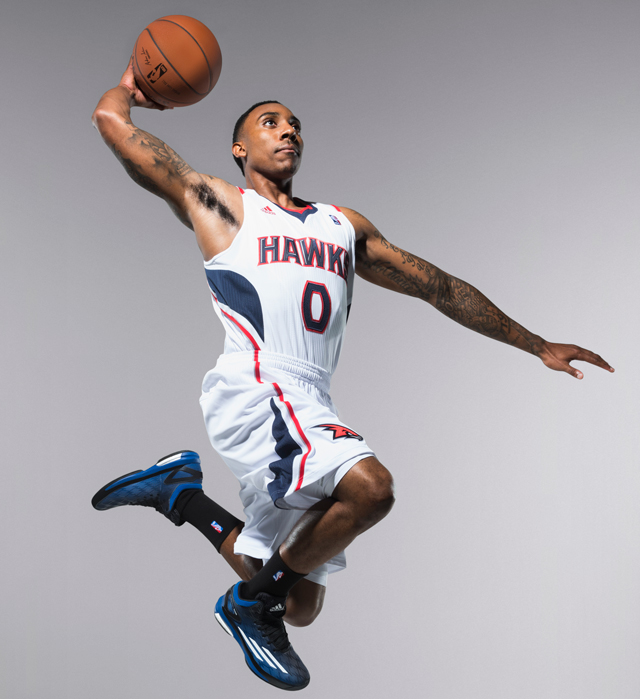 The self-proclaimed old head speaks via cell phone from a barbershop in downtown Atlanta, where he's getting his coif correct before heading out for Fourth of July weekend at Lake Lanier with the family. He thinks back to his formative years; Teague grew up quick on the basketball court. Coming up in Indianapolis, Jeff's father Shawn would routinely drag him to men's leagues games to face guys twice (sometimes three times) his age.
Besides his pops, who played point guard at Missouri and later Boston University—under a young head coach named Rick Pitino, and alongside Kyrie Irving's father, Drederick—Teague says he didn't model his game after any player in particular. But there was one who caught his eye.
"I liked Jason Williams, White Chocolate. That's the only player I really was, like, in awe of when I got a chance to meet him, because that's a guy I really liked to watch," says Teague, who still has a vivid memory of matching up with JWill during his rookie season. "It was cool. I had to pressure him full court. He was a little older, playing for the Magic at the time, so he wasn't as fast and as crafty with the ball as he was in his younger days. I was a little nervous, still."
The nerves Teague felt matching up against Williams and his ball-on-a-string handle aren't unlike the anxiety opponents undoubtedly feel checking the Hotlanta point guard these days. Or at least, they should. Just ask Teague's little brother, Marquis, who fell victim to a killer crossover in the fourth quarter of an early April game in Brooklyn this past season, and was left crumpled on the floor near the free-throw line.
On a nightly basis, Teague is one of the League's top candidates to shake a helpless defender right out of his shoes. Ironic, since he's also one of the L's biggest sneakerheads, once claiming to own upwards of 4,000 pairs of kicks.
"I've got shoes everywhere. At my mother's house, I have a room full, a garage full. At my house here in Atlanta, there are shoes everywhere, I can't lie—downstairs, upstairs," Teague says. "When I had my first house here in Atlanta, I know I had close to 1,500 pairs. At my mom's house, it's bananas, I don't know how many I have there."
Since inking with the three stripes during the 2012-13 season, the majority of that collection has been transformed into adidas. Teague says he's partial to the Mutombos, anything by Jeremy Scott, and old-school shell toes when it comes to off-court style. As for business attire, he's already beaming about the Crazylight Boost's incredible comfort.
"Everything is top notch, everything is A-1," Teague says of his experience as an adidas athlete. "When I was growing up, I'd never see people with adidas. But now, it's like the thing to wear. If you've got a fresh pair of adidas, you're labeled as a poppin' person. Now, everyone is wearing adidas."
Even pro wrestlers.