A lot of cats claim to have grown up in a "basketball family," but when New York Knicks rookie point guard Jerian Grant says so, he means it: the Grant name rings out on the hardwood.
His uncle, Horace, played 17 NBA seasons, winning four titles with the Bulls and Lakers. His dad (and Horace's identical twin) Harvey played 11 years in the L, with stops in Washington, Portland and Philly. Jerian's older brother Jerai is a pro baller overseas. His younger brother Jerami was a second-round pick by the Sixers last season. And youngest Jaelin just finished another great Grant career at storied DeMatha Catholic HS in the DMV.
Now Grant, 23, is entering the family business. He was born into it, and ever since, he's been around basketball 24/7—from trips to see his uncle and his rings to competing in every sport under the sun against his siblings. "That's really what helped my competitive drive—trying to be better than my brothers," he says.
For the Grant brothers growing up in Bowie, MD, driveway battles were a daily routine. Teams were always the same: oldest Jerai and baby bro Jaelin against the middle two, Jerian and Jerami. Often they'd push and shove with Harvey looking on.
"We would lose a lot," admits Jerian. "But it made us real competitive. Those backyard games went a long way."
And today, the team that lost those family 2-on-2 games is in the NBA. Together. "Once a month, we text each other, like, We're here!" Jerian says of Jerami. "We're brothers and our dreams have come true, and we're doing this thing together. Our family is back in the NBA."
Of course, Jerian's game has evolved since his adolescent days. New York swapped former first-round pick Tim Hardaway Jr. for the rights to Grant on Draft night because he's a savvy, 6-5 point guard who led Notre Dame to a 32-6 record and an ACC Tournament Championship while averaging 16.5 points and 6.6 assists per game in his senior season. His Irish damn near beat Kentucky in the Elite Eight of last year's NCAA Tournament.
"Back when you play 2-on-2, it's kind of just, whoever gets the ball is gonna go score. My game has evolved to where I can make plays for everybody on the court," says Grant, who is expected to compete for a starting job with the Knicks. "I think being in New York now, having more playmakers on the court will definitely help the team out."
JG has already gotten acquainted with his new teammates—he's living in White Plains, across the street from fellow Knicks first-rounder Kristaps Porzingis and about 10 minutes away from the team practice facility, he's studying the triangle in hopes of mastering it the way his coach, Derek Fisher, did as a PG in L.A., and second-year NY native Cleanthony Early has already taken him out shopping in Manhattan.
In five Summer League games, Grant averaged 11.8 points, 4.8 assists and 3.2 rebounds per, as New York went 4-1. Through his first three career pro regular season games, he's playing 25 minutes a game and posting averages of 7.3 ppg, 4.0 apg and 3.3 rpg.
A four-year starter in college, Grant rarely turns the ball over and he's comfortable in pick-and-roll situations, which has already translated immediately at the next level. With a revamped roster for 2015-16, Grant will play a big role for the Knicks right away. Which is why he was present at every single "optional" team workout this summer. And why he's not backing off the goals he set before he was even on an NBA roster.
"My personal goal is definitely still Rookie of the Year," Grant says without hesitation. "As a team goal, I think getting back into the Playoffs would be a huge thing for New York. To be able to be the point guard on a team that's in the Playoffs, in New York, and eventually build from there to get back competing for championships."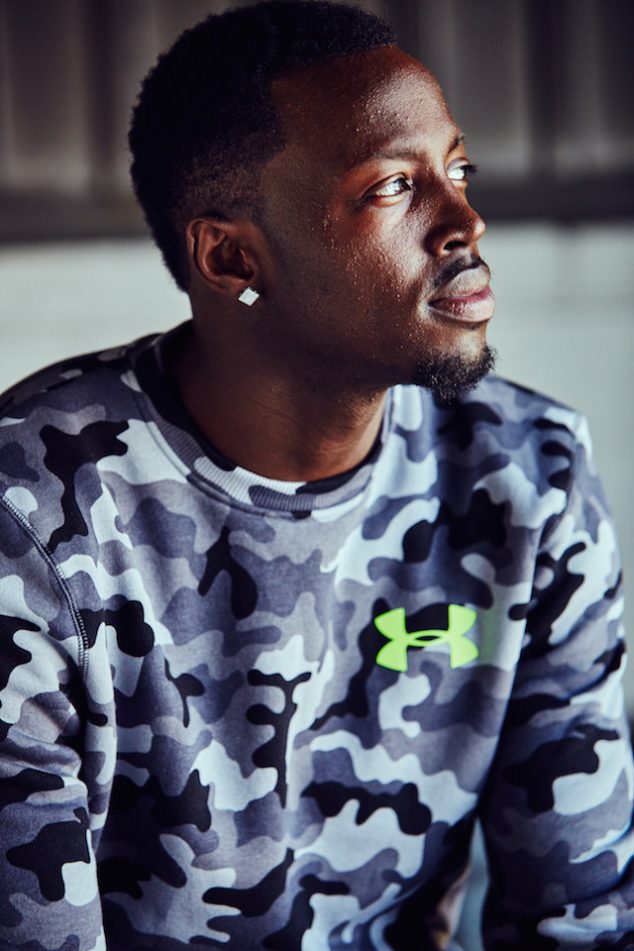 The Knicks haven't been to the postseason since the 2012-13 season, when Carmelo Anthony and company fell in six games to the Indiana Pacers in the second round. In New York, that kind of Playoff drought makes for a deafening chorus of restless fans.
If you thought for even a split-second that Grant would shy away from the pressure, you needn't look any further than his choice of jersey number: 13. Knick fans will forever remember another great young point guard who rocked the same number: Mark Jackson. Nearly 30 years ago, Jackson won Rookie of the Year donning the same digits in New York, and he may make the Hall of Fame one day yet. Grant didn't choose the number 13 by accident. He's ready to take on comparisons to the lead guards that came before him, and ready to accept the challenges he'll now face at the position every night.
In August, Grant tweeted, "No question PG is the deepest position in the league. So much opportunity," and he stands by that statement now.
"As hard as it is being a point guard in the League, you have that much more opportunity. You get to go against players that are All-Stars almost every single night," Grant explains. "The position is so deep. If you're out there playing well, you can make a name for yourself really quick. Having an opportunity every night, not taking a night off, it's going to be great."
He's right. In the Eastern Conference alone, he'll face stars like John Wall, Derrick Rose, Kyrie Irving, Kyle Lowry and Jeff Teague. Grant says his favorite player growing up was Tracy McGrady, but given his own position and skills, he gravitated to his local NBA team's original point god from that era. "When I really started learning the game, Rod Strickland was the point guard that I watched," he says. "I think that's how I came to love the guard game."
Born and bred in the Bronx, Strickland was a teammate of Grant's dad Harvey in Washington. An elite playmaker, Strickland created for others as much as he looked for his own shot, and did so with some flair, not unlike the way say, Irving does today. As a young kid, Jerian got the chance to be a ball boy for the Bullets/Wizards, hanging around Strickland enough to earn a nickname from him: "Bam Bam" (an ode to Jerian's general rambunctiousness). On Draft night, Grant nearly followed in Strickland's footsteps. His name was announced as a Wizards' draft pick, before a series of trades quickly sent him to the Knicks. Hooping for the hometown squad would have been a dream come true. And actually, Grant never even worked out for the Knicks, so the move came as a surprise. But with some reflection, he says NYC is the perfect place to kick off his NBA career.
"I knew, like, right before," Grant says of the moments before he was drafted at No. 19 overall. "The Wizards pick was coming up, kinda hoping I would get to be home, thinking that would be cool. But when I heard I was going to New York, it's a close drive or train ride. And being in New York, you can't ask for better than that."
Normally, Grant would indeed take that quick train from NY to MD. But he drove down to Under Armour HQ in Baltimore today, a cloudless mid-September day, so that he could drop off his six-month old Husky puppy, Ice, with his family. He talks about how he hopes that Ice will re-join him in New York during the season after downing an omelet and posing for some photos around the UA campus. For a kid who grew up in the shadow of the University of Maryland and a stone's throw from BMore, the significance of being a featured athlete with Under Armour is hardly lost on him.
"Growing up, it's cool to wear the shoes. But when you're actually a part of what they're building here, it's real special," he says. "You get to help build a brand."
Grant remembers the curiosity amongst his college teammates when Notre Dame agreed to a new long-term partnership with Under Armour in 2014. "Guys were like, Under Armour, isn't that only a football thing? What kind of basketball shoes do they make?" But once Grant and the rest of the Fighting Irish slipped on the newest UA kicks, there was no looking back. "I've seen them grow," says Grant of UA. His preference last season was the Curry One Low. "You put these on, and they're fly. They feel good. And with all the new releases, you realize the brand has come a long way.
"The off-court stuff is really catching up quick, too," he adds, sneaking a quick glance down at his UA x Muhammad Ali "People's Champ" tee. "You can go out and look fly in some Under Armour gear."
While Grant is no stranger to the NBA life, his uncle and Pops taught him that success is earned, not served on a silver spoon. Likewise, as part of the Under Armour family, Grant realizes that to help push the brand into a bigger spotlight—and onto more players' feet—he'll have to work twice as hard. Good thing it comes naturally for the second of four humble brothers.
"Being the underdog, you have to work."
—
Abe Schwadron is an Associate Editor at SLAM. Follow him on Twitter @abe_squad.
Photos via Getty Images, Under Armour.