Pelicans point guard Jrue Holiday has an itch. When the 24-year-old picks up the phone on an early July afternoon, it's clear he's jonesing for some hoops. After all, Holiday, whose first season with New Orleans was cut short after he had surgery to repair a stress fracture in his right shin, still hasn't been cleared for full-contact court work. So until the doctors give him the go-ahead, he's on a strict rehab regimen: No days off.
On this day, Holiday's morning workout ends on an anti-gravity treadmill. "I never thought I'd say this, but it feels good to run," explains the 6-3 point guard. "I don't like to run without a basketball, [but] it feels good to put some kind of weight on my leg."
Last summer, the Pels sent a pair of first-round picks to Philadelphia in exchange for Holiday, who at the time was coming off his first All-Star Game selection. The UCLA product averaged 14.3 points, 7.9 assists and 1.6 steals through the first 34 games of 2013-14, before the injury ended his season.
For six months, Holiday has been quietly biding his time in the gym, watching and waiting. He insists that the time off has helped him to become a better leader, and that extra time with head coach Monty Williams will make him a better point guard. But don't get it twisted, it's been damn frustrating, too. "Teams that you feel like you can beat in a seven-game series are getting a chance to be in the Playoffs," Holiday says with confidence, not bitterness. "I think that's purely motivation."
As the floor general for a roster that includes talented pieces like rising star Anthony Davis, Eric Gordon, Tyreke Evans and Ryan Anderson, Holiday is confident that with everyone healthy—and with the addition of talented giant Omer Asik—NOLA can make some serious noise out West.
"The talent that we have on our team," Holiday pauses briefly, reflecting. "I've played on OK teams that have done well for themselves, but the camaraderie that we have on this team, as well as the talent and so many young guys, I think we're going to do some big things, man. We all have a lot to prove this year, and playing with a chip on your shoulder is the best way to play."
Despite flashing the kind of game-changing lead guard play prior to his injury that pushed the Pelicans to acquire him in the first place—like his 31 and 13 against adidas teammate Damian Lillard in a December win over Portland; and his game-winning drive with 2.6 seconds left earlier that month to beat the Bulls in triple-overtime—Holiday knows that it will once again be time to prove the doubters wrong come the start of 2014-15. And he's not shy about setting personal goals for next season, either.
"I want to make the Playoffs, and I want to be on the All-Star team again," Holiday says. "You don't just want to be a one-time All-Star. You've got to work even harder to do it more than once, more than twice. I'm trying to get back to the All-Star caliber game that I played with two years ago."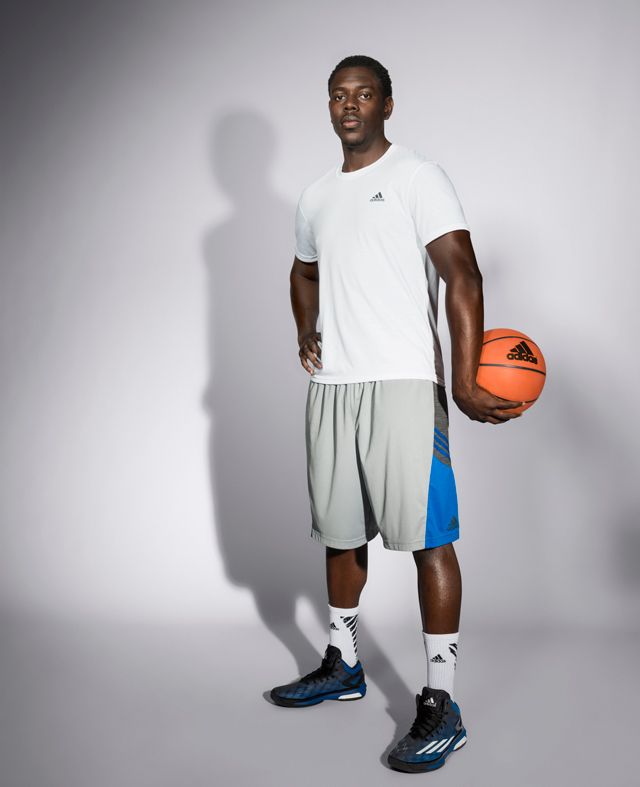 Holiday isn't the only one feeling highly optimistic in The Big Easy. The brain trust credited with constructing and molding NOLA's young roster looks at Jrue as a long-term piece—think Stockton—to the Unibrow's Malone.
"I think he's an elite point guard with size and strength. I think he's going to be good for us for a long time," Pelicans GM Dell Demps told The Times-Picayune of New Orleans in May, with Williams adding that he valued Holiday's on-ball defense in particular: "We feel like we have a guy that can be a pillar for us for a long time."
As for this summer, the only folks missing Holiday on the hardwood more than the Pels are his brothers. Older brother Justin, a one-time Sixer who has since bounced around the D-League and overseas, is 6-6 with an eagle's wingspan, while little brother Aaron is a freakishly talented future Bruin, who will start his senior season at North Hollywood (CA) Campbell Hall in the fall. Jrue says being sidelined means there's decidedly less trash talk at family get-togethers this offseason.
When he does return and is finally able to scratch that itch, Holiday will lace up in the all-new, super-lightweight Crazylight Boost. "As a point guard, you want to be as light and fast and as quick as possible," Holiday says, referring to his footwear selection over the years. "The Boost running shoes were some of the most comfortable shoes I've ever worn. To put that in a basketball shoe is pretty smart."
Holiday wants everyone—the Pelicans, their fans, adidas—to look smart for believing in him. With his health and one of the hottest young rosters in the L at his disposal, Holiday will have all the tools to make it happen.
"Next July?" Holiday wonders aloud when asked to predict the next year of his career. "I'd probably say the Playoffs were really fun, and winning a Championship was a dream come true."
He chuckles, but not hard enough to constitute any hint of sarcasm. Holiday hangs up, and it's back to the gym. He's got a jones.