It began as a story. A story that allows you to adjust the time from one to 10 seconds, send pictures and videos to a specific list of recipients, add your location and written or drawn text to get any type of message across. These pictures and videos, also known as "snaps," come from the ever-so-popular Snapchat app that has roughly 100 million daily active users from around the world who post activities onto their story to give followers a glimpse into their lives.
When Nike Basketball's #ALLFORTHEGAME Tour launched this past June, the Oklahoma City Thunder's Kevin Durant took to Snapchat to document the day surrounding the debut of his latest signature sneaker, the KD8.
It all started with a tweet at 8:15 a.m. on June 23, when KD notified his followers to accompany him on his journey. The journey began in The Bay, where KD surprised the kids at St. Brendan's Basketball Camp for his first stop of the tour. Shortly after, Durant hung out with the Oakland Soldiers and hoopers from Bishop O'Dowd HS before hopping on a private jet that headed down to SoCal to kick off the second part of the tour in Los Angeles.
After grabbing a plate from Roscoe's House of Chicken and Waffles off of Pico and La Brea, Durant surprised some fans at their cribs with the KD8s in his size (17.5), played some 2K and shot hoops before heading to the Fairfax District and Pan Pacific Park—his last stops of the day. An array of media and fans lingered around anticipating Durant's arrival with basketballs, cameras, phones, previous KD models and sharpies in hand. As a black Sprinter van pulled up, KD exited and greeted everyone in attendance and chose one lucky fan to help him iD a colorway to match OKC's alternate uniforms before having a short Q+A with the media regarding his latest sneaker.
Decked out in signature apparel from head to toe, Durant rocked the "V8" colorway of the KD8—an all-red color combo with hints of black that pays tribute to one of KD's favorite whips he had back in 2010.
"I had a Camaro—which was one of my favorite cars I had—and just drew inspiration from that," says Durant, whom we saw at the shoe launch in Los Angeles. KD also dropped gems via Nike PR and the unique accompanying podcast they did. "Leo [Chang] did such a great job incorporating it into the shoe."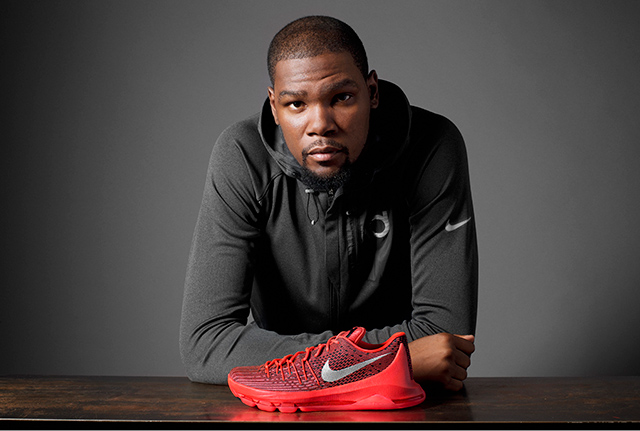 And Chang, who's Nike Basketball's Footwear Design Director and has been designing Durant's sneakers since the KD1, has done not only a great job with the KD8 but also with the previous seven iterations from the line.
"It's been a great relationship [with Leo Chang]. First of all, he's a great guy with great ideas. We just bounce [ideas] off each other and he brought something different and new to the table every time," Durant says. "It's been fun and great. To be having these conversations with shoe designers is amazing because it's on your own shoe. I'm excited for this time of the year and it's been great so far."
For the first time in a Nike Basketball shoe, the KD8 features two technical firsts: Flyweave technology and a full-length Zoom Air unit. According to Nike, these elements work in tandem to provide Durant with a versatility, fit and responsiveness engineered for basketball's most dynamic player.
"It is the most technically precise shoe we've designed for Kevin. Flyweave is optimal for his multi-dimensional skill set and footwork as he jumps, cuts, jabs and accelerates," Chang says.
Born of the design principles of woven textiles engineered for spacesuits, Flyweave is incorporated into the KD8 to create a lightweight, textile upper that's tightly woven in a single layer for flexible support and a lockdown fit.
Combined with Flywire cables in the forefoot, Flyweave locks you in like a seatbelt, but moves and feels like a second skin.
The full-length Zoom Air unit that wraps around the shoe also provides responsive cushioning that moves naturally to Durant's foot. And for the first time in basketball, this unit is designed with strategically placed notches in the forefoot and heel to intuitively flex with the foot's movement.
"Having the shoe allows me to do it all, especially with the new technology and Flyweave, it feels like I'm just locked down but gives me that flexibility if I have to guard the point guard sometimes," Durant says, "or if I gotta switch out on a big man and guard him in the post and hold my ground, [or] I have to catch a lob, I gotta sprint up the court, make a bounce pass and switch directions in the trap—[or whatever] I gotta do in order to help my team win."
The shoe's heel counter, which draws inspiration from a sabertooth tiger (KD's favorite animal, one he fell in love with last summer so much he got it tattooed on his right leg) mimics its fangs and serves as a functional benefit that keeps Durant's foot locked in and stable.
"It felt great the first time when I put [the sneakers] on. It kind of grabbed my foot instantly and I was able to shift and move the way I liked on the court," Durant says. "It was just a light feel and I fell in love."
Long before the shoe was officially unveiled, teaser pictures of the sneaker surfaced all around sneaker blogs and message boards with mixed emotions about the latest creation from Chang and Durant, very similar to what fellow Nike designer Eric Avar and Nike Basketball athlete Kobe Bryant received back in 2014 for Bryant's ninth shoe with the brand.
When Nike debuted the Kobe 9, its design aesthetic took form from inspiration in seeing the Black Mamba's fascination Manny Pacquiao and the way he moved in the ring while wearing a high-top.
After Avar cooked up something that would suit Bryant's then-latest signature sneaker by making it the first to feature Flyknit and assembled a high-top model that functioned as a low top, the boxing-boot-turned-basketball-shoe was ready for the hardwood.
Flash-forward to June and it's exactly the same with Chang's latest creation in the KD8, which pushed the envelope from a design standpoint for what Nike claims as, "Durant's most innovative shoe to date."
The introduction of Flyweave along with the Flyknit upper that debuted in the Kobe 9 in 2013 continues to be Nike Basketball's leadership in engineered textiles.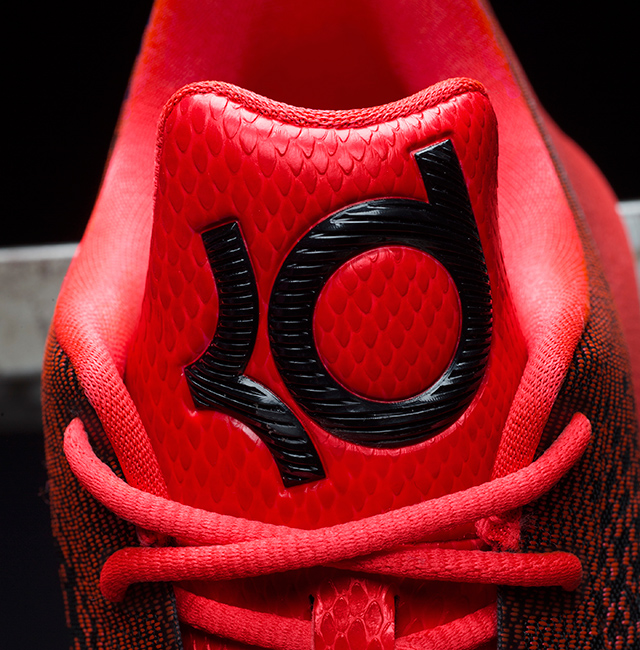 Upon first glance, the KD8 has that Air Max 2015-type feel to it due to the Flyknit upper and full-length Zoom Air unit. But when asked if there was any inspiration to the Air Max 2015 like the Bryant/Pacquiao scenario, Durant denied any of those claims.
"I wouldn't say that," Durant says. "I always loved playing in low-top shoes. I like the feel and wanted something materially new."
With the "V8" and "USA" colorways already on shelves, three more colors with respective stories attached to them have already been confirmed for release in August and September.
"Hunt's Hill Sunrise" (8/1) and "Hunt's Hill Night" (9/1) pay homage to the hill Durant would run up and down during his days as a youth back in his hometown of Seat Pleasant, MD. "Suit" (8/14) honors Durant's heartwarming MVP speech he delivered to his teammates and his mother, Wanda Pratt, after receiving the award back in 2014.
"We have so many different stories within the series of KD8s—I'm looking forward to telling it," Durant says. "All the details we put into the shoe that come to life. The story of the KD8 that tells the timeline between every part of my life and everything that I love that I keep near and dear to my heart."
But aside from the stories each of his sneakers tell, the story Durant is most concerned with is the one he continues to write regarding him being in the discussion among the NBA's best, despite suffering a right foot injury during training camp last season that allowed him to play in only 27 games.
"I've been out for so long and can't wait to get back," he says. "I miss the game so much. I've played hard every night and haven't taken that for granted. I've learned a lot since I've been out, but I'm excited to get back and play again."
101