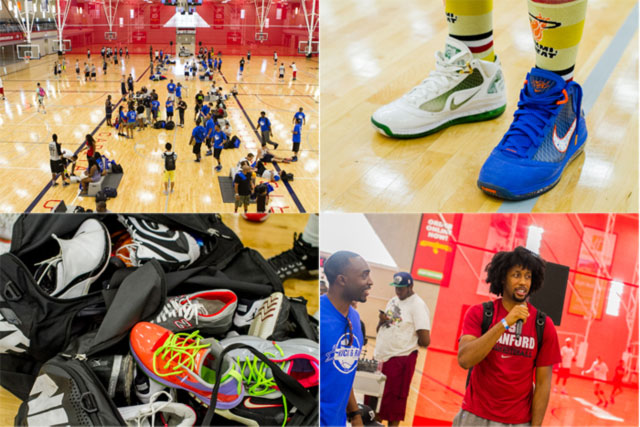 This past weekend, the first annual Kick & Roll Classic 3-on-3 Basketball Event was held at the Round Rock Sports Center in Austin, TX. Founded by Nice Kicks' Associate Editor, George Kiel, and frontman of Kicks On Court, Sneak Peek and Sole Access, the event raised awareness for colon cancer and generated revenue for the furnishing of homes—something that Kiel's mother, Debra, who lost a battle with colon cancer back in March, was extremely passionate about.
"I wanted to do something that involved my line of work, but also provide her with her favorite thing she liked to do and that was interior decorating, designing and stuff like that," said Kiel. "I just always thought that people would like to be like the Nick Youngs and Kevin Durants of the NBA world and wear crazy shoes on-court. So I just wanted to give them an outlet for them to be able to do that."
And what an outlet the Kick & Roll Classic was for players to showoff their kicks.
Sneakers first, basketball second was the Kick & Roll mantra, and the level of shoe game was at an all-time high. Everything was on the court from Nikes, Jordans, adidas, Under Armour to Brandblack and even mismatched sneakers. One player even wore the "Tiffany" Nike SB to hoop in. Older basketball models like the Nike Shox BB4 and the AND 1 Tai Chi were also one of the many sneakers at the event. One player even brought it back and rocked the Seismic Shift LA Gears. And a day after LeBron James announced he was returning back to Cleveland, an array of the King's sought after 1-6 models were in the building.
Jason Lake, a basketball coach from Arlington, TX, was one of the players who kept switching up socks and sneakers after every game in hopes of winning the "Duffle Bag Boy" Award—an award given if you brought more than one pair of kicks.
"It's nice to have an event like this where everybody can come out and showcase their sneakers and gather and play basketball," said Lake. "They encourage you to change your pair of sneakers, so I got quite a few pairs of sneakers I'm going to try and break out if I can."
Josh Childress, whose foundation sponsored the event, walked in with a pair of "Laser" Air Jordan IVs then switched it up to a pair of OG white/red low-top Air Jordan XVIs.
"We've (myself and George Kiel) obviously done some work together with Nice Kicks and he mentioned the tournament as a whole to me, and I told him I wanted to get involved," said Childress. "I'm impressed with the level of play as well as the level of shoe game out here. I think it's a great concept and we hope to put it in other locations around the country."
About 40 teams were in attendance and were given two guaranteed 20-minute games. But as teams advanced, the level of competition and intensity arose. The hard fouls and trash talking started, and no one was going to take it easy—something Joyce Ekwromadu soon found out. Known as "Sweet J" from the Harlem Globetrotters, and one of the few females on the court, Ekwromadu knew she had to put up a fight regardless of her gender.
"Being a female baller playing on the Globetrotters we have to hold our own," said Ekwromadu. "We can't be just using a crutch because we're females so play soft on me. You have to go out there, hold your own and play with the guys. The great thing about playing the guys is that they challenge you in ways females can't like being more athletic and jumping higher. Our first game, a guy came off and did a tip-dunk. It was great playing with the guys bettering my game, as well as helping them out with my shots and what I do best."
Rock 'Em Apparel, Shoe MGK, Red Bull, Under Armour, The Colon Cancer Awareness Alliance and Habitat for Humanity were some of the partners and sponsors of the event. EA Sports had a player's lounge for participants to kill time in between games and play NBA Live 14. Brandblack also had a wear-test station for attendees to try on different footwear models from their line.
Numerous awards were given away for the best, rarest and unique shoes, as well as an award for the best socks. Chris Douglas-Roberts was also in attendance and one of the special judges.
After the champions were crowned and awards were given out, players left the Round Rock Sports Center and the first annual Kick & Roll Classic was in the books.
"The turnout was amazing. For the first one, I thought it was more than I imagined," said Kiel. "We're going to keep it in Austin for a little bit. We kind of want it to be a staple here, but we'll definitely take it to other places. But for now, we're thinking of the second annual one possibly being in Austin around the same time as SXSW."
Image courtesy of Kick & Roll Classic.
115