I just wanted to prevent the questions.
Whenever I'd meet with my dad about the boutique I wanted to open, our conversations would always end with him questioning me.
What about X? What about Y? What about Z?
If he had no questions, that meant I prepared properly and covered all of my bases. Once he began to agree with me and the questioning stopped, I knew I was ready.
Of course, people think it was easy. They'll probably think I was like, "Can I get my own sneaker store?" and my dad was like, "Sure, son." Not even close! The truth is, I probably would've had an easier time pitching my dad on opening a new Michael Jordan Steakhouse. This was a ton of hard work—two years of design concepts, meetings and demonstrating that I was fully invested in this project.
Sneaker culture has been in my DNA since birth, which is the source of my passion for the store. It truly started in sixth grade, when my brother Jeffrey and I were playing ball in school. Our school colors were green and white, and we'd design our kicks to match our jerseys.
That's when the importance and cultural impact of sneakers started to click for me. As young kids we would have boxes and boxes of sneakers arrive at home all of the time. While playing in school, and then in the AAU scene, I started to dive deeper into retros. We wore retros daily and the newest Jordan signature sneakers whenever we hooped. At TROPHY ROOM, there are photos of my brother, sister and I as kids, and in those pictures you can tell we loved our kicks.
I was always into the IXs, Xs and XIs. However my favorite to play in recently has been the XXXIs—they look great and you don't sacrifice comfort at all.
Growing older, I started to think about what I'd do for my career, and the older I got, the more I gravitated to the sneaker industry. Kicks have always been a part of my day-to-day, and to me, the goal was always to have a fun job—then it doesn't even feel like work. I always told myself I wanted to create my own schedule. While TROPHY ROOM is a lot of work, there is a lot of freedom to work on the go. That's a dream come true to me.
The Jordan Brand has become so special—in my opinion—because it was first. Being first in the marketplace is important, because the opportunity to create something timeless is always most prevalent in first-to-market types. That concept rings so true for my dad. He was the first player to step on the court with swag and break records, doing things people had never seen before. That's partly why retro Jordans have withstood the test of time.
No disrespect to Kobe, LeBron or any of the past legends, but I think each era stands alone. I don't think the same emotion or memories are engraved into other sneakers that you find in retro Jordans. The customer is immediately immersed in the history of each sneaker. That feeling is unparalleled—although I'm biased on this subject.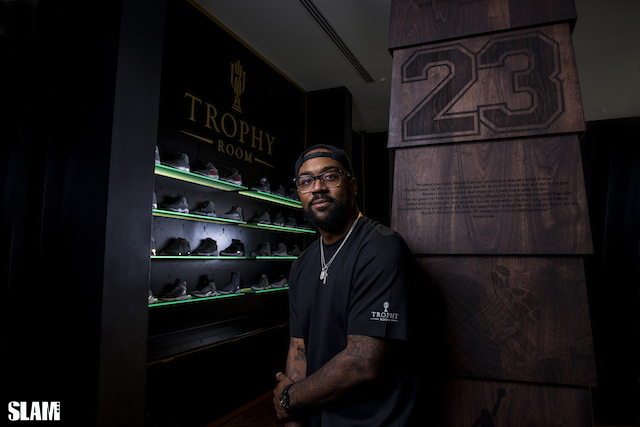 The designers at Jordan Brand are so talented that the line has continued to reach new heights. They're consistently looking to create an iconic model. My dad has always been performance-first, to ensure the kicks are the best basketball shoes on the court. I genuinely think that his involvement and work with the designers has helped retros transcend through the years. It's why the brand remains authentic. I'm always with my dad in Jupiter, FL, and whenever I peek into his closet, it's like the Holy Grail. He has samples people have never seen before. It's who he is. My dad's input is why the Brand continues to resonate with the consumer.
There are three main storylines that I've tied into TROPHY ROOM. First is the trophy room inside the house that I grew up in. That room was iconic. It was centrally located within the estate, so anytime friends or family would come over, we would find ourselves around that room. My dad would always include our awards with his. That always inspired us to want to earn our own accolades.
Secondly, every year we would decorate our Christmas tree in the trophy room. I have tons of photos of us growing up over the years in that room. With this concept, we will utilize those Jordan family gems within the store decor, marketing and stories we tell with our products.
Lastly, the Jordan Brand products and Upper Deck memorabilia that we feature at TROPHY ROOM are to serve as "trophies" to the consumer. For example, we recently had a successful launch of the Air Jordan + TROPHY ROOM XVI "French Blue." It's a gorgeous shoe. The feedback has been phenomenal. It was epic to have DJ Khaled involved in the promo of the shoe. He's a great guy and a long-time Team Jordan member. I feel the TROPHY ROOM XVI is another trophy to add to the sneaker collection.
Having recently celebrated our six-month benchmark, the future is bright for this concept. To have the support of my dad and the people at Jordan Brand has been a tremendous gift. As Jordan Brand continues to climb to new heights, I'm grateful and excited for the opportunity to carve my own path with TROPHY ROOM.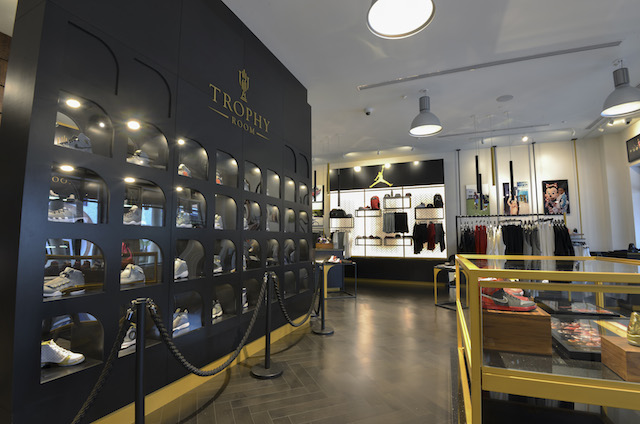 CLICK HERE TO ORDER YOUR COPY OF JORDANS VOL. 3!
Photos: Carlos Amoedo, Video: Masood Ahmed, Music: @AYOtheproducer