He doesn't have a menacing physique or a smart mouth, like some of his teammates. He doesn't talk trash in the media, or pop with athleticism on SportsCenter like some of his peers. But don't sleep. Grizzlies point guard Mike Conley Jr is a problem. He quietly has one of the slickest handles in the NBA and has led Memphis to the Playoffs four straight years.
Conley may not be the overly braggadocious type, but over the past year, the Indianapolis native has victimized everyone from Shelvin Mack to Kevin Durant with his killer crossover, while still maintaining the lowest turnover rate out of any player with at least a 25 percent assist rate. Conley only turns the ball over on 11.5 percent of all possessions, but assists more than 30 percent of his teammates' buckets when he's on the court.
Matter of fact, Conley was one of only three players in the NBA last season to finish with at least a 30 percent assist rate, a 24 percent usage rate, a two-percent steal rate and 1.1 points per possession for the entire year. The others: LeBron James and Stephen Curry.
Prefer more traditional statistics? How's this: Conley put up career-high numbers in scoring (17.2 ppg) and field goal percentage (45 percent) in 2013-14, while averaging at least 6 dimes a night for the fourth consecutive season. Pay attention, because we're watching the evolution of one of the steadiest point guards in the game today.
See, back in 2012, Conley was content to be a facilitator. "Over the course of a season, I'm the type of guy that always tries to get everybody involved, and we win a lot of games that way," he explained in SLAM 161. "Me averaging 13 points a game is perfect for our team, and I understand that."
But much has changed for the heady 6-1 PG in two years. With the departure of leading scorer Rudy Gay midway through the 2012-13 season and head coach Lionel Hollins last summer, it became rapidly apparent to everyone in the Grizzlies organization that the typically low-key Conley would need to step up his scoring in order for Memphis to continue its trajectory toward the top of the Western Conference.
"I think that really happened this season, understanding that if we were going to win, I needed to score and I was never really used to taking a lot of shots, not used to doing that and I think this season, it became normal to me to be able to shoot a lot and still be a pass-first kind of guy," the Ohio State product said after a Western Conference Finals run in 2013.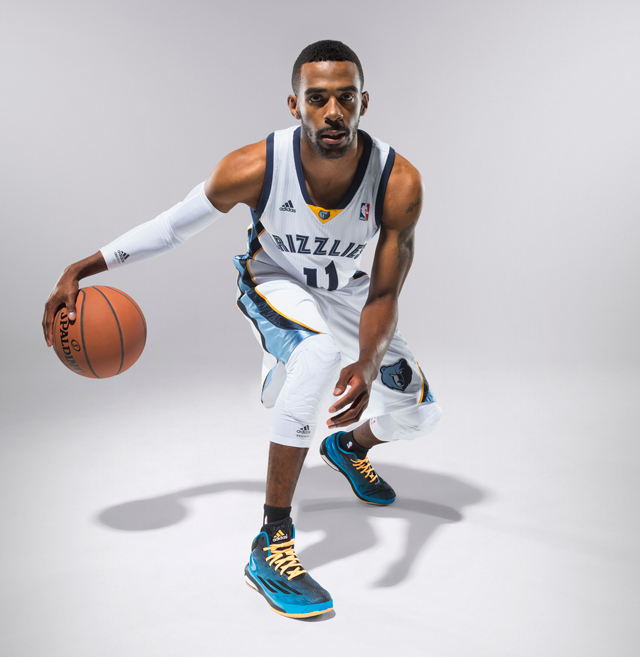 Now, he's 26 and gearing up for his eighth NBA season. "I felt like that about a year ago, even more so going into this season—even before Rudy [Gay] was traded—and I think after that happened, it just opened up for me to do a little bit more."
But for all the praise Conley may have gotten in the media lately, whether for proving the haters wrong when he was handed a big contract extension two seasons ago or for guiding injury-riddled squads to heights beyond expectation, the most important reviews have come from his peers. You know, the cats who have to strap up and keep Conley in check for 48 minutes, like former NBA MVP Derrick Rose.
"He's a crafty guy, getting in the lane, getting guys open. I've really got to watch his penetration," D Rose told SLAM of Conley before the start of last season. "Really stay in front of him, make him shoot, if anything, and just try to contest all his shots because he's real good."
That's not to say Conley has ditched the passing habits that make him so fun to play with. Current Grizzlies head coach Dave Joerger has pointed to Conley's development as a leader and a playmaker as a main reason for Memphis' ability to land key free agents, like veteran swingman Vince Carter, who signed in July. "It is a credit to our core guys," Joerger told The Commercial Appeal, singling out MC by name, in addition to Memphis mainstays Marc Gasol, Zach Randolph and Tony Allen. "People want to be here because Mike Conley is a heck of a person and a heck of a point guard."
Indeed, Conley, the recipient of this year's Joe Dumars Trophy (the first player in Grizzlies history to win the NBA Sportsmanship Award), is as genuine as they come. And since that means Conley isn't one to fib, we have to take his word on the latest adidas footwear product as the truth.
"I have a pair of the Boost running shoes and couldn't wait for them to put it into a basketball shoe," Conley says, as he imagines rocking the 11.6-ounce Crazylight Boost concoction come Opening Night 2014. "NBA games are long and I want to make sure my feet always feel good. With the Boost being back there, it's a lot less impact. There's a lot more cushion on my heels."
"Boost makes it seem like the shoe is new every time I put it on," he continues. "I can already tell this is going to be my favorite shoe to play in."
In the words of fellow adidas "teammate" 2 Chainz, Say word. You ain't never told no lie.
117