Laurelton, a part of Queens, NY, lies to the east of Manhattan. Like the rest of Queens, the neighborhood's made up of families. Kids dart around the blocks, jumping across Merrick Boulevard, which runs through the community. There are side streets to wander down and there are parks to spend the whole day at. People of all ages pop up around the neighborhood. The borough is one big playground, an endless invitation to go outside and explore.
BMX star Nigel Sylvester used to be one of those kids who made Laurelton his playground. He'd ride his bike up and down Merrick Blvd. or hang out on his grandmother's street or hit up P.S. 176 to hoop or play football.
By the time he was 25, Sylvester had established himself as an elite athlete. Riding around Queens evolved into riding around the globe, and he built a following, an audience that was captivated by his biking videos. It was at that point that he decided to switch things up and he hopped on his bike in a pair of Air Jordan Is.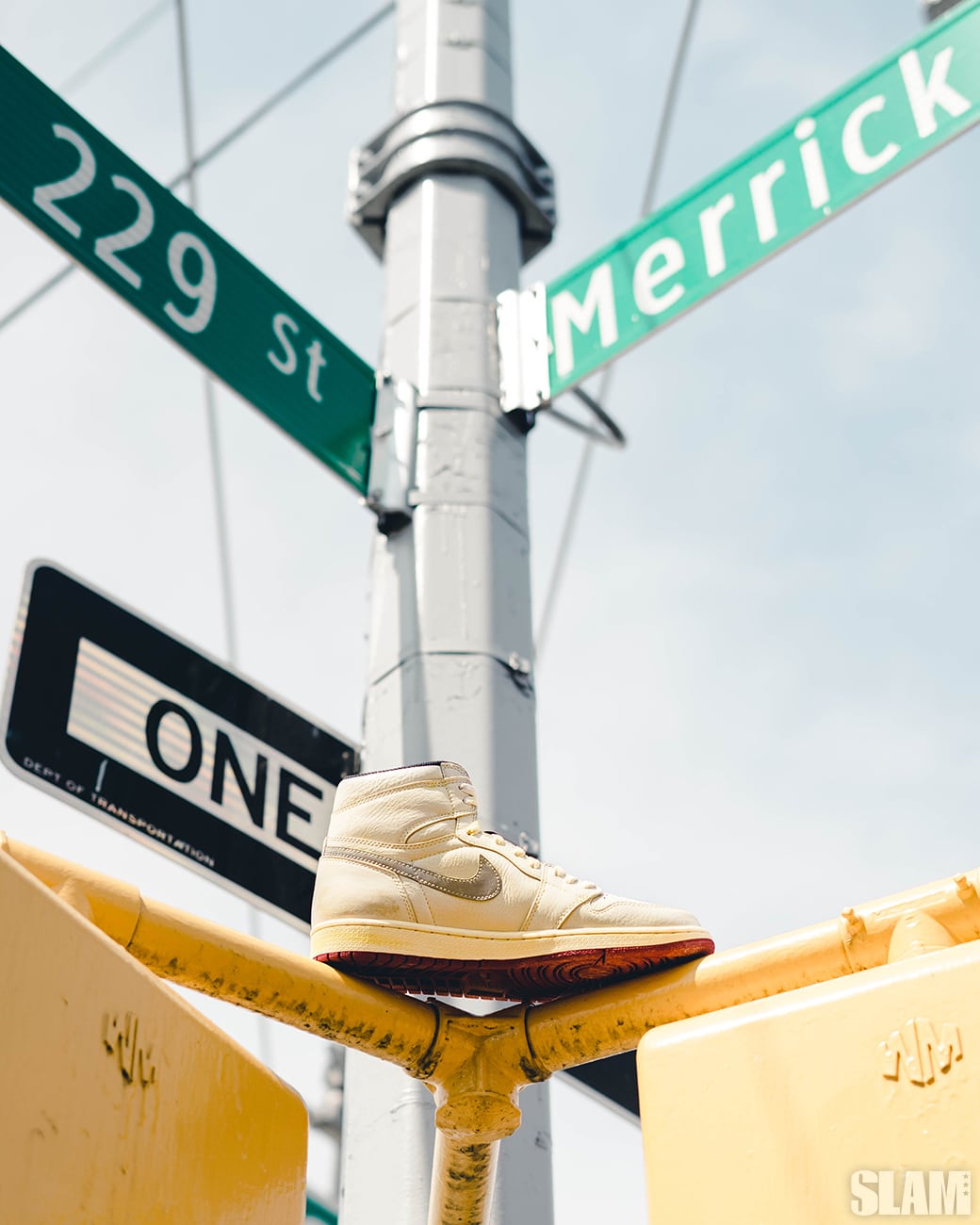 "The I became my go-to sneaker for biking around 2012, 2013, when I was like, Man, I really love this shoe. I'm gonna start rocking it to ride," Sylvester says. "Prior to that I would always ride in [Nike] skate shoes.
"I've always been a fan of the Jordan I," he adds. "It's always been a grail shoe for me, something that's always been coveted. Like, Oh shit, that's the Jordan I. You can't ride in that. You can go outside and catch a stunt, not on some I'm-gonna-rock-this shit-on-my-bicycle-and-fuck-it-up. But then something clicked. I just wanted to make that statement. People used to trip on it but I was like, Man, fuck it. It looks good."
Though Sylvester's not a hooper, he was always around the game. He used to play with his friends and he was able to catch the tail-end of Michael Jordan's career. Being exposed to basketball helped him fully understand MJ's impact on and off the court.
He would see the I all over New York City, and as a testament to Jordan's influence, he began to see it across the world.
"That's one of the coolest things about it," he says. "Everywhere I've been in the world—and I've traveled a lot—I've seen people embrace the Is. That's how you know it's a true icon, a true classic. Whether it's in BMX or action sports or just culture, in general. You see it across so many lines and so many cultural barriers."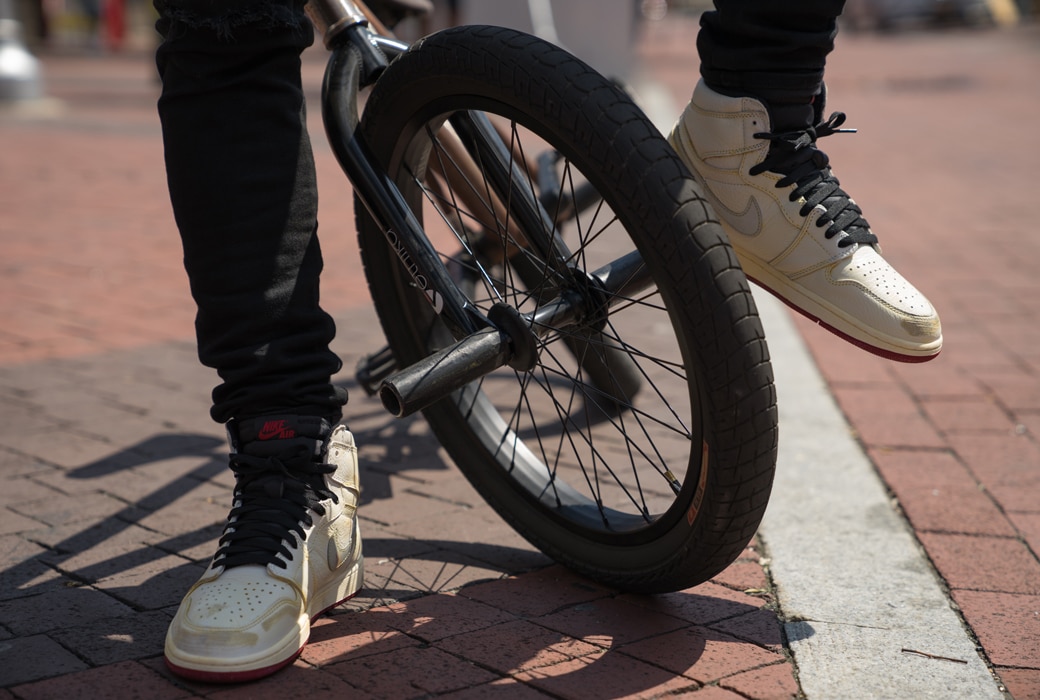 Sylvester made sure to include the AJI in his GO video series, a POV-style adventure where he illustrates what it's like to be behind the handlebars. London, Paris, Dubai, L.A., Tokyo—the son of Queens brought the AJI with him throughout his travels.
The energy that Sylvester was bringing to the I didn't go unnoticed. Frank Cooker, one of Jordan Brand's head designers, was watching. He and Sylvester linked up and spoke about collaborating on the Air Jordan I. Their chemistry was immediate and they decided to honor the fact that Sylvester has no problem fucking up a pair of Is while he's on his bike.
"As soon as we sat down, he was like, I love what you do in the [sneaker]," Sylvester remembers. "I'm actually doing my thing in these shoes. Landing tricks, I'm taking spills, I'm traveling the world. The idea of doing the distressed Jordan I happened throughout that conversation."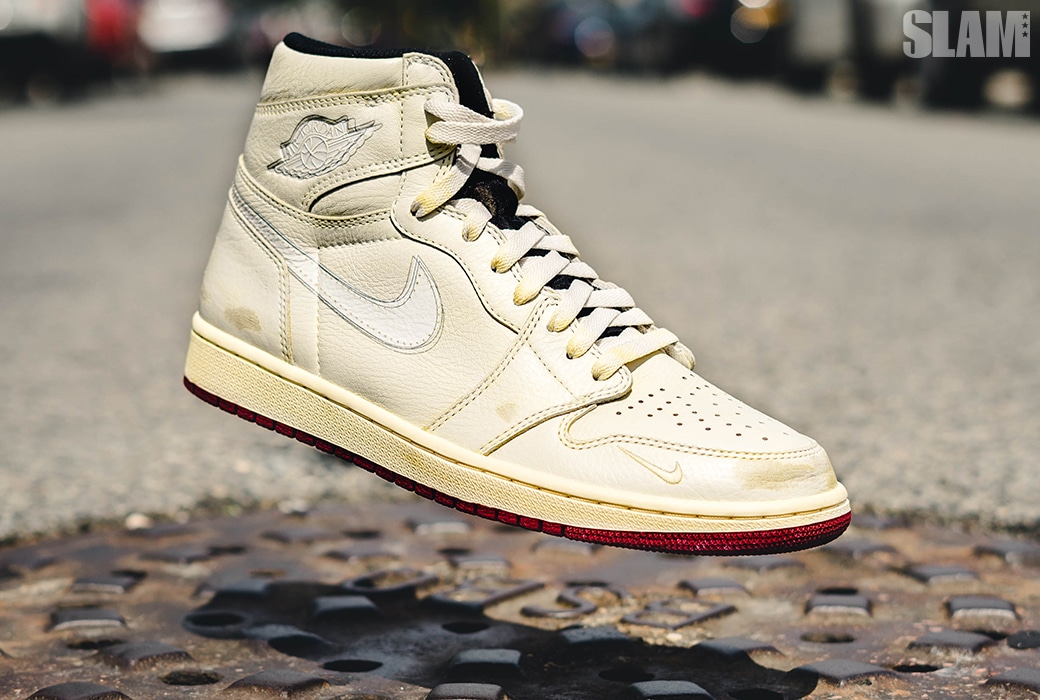 Cooker wanted to capture the spots that would usually get beat up on Sylvester's pairs. The toes and heels tend to catch the brunt of the tricks and that's reflected in the colorway.
The rest of Sylvester's colorway includes a mini Swoosh on the lateral forefoot, a reflective medial Swoosh and a varsity red outsole. The last touch came on the collar, where "Jordan Biking Co., Est. 2017" is written, a callback to when the project started.
It took about a year and a handful of design sessions to finally land on the right one. Sylvester says he was in the editing studio, finishing one of his GO videos, when Cooker hit him up on Facetime with the completed product.
"It was crazy, man," Sylvester says. "I couldn't believe it. It looked exactly how I imagined it in my mind."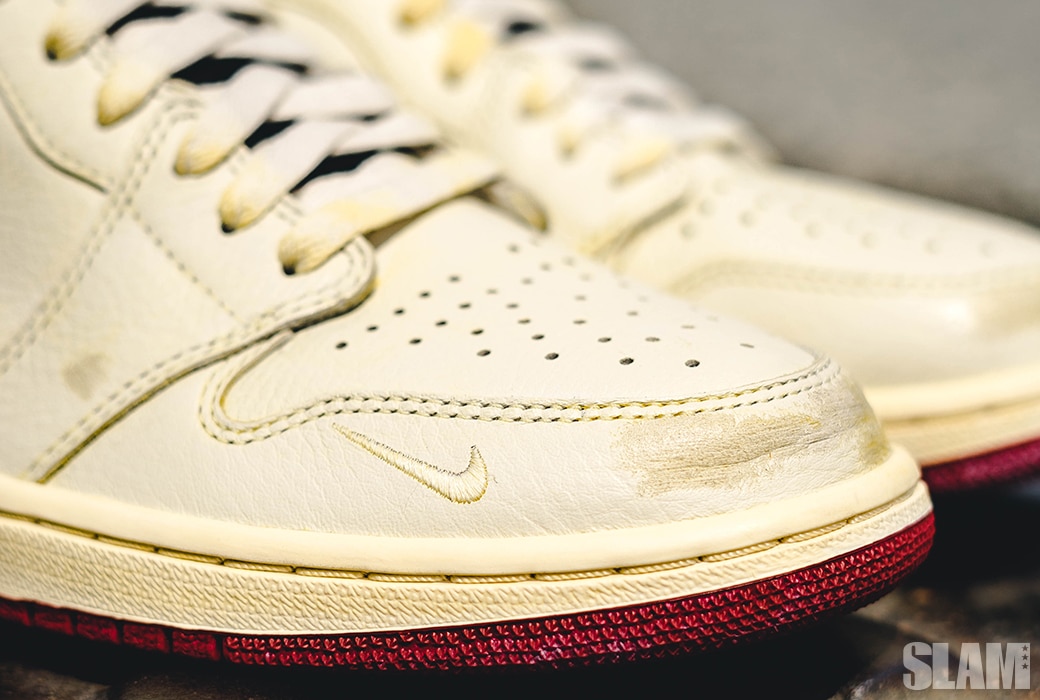 Launch events in New York and Los Angeles were organized a few months later. The 31-year-old says it was critical for him to be able to talk to the people who were copping his colorway, to spend time with them. He wanted to show them love for all of the love they were showing him. He had even more planned, but timing prevented him from bringing the shoe to international cities.
"Connecting with the people who support what I do, the people who embrace my wild-ass ideas and what it is that I'm doing out here, they're so important," Sylvester says. "For a moment like this, definitely one of the biggest moments of my career, to launch a Jordan I, a shoe that's so personal to me, I wanted to celebrate that moment with the people."
Before the NYC and L.A. drops, Sylvester went back to Queens for a photoshoot. He was on Merrick Boulevard, sitting on a stoplight, wearing his Air Jordan I. Still just another kid running around the neighborhood.
—
GRAB YOUR COPY OF SLAM PRESENTS JORDANS VOL. 4!
Max Resetar is an Associate Editor at SLAM. Follow him on Twitter and Instagram.
Photos by Terrell Drayton and Ralphy Ramos.