Patrick "Patty" Mills is a six-year NBA veteran with a championship ring. He's the kind of jitterbug, change-of-pace point guard that all 30 teams would kill for in today's game. He even led the last Olympics in points per game, scoring 21.2 ppg for Australia—more than Kevin Durant, Manu Ginobili and Pau Gasol averaged for their home countries. But Patty nearly chose a different path in life.
When he was 15, Mills was faced with a decision: attend the prestigious Australian Institute of Sport (AIS) in his home country's capital city of Canberra on a hoops scholarship, or go pro in Aussie rules football. "There were a few teams with offers," he says, imagining what might have come of his Aussie Rules career. "It was very tempting and I looked very hard into it."
Luckily for hardwood fans both at home and abroad, Mills chose basketball. He spent three years honing his skills before becoming the youngest player to ever train with the Australian men's senior national team, then moving to the United States to attend St. Mary's College in California.
"I'm huge on my culture and my heritage, and to be able to represent and promote my culture," Mills says of his ultimate decision. "Aussie Rules is an Australian sport, and it stays in Australia. But I think how I envisioned myself representing my culture and my people and my family is not just in Australia, but on a bigger stage. Thinking of the opportunity to do that in the States and in college is what I wanted to do. And then I'd have the opportunity to educate people on my culture in America, which is what I've done."
If Mills' perspective as a teenager seems abnormally profound, it's only because you don't know where he comes from. It's not just that Mills is Australian—his mother is Aboriginal and his father is a Torres Strait Islander, heritage that Mills carries with him everywhere he goes. He describes himself in his Twitter bio as "a very proud Aboriginal and Torres Strait Islander." He's just the second indigenous Australian to play in the NBA and the first to win an NBA title. He didn't spend his childhood in one of the country's big metropolitan areas like Sydney or Melbourne. But he did grow up around basketball.
Mills' parents founded and ran a basketball club called the Shadows that several family members played for. "It was kind of there from the beginning. The first time I picked up a ball and went on the court, I would have been not quite 4 years old yet," he remembers. "I didn't have zero clue what was going on, but just to be out on the court and run up and down with a huge smile on my face, that's what it was all about for me."
His parents didn't push him. An only child, Patty played just about every sport you can think of. Even with basketball coaches for parents, it was just about "keeping them busy on the weekends," he says with a laugh. "I played a lot of sports growing up, but basketball was the one that stuck all the way through." And though he didn't follow NBA players or standings all that closely, he always kept playing in the L in his mind as a goal, however lofty it may have seemed from half a world away.
But as far back as he can remember, Mills heard criticism. He was told he was too small, that he was too skinny, that being an indigenous kid meant he'd never be good enough.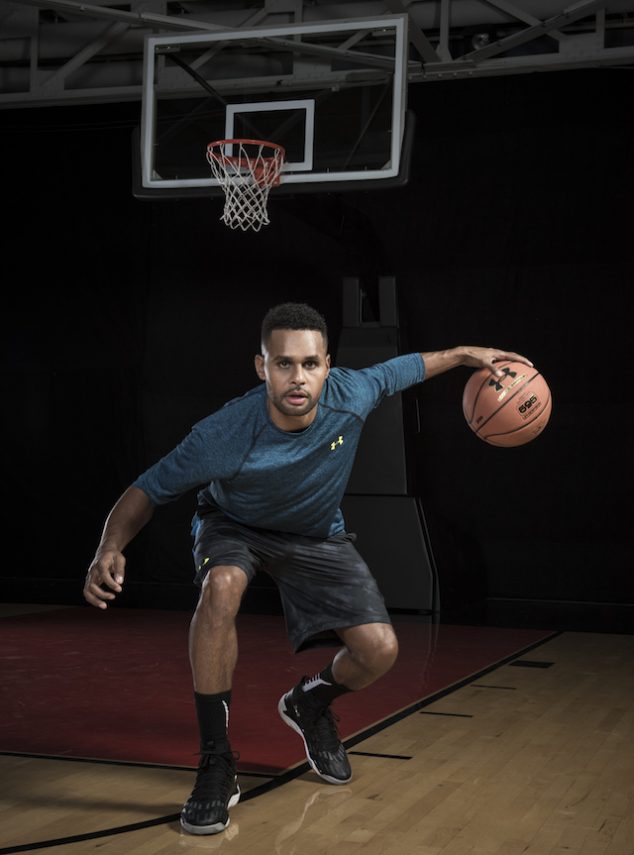 "Every kid growing up playing basketball thinks about the NBA, but I think the reality, the sure feeling that it's possible," Mills says, "I don't think that really hit me until St. Mary's. You say it, but do you really feel it?"
Mills starred at St. Mary's, leading the Gaels to the NCAA Tournament in his freshman season. His games were broadcast on national TV in Australia, despite a 19-hour time difference from the West Coast to Canberra. Still, his path to success in the NBA was no foregone conclusion. Patty broke his hand before the 2009 Draft. He wondered if he'd slip, or if he'd even be drafted at all, before Portland took him at No. 55, with only a few picks remaining. Shortly thereafter, on the first day of drills before Summer League, he broke his foot and needed surgery. He made the Blazers ("I signed while I was still on my crutches," he says) but bounced back and forth between Portland and the D-League, spending most of his NBA time throwing up "three goggles" for teammates from his spot on the end of the bench. When the lockout hit in 2011, he picked up pro contracts in China and at home in Australia. The experiences opened his eyes to basketball—and people—around the world.
His big break came with a vote of confidence from legendary coach Gregg Popovich and the San Antonio Spurs, who inked Mills in 2012. Finally given the opportunity to shine, Mills became a key cog in San Antonio's second unit. In 2013-14, he played in 81 games and posted 10.2 ppg, 1.8 apg while shooting 43 percent from deep. The Spurs went all the way to the NBA Finals, and in a series-clinching Game 5, he scored a career Playoff-high 17 points to help defeat the Miami Heat. Given his global basketball journey, Mills has only one word for the feeling of hoisting the Larry O'Brien trophy in '14: "Unbelievable."
"You dial in a lot more, knowing all that you went through. All these injuries, you're in this gray area, hanging out trying to get on a team," he says. "Once you win, that's all you think about—all the adversity that you went through. It was unbelievable, winning a championship with the guys I won it with, it was absolutely perfect."
Mills signed a team-friendly three-year, $12 million deal last summer, which allowed San Antonio the cap space to make a rare splash in free agency this offseason: landing four-time NBA All-Star big man LaMarcus Aldridge. And after fellow reserve point guard Cory Joseph signed with Toronto this summer, Mills' role with the Spurs is already expanding in 2015-16—the 27-year-old is playing a career-high 21 minutes per game through the first two weeks of this season.
"Being in San Antonio, I've learned a lot more than from being anywhere else in the world," Mills explains. "It's given me an opportunity to grow up. Not that I wasn't growing up, but to grow up and learn about everything else but basketball… I don't know what other professional sports team allows you to do that. It's incredible."
Fitting for a team that's traditionally revered for its wealth of diversity, Mills joining Under Armour prior to the 2014-15 season also meant San Antonio had five different shoe brands represented on its opening day roster last year.
"I'm loving what we've both been able to bring to the table and accomplish," says Mills, who is now in his seventh NBA season, his second as an Under Armour athlete. "The values that Under Armour has as a company—to be able to build and become what they are now, and where they are going, and how they got to this stage now—matches my values and what I'm about as a person and as an Australian and as an indigenous Australian and who I represent, being on this stage. I felt there was a great deal of values being matched. It was a no-brainer, it made sense."
From UA's vantage point, outfitting a vital member of what's become the most consistently successful franchise in the NBA was, too, a no-brainer. Not to mention the international exposure that comes from forging such a partnership with Patty. All that said, Mills wouldn't play in the kicks if they weren't a peak performance product, too.
"Last year, I played in the ClutchFit Low, and they're great," says Mills, who laced up a few wavy PEs during the season, including a green St. Patrick's Day colorway. "Growing up and knowing what Under Armour was about and knowing that it wasn't basketball to where it is now, it's impressive. Playing in them last year, that's what I'd think about. You sit down and talk about where they're going with the shoe, it's incredible. ClutchFit is what I wore last year, and I'm excited to see where it goes this year."
Mills has become a lightning rod in the shoe game back home, since having a player of his stature in the League and as an integral face of a sneaker brand is rare. Patty says Australian ballers are just as passionate when it comes to kicks.
"They're sneakerheads, for sure," he says of the Aussie population. "They're gasping to have an athlete that's in the NBA that they can represent. It's a great opportunity for me but also for everyone in Australia."
And now Mills can call another recent Aussie import his brand teammate: San Francisco 49ers rookie running back Jarryd Hayne. Mills welcomed the Australian rugby league star affectionately known as the "Hayne Train" to the UA family in a tweet a few days before dropping in at the brand's HQ to pose for the photos you see here.
Maybe in Hayne, Patty can see what his alternate universe might have looked like. But even if he could travel back in time, we're guessing Mills wouldn't change a thing.
—
Abe Schwadron is an Associate Editor at SLAM. Follow him on Twitter @abe_squad.
Photos via Getty Images, Under Armour.