It was my rookie season, and I was lined up next to Reggie Miller during a free throw. I glanced down at his shoes and his Nikes had his number embroidered on the tongue. I was so impressed—mine didn't have anything on them.
I looked over to him and asked, "How'd you get that?"
He stared at me like I was an idiot.
"That's 10 years, young fella."
I should've known the answer. I'd been watching him my whole childhood. Why would I ask such a dumb question?
It wasn't my best moment, but it came from a genuine place—I loved sneakers and everything about them. As a kid, my family couldn't afford to buy me lots of tennis shoes. I had a Bart Simpson shirt, and on the shirt Bart was wearing Jordan Vs. Since we couldn't afford the shoes, I just wore the shirt, because it was as close as I could get. Kids around the neighborhood would be wearing those "Fire Red" Jordan IVs, but I didn't have those, either.
I was a military child, so I grew up traveling the world, not really understanding the cultural impact that sneakers had. When I look back at it now, they truly transcended sports. I remember kids not wanting to wear their nice basketball sneakers when they played ball, because they wanted to keep 'em clean. When I was 14, I would watch Michael Jordan, and finally I started to get it. I was getting into the scene—hooping, working out, trying to do it all with flash. I'd have one or two pairs of sneakers, and when they got dirty, I'd take the strings out, put them in bleach and dishwashing liquid, wipe them with a toothbrush, scrub the bottom of the shoe and make them look brand new.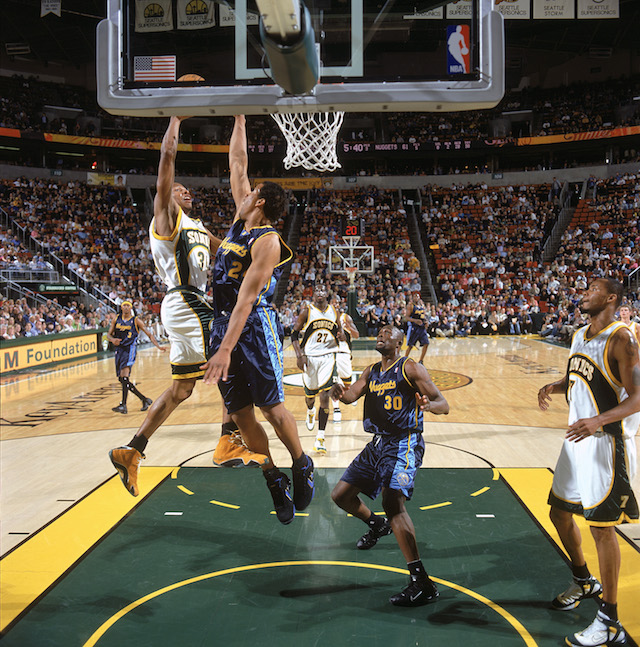 After I left UConn, when I was headed into the NBA, I had a sneaker decision to make. I had worn mostly Nike through my college career, but FILA and Reebok were also interested in signing me. I went to visit the Nike campus, and they brought me to the employee store and were like, "Get whatever you want."
I was like, "Um, OK. Sure." But I didn't really understand.
When I was a kid, I'd never had many material things, so those kinds of things never really impressed me. I knew how to get by without them. So I went into that store, and I was going from sneaker to sneaker, asking the employees, "What do you think of these? Are these cool?" They just laughed. One said, "Listen, there's no limit. If you don't know if you like it, just put it in the cart. Throw it all in there. Just take whatever you want."
I left with four full shopping carts. I should've gotten more, like other sizes for friends and family, but I didn't have anything for myself yet and I didn't know any better.
I thought hard about signing with FILA that summer, but they put some stipulations in the contract that I wasn't particularly happy with. I remember having a conversation with someone who worked for me, and he said, "If you blow up and become a great player in the NBA, would you rather blow up with FILA or blow up with Nike?" And from that day forward, I wore Nike. I knew that marketing-wise, they could take you to a new stratosphere, because I had seen what they'd done with Charles Barkley, Scottie Pippen and obviously MJ.
We filmed He Got Game the summer after my rookie year. It was a Spike Lee movie, so naturally sneakers would be included—his ability to weave sneakers into his movies' storylines is incredible. He let me go through a big wardrobe and pick out the clothing my character [Jesus Shuttlesworth] would wear. I had to decide what a young person in Brooklyn would be into. I remember going through shoes and picking out different pairs of Nikes, and yet never in my wildest dreams did I imagine that the shoes that I picked were shoes that people would equate to the movie. People have come up to me and said, "I wore certain sneakers because you wore them in He Got Game," which is unbelievable.
I had never seen that white, black and red colorway of the Jordan XIIIs before we started filming. Denzel Washington wore them to the set, and I remember staring at them and then asking him, "How did you get those?! I don't even have them." Jordan had sent them directly to Denzel. It was brilliant product placement. At the time, I didn't understand how the machine works. They knew that a Spike Lee movie had to have the latest Jordans, because that's the perfect marketing tool. Now they call that shoe the "He Got Game" XIII. It's still incredible to me that I could be part of a pop culture moment like that, especially because as a kid, I was on the outside looking in. Then as an adult I'm personally having a big impact on pop culture. It was wild.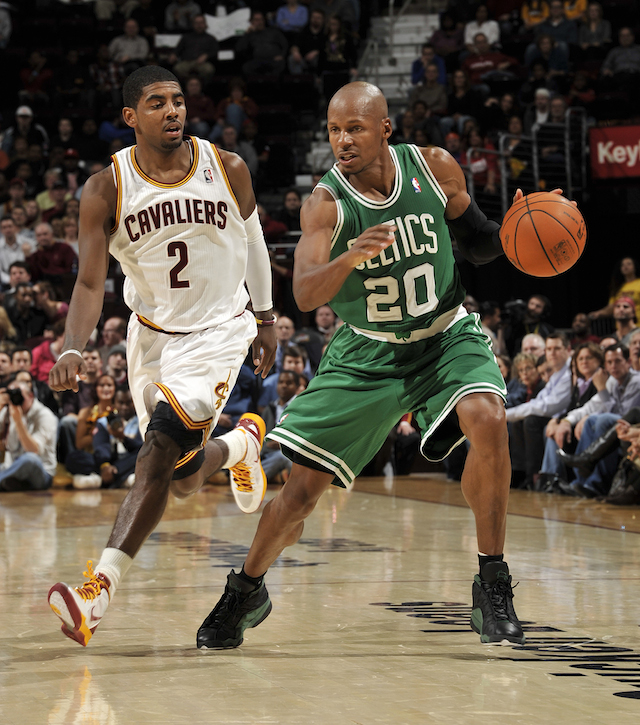 As I was beginning my pro career, I was one of the first players chosen to be a Brand Jordan-endorsed athlete—I even wore a Jordan shoe in my first NBA game. It was a huge honor, because I had always looked up to him, compared my game to him, even dressed how he dressed. He'd wear suits to press conferences, so I would wear suits to press conferences. He was always clean. Plus, he was the ultimate competitor, which is exactly how I felt about myself. He would never quit—he was always going to make himself better and his team better. I modeled my own style of play after that.
It also helped that we've had such a great relationship. Any time I was around Mike, he was always good to me. Of course, we've talked about shoes a lot. I've been in his closet and seen some things that nobody's seen before. But I can't even go into that…
I'll forever remember wearing certain pairs of shoes that align with important moments of my career. The gold-and-green XIs that symbolized winning the NBA championship with the Celtics, for starters. I asked Jordan Brand to make those for me in 2008. I feel like those started a trend as far as wearing a certain pair of kicks that directly symbolizes winning a championship. And then there were the XIIIs, which I broke the three-point record in. Those bring me right back to that moment in 2011.
Each year I played I had a base pair that I'd wear to each game—usually that year's Jordan signature—and then every now and then I'd wear something different just to switch it up. During my last few years, we were able to get away with different colors that we weren't allowed to wear early in my career, so I would throw on certain sneakers just to give people something to talk about.
Sneaker culture is a global phenomenon now. I've been to China and people have entire rooms dedicated to Jordan Brand sneakers. Everyone always wants to know what's coming next. You credit that to Mike, but also people like Howard White and Tinker Hatfield. The creative minds behind the brand are incredible. Kids growing up now want to draw and create art for shoes, and they have so many ideas—and sneaker companies are allowing and fostering those thoughts. That's why it isn't slowing down: There are always new looks. Plus the retro business is thriving, so they're pushing forward while also showing love to the past. It's the perfect combination.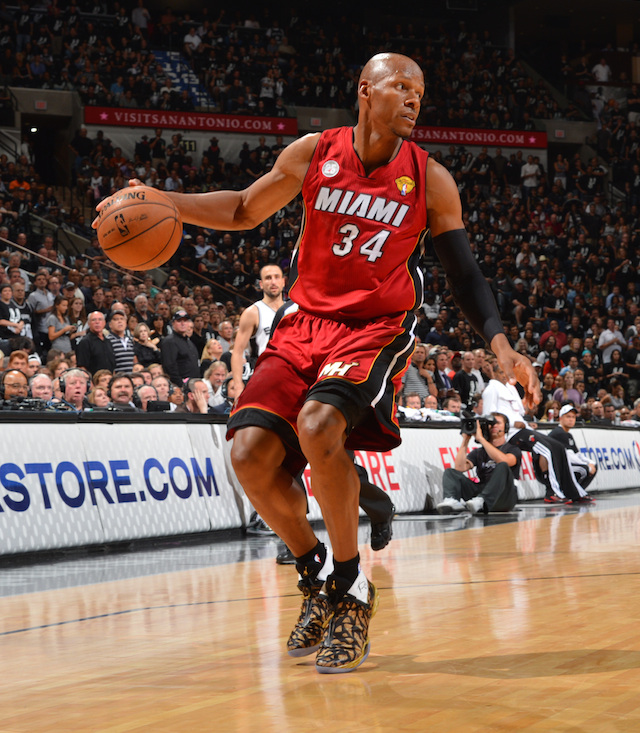 I don't think the Jordan signature line is going away any time soon. Mike was so great that his legacy continues to live on in his shoes. You look at what's happened since he's retired—it just keeps growing, and it's only going to keep getting bigger.
These days I'm really into cycling and bowling, so I'd love if Jordan could hook me up with shoes for those sports—maybe some clip-ons for biking, or some Jordans for when I compete in a marathon, or a triathlon, or an Iron Man competition, which I've been getting into lately. When I go bowling, I have to wear the random shoes that they give you, and since I'm so used to Jordans, those are unfamiliar to my feet. Definitely need some Jordan bowling shoes.
I've also been playing a lot of golf, and that's one way I've been able to get some unreleased stuff. With today's technological advancements, you can translate the technology seamlessly, so basketball shoes can become golf shoes. I've seen Mike pull out some crazy golf shoes—stuff that I had never even known existed. Just recently the golf shoes have gone into the marketplace where people can buy them, but MJ has been making golf shoes for around 10 years and gifted them to friends of his. I've given a lot of those away, but I still keep some in my closet because I don't want to give away a piece of history. It's tough, figuring out what to hold on to and what to give away. I've become a bit of a hoarder—I've got a ton of shoes in my house, plus some in storage.
I make sure to give away lots of sneakers, though. When I have camps in the summertime, all the campers have an opportunity to win free shoes with their teamwork, hustle and play. I do sneaker giveaways on my Instagram, too; I'll find an old shoe and I might place it somewhere and take pictures and do a little scavenger hunt. Some of my friends that I played ball with in college are the same size as me, so they always come over and pick up boxes and boxes of kicks.
Sneakers are going to be a love of mine forever. It's fashion. People say when you look down at someone's shoes, it tells you a lot about that person, and I believe that. You can learn a lot about people like that. You might see a 70-year-old man with some Jordans on his feet and you'll be like, "Yo, look at Pops!" Some day that'll probably be me.
I'm always going to be a representative of Jordan Brand. It's in my bloodline. There's no stopping it now.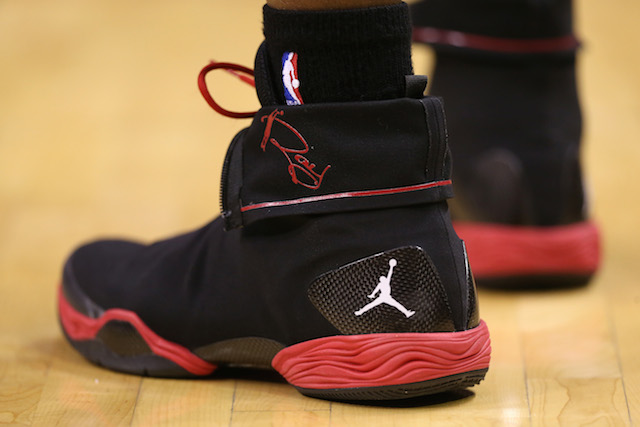 CLICK HERE TO ORDER YOUR COPY OF JORDANS VOL. 3!
Top sneaker portrait: Tom Medvedich, Action photos: Getty Images