Founder of Solexhange, Joe Diorio, writes about the humble beginnings of his company's sneaker show below. SLAM is a sponsor of this year's upcoming event, which is just around the corner on April 2-3, 2016. —Ed.
Growing up, I didn't have a lot of money. I was a poor kid from Brooklyn who worked in a rich neighborhood as a grocery delivery boy where all the kids wore Nike. I wanted to be like them, so I saved up six weeks' pay for my first pair of sneakers—Nike Flights in white and blue. I took care of them like they were worth more than gold. I would clean them every night and kept them in the best condition I could. But as I grew older, it wasn't so much the status of sneakers that had my attention, it was the story behind each shoe. I wanted to know how a company would pick certain colors, or why certain materials were used, and how the sneaker companies came up with each shoe's name. Soon, I could recite the history of each shoe like I was saying my own name.
As time went on, my collection grew. I worked retail jobs mostly and went pretty far, but I was never good in corporate America. I found it smothering at times, almost to the point of depressing. After being fired from my last job, it was pretty obvious that working for someone else wasn't a viable career option—unless my career was getting fired.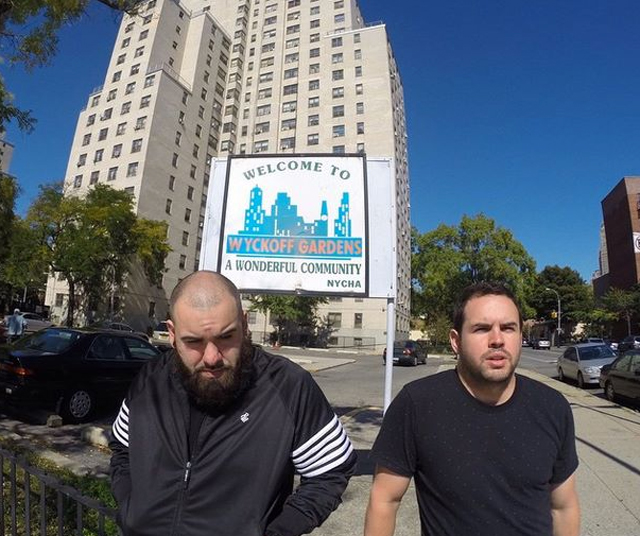 One day I was sitting on an NYC street corner wondering what my next move was. I had no money and a closet full of sneakers, so my cousin and I decided to start having meet-ups in my backyard in Brooklyn. A few guys would show up, bring their shoes, and have a place where they could sell and trade their sneakers so that they could grow their collections or make some money. And as more and more people came to our backyard trades, I realized we had something great—we created the stock market of sneakers. And that's how The Solexchange was born.
After a few meet-ups I decided to try a real show, I had $300 to my name, a laptop, and a small printer. I went to a gymnasium in Soho, N.Y., and asked to rent their space in exchange for them keeping the beverage sales and some free sneakers, and they agreed. I said to myself, "If this doesn't work, I'm out on the street…literally." I made a flyer on my computer, went to Staples and bought two packs of paper and hand cut 6,000 individual prints. I made a list of every sneaker release, store, and campout line for the next 60 days. Every weekend, I road my bike from downtown Brooklyn to the Upper West and East side of Manhattan, a total of 31 miles round trip to 22 different stores every night for eight weeks handing out flyers. By the time promotion was over, we expected only 300 people to show up because that's the amount of people I needed to make enough money to pay my bills and eat.
I'll never forget that day because it was warm out, and I skipped breakfast because I was nervous. At 7 a.m. we arrived to the gymnasium in Soho, set everything up for the day, and got ready to put on a great show. At 11 a.m. (one hour before we were set to open), I went outside to check the line and our hearts stopped. Over 1,500 people stood waiting in line to get into our show. The eight weeks of sleepless nights and promotion had actually paid off. We had so many people show up that the police and fire department were called in for crowd control. People thought we were putting on a protest because the crowd was so large! A writer from The New York Times was walking by and asked what was going on. We told him we were putting on a sneaker show and he asked to come in and take some pictures and interview some people—we said yes. A few weeks later we got a phone call from the writer, and he told us we made the cover! I yelled, "For real? The cover of The New York Times?" He said, "Yes, congratulations."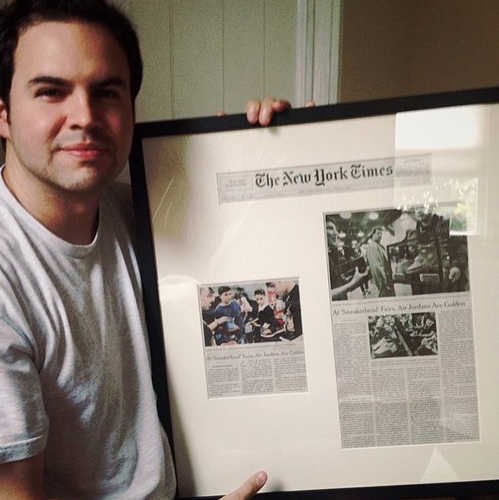 When we made the cover of
The New York Times,
we blew up. Everyone knew who we were. We went from a small event to a traveling convention that now brings in over 50,000 people each year. We've been able to grow from backyard meet-ups to the Jacob K. Javits Convention Center in NYC, and soon we'll be debuting a new website that will allow sneaker enthusiasts from around the world to take part in Solexchange.
In 2015, we took our first big investment from three of America's most well-known, self-made entrepreneurs; Brandon Steiner – CEO of Steiner Sports, Richard Baumer – Founder of the Southern Westchester Music Festival, and Ken Bergstol of Bergstol Industries. This investment is helping Solexchange grow into a global brand that will be able to serve millions of sneaker enthusiasts.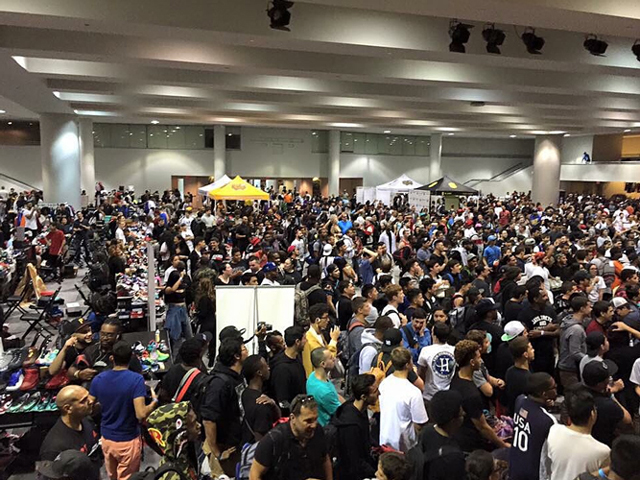 When I look back on the last four years, I'm so proud of what we've accomplished. Our company has grown; we have investing partners, a board of directors, and a loyal, hard working event staff. But even with all that, from time to time I find myself sitting on a New York street corner reminding myself not to forget where I come from. The only difference now is I can afford to eat while I sit.
222