AIR.
Nike's built everything off of AIR.
From Michael Jordan's brilliant throwdowns to the visible cushioning in the midsole of the Swoosh's most popular silhouettes, AIR isn't a word anymore. It's a part of both the basketball and sneaker worlds, synonymous with the height of the game and its most highly-technical performance shoes.
Back in 1996, designer Wilson Smith created a sneaker that was all about AIR. His silhouette was loaded with extra Nike Air units for cushioning, a leather upper, hits of mesh and a grand total of 14 Nike Swooshes.
And he slapped AIR on either side of it.
The bold Nike Air More Uptempo was ready.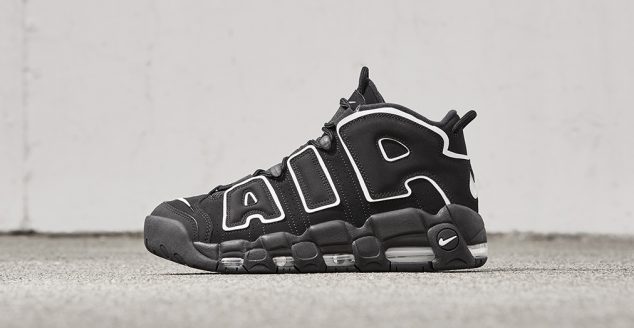 The midcut sneaker was inspired by the outlandish style of the 1990s. Big t-shirts, baggy jeans, huge jewelry. Smith looked at graffiti to figure out how to translate all of that larger-than-life fashion onto the Uptempo.
The first colorway that was introduced came in mostly black and white, a mean-looking, no-nonsense combo that fit perfectly with Scottie Pippen's intense gameplay. Scottie and the Bulls, known for their "Doberman defense," alley-oops and dunks, were even more potent than usual when he laced up the Air More Uptempo in 1996.
They hadn't won a championship since 1993, and as they reeled off 72 regular season wins in '96, Scottie made it clear that he was not fucking around.
He averaged 17 points, 8 rebounds 5 assists and 2.6 steals per game in the '96 playoffs while wearing the new shoe. Pippen was initially using the sneaker for its technology, not its unique look. It was an added bonus that Pippen was effortlessly making them joints look cool as hell.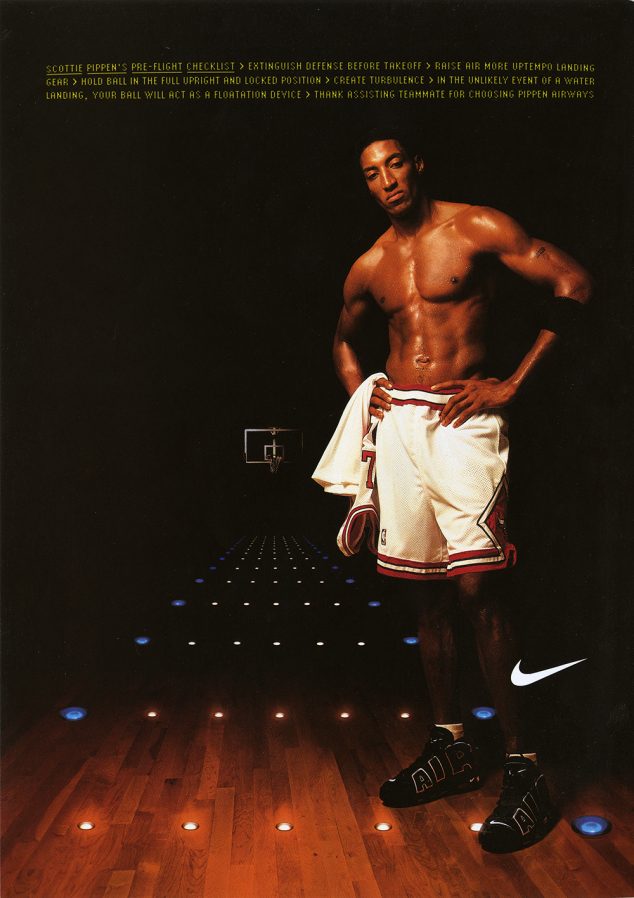 Scottie rode the black and white Uptempo to the '96 title and then switched things up at the Olympics that summer. He opted for a much louder USA-themed colorway for the Games in Atlanta. Because that's what Smith had in mind when he was designing the Air More Uptempo. Everything had to be more. More Air. More style. More broken necks and worn out cameras. More huge letters. Smith was trying to create a sneaker that lasted. Mission accomplished.

In the 21 years since Pippen rocked the Air More Uptempo to win the NBA Championship and the Olympic Gold Medal, the silhouette has had ridiculous staying power. It was popular when it released and then when it retroed in the 2000, 2010 and 2012, its reputation remained strong. Now in the last year and change, it's received a complete revival. Nike started bringing back classic colorways and introducing new ones last year, celebrating its 20th birthday. After Supreme came through with a few remixed pairs, the sneaker was hit with a fire updated look that took center stage when Derrick Jones nearly won the 2017 Dunk Contest in the gold Supreme Uptempos.

Scottie's been along for the ride, happily showing up at Nike events and posting pictures on his Instagram.

The next Air More Uptempo takes inspiration from Scottie's most famous dunk, in 1994, when he shattered Patrick Ewing's soul with a one-handed rim-rattler and proceeded to walk all over him.

Though he wasn't wearing the Uptempo at the time, Scottie most definitely got AIR.

Photos courtesy of NBAE/Getty Images and Nike. Sole Survivors celebrates the sneakers that have endured throughout the years. Stay tuned for more. 

1,919

[ngg_images gallery_ids='2520' display_type='photocrati-nextgen_basic_imagebrowser']