With 2016 NBA All-Star Weekend only about a week away (!!!) our friends at Stance have unveiled more socks for the occasion, this time linking up with the one and only Don C, the creative style genius behind "Just Don."
The Stance x Just Don socks will be an option for players to rock during All-Star Saturday and Sunday, along with the inline version revealed two weeks ago, and the brand says they'll be available to fans at retail via Mitchell & Ness' pop-up, at Get Fresh, in Toronto next week, in addition to online here and other select retailers.
Here's another photo: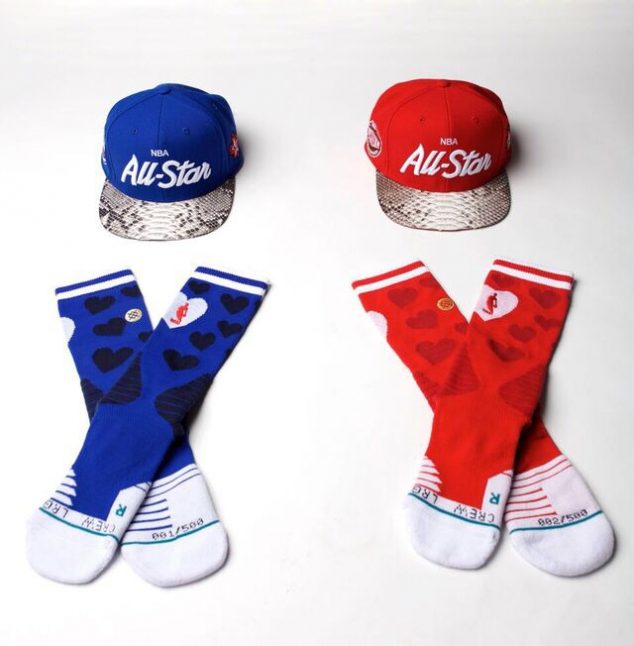 And even more info, straight from our friends at Stance:
Since its inception in 2009, Stance, the official on-court sock of the National Basketball Association (NBA), has been known for marrying bold and colorful designs with comfortable and innovative socks. It makes sense then that the brand has joined forces with luxury sportswear behemoth Just Don on three styles for the 2016 NBA All-Star Week, which will be held February 12-14, in Toronto.

The socks, which reflect Just Don's telltale knack for elevated design and quality materials, celebrate the 65th NBA All-Star Game, which will be held on Valentine's Day.

"I'm honored to collaborate with Stance because I am a fan of the brand and the quality products they have delivered since inception," said Don C, who launched Just Don in 2011 and has since taken the sportswear and lifestyle industry by storm. "To be able to design a Stance x NBA on court sock is beyond a dream come true. I appreciate the opportunity and look forward to continuing the relationship."

The first of the socks, which is black/grey/white and adorned with Valentine's-inspired hearts and a gold Stance embroidery, will be worn on-court in Toronto on Saturday night, February 13, during the annual Contests. The second and third styles in the collaborative set, which are red/white and blue/white, will be worn by the Western and Eastern Conferences on-court Sunday night, February 14, during the NBA All-Star Game. There are only 500 pairs of each sock, all of which are numbered 0 to 500 on the underside of the toe box.

"I've followed Don for some time and have been impressed and inspired by his company as they've quickly achieved a prominent place in the fashion world," said Clarke Miyasaki, EVP of Business Development at Stance. "To be able to partner with him and the NBA—who have proved yet again to be on the forefront of sport and culture—around the 2016 All-Star Game is an amazing opportunity."

The limited-edition Stance x Just Don NBA All-Star socks will be available on Stance.com, at RSVP Gallery in Chicago, IL, the Just Don Pop-Up in Los Angeles, CA, and select Stance retail stores on February 4.

The trio of NBA All-Star Week socks are just the first in a line of multiple upcoming collaborations between Stance and Just Don. The two burgeoning brands plan on unveiling more Stance x Just Don designs in the near future.

In addition to the limited-edition styles, Stance's inline NBA on-court All-Star Week socks are currently available at Stance.com, NBAstore.com and Foot Locker. For additional info on these designs and more, follow @stancehoops.
222