Our friends from Stance just dropped their latest and greatest, unveiling the Todd Francis Legends collection today. Featuring six players who starred in the '80s and '90s, the TF Legends collection are designed by acclaimed artist Todd Francis.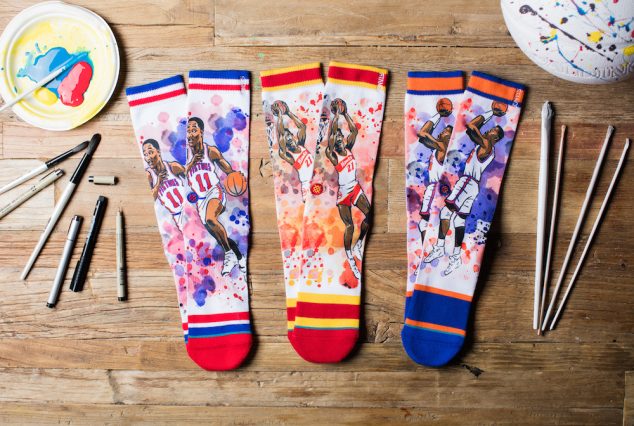 The details, straight from Stance:
Three years after debuting its initial NBA Legends collection, Stance is excited to announce a new collection of NBA Legends designed by acclaimed artist Todd Francis.

Like all Stance Hoops collection, the TF styles are designed to fit the aesthetic of both hardcore NBA fans and sock enthusiasts.Specifically, Francis, who is best known for his extensive work in the skate world but is an avid follower of the NBA, worked on all of the player illustrations and vivd colors by hand. In doing so, Francis blurred and pushed the boundaries of art, socks and the NBA.

The six TF pairs all feature NBA players who starred in the 1980s and 1990s for a variety of teams. Leading off is Dennis Rodman, who played for the Chicago Bulls from 1995 to 1998, and Dominique Wilkins, who is best known for playing for the Atlanta Hawks from 1982 to 1994. The pack continues with Isiah Thomas, who led the Detroit Pistons from 1981 to 1994; Mitch Richmond, who made his initial mark as a member of the Golden State Warriors from 1988 to 1991; Julius "Dr. J" Erving, who was a member of the Philadelphia 76ers from 1977 to 1987; and Patrick Ewing, who played center for the New York Knicks from 1985 to 2000.

Stance's Todd Francis Legends collection is now available at Stance.com and a variety of global retailers.

For more information on the TF Legends collection, be sure to keep it locked to @stancehoops and @toddfrancisart.