Sue Bird's been a Nike athlete since her first day in the WNBA. Before that, Bird wore the Swoosh during her four years at the University of Connecticut. That's almost 20 years of hooping in the best that Nike has to offer. We've seen her in 2K4 Huaraches, Nike Zoom LeBron Soldiers, Hyperizes and the Air Zoom Legacy, among others. This past season, the Hall of Famer laced up the Kyrie 2 and added another layer to her legendary career—she's rocking heat now.
Her young pair of superstars wear tough Kobes and KDs, but Bird's the one who's breakin' necks. There was the Seattle road jersey colorway, the black/white/neon yellow joints (above), the white "USA," and the red "USA" kicks that could be seen from the top of Madison Square Garden.
"I got really lucky because Nike works really close with USA Basketball," Bird remembers about that red-based colorway. "I was really excited, to be honest. That was something that Nike created. I don't think it was a NikeID thing."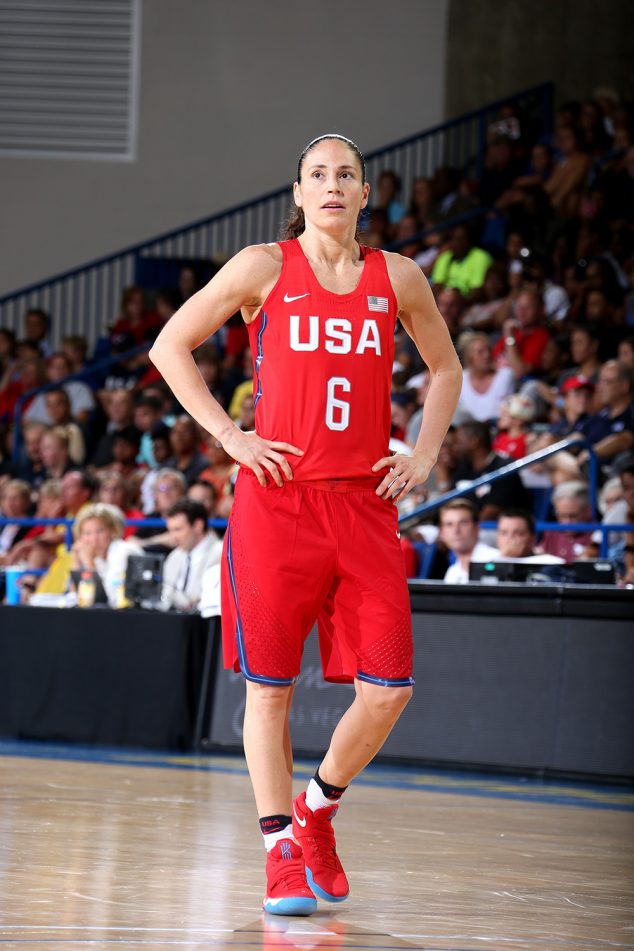 She's always been a leader, dating back to when Geno Auriemma told her everything that happened on the court was her fault. Now she's a leader in Nike's star-studded stables of athletes. It's no accident that she gets the best pairs and colors. Even though Bird says she's not a sneakerhead and that she doesn't collect kicks, she does like for her basketball sneakers to be creative and to match her uniform. Turns out she might even have a better plug than Kyrie himself.
"Sue is a great friend of mine now," Irving says. "It was crazy, man. I told her at USA, she had better colorways than I did. I'm teasing her about it, but that right there just shows me that she believes in not only the shoe, she believes in me."
"Kyrie's great," Bird says. "It was really cool to get to know him during the Olympics and build a friendship. It did start off talking about his shoe because I had a pair of the green and yellow ones, Storm colors. He commented on them. I was, like, 'Oh, wait, you watch games?'
"I really like a strap," she continues after a quick chuckle. "These [Kyries], they might be the best. It feels like pillows on my feet."
This summer, Bird had her best individual season since 2011. The 36-year-old posted averages of 12.8 points, 5.8 assists and 1 steal a night. The Storm got back to the playoffs for the first time since 2013 and she captured her FOURTH Olympic Gold Medal.
She did it all in Kyries.
"Kyrie's are at that level right now," Bird says. "It looks good, obviously they have it on NikeID so people can be really creative with it. At the same time, for me, it's one of the most comfortable shoes. When the 2s came out, it became one of my favorites. It's a good combination of feeling good and looking good.
"They might be my favorite," she continues. "I'm not just saying that it because it's Kyrie. They really might be my favorite. They're just so comfortable."
Bird laughs knowingly when asked whether or not she'll be rocking the 3s next season. "We'll just have to wait and see."
—
Max Resetar is an Assistant Editor at SLAM. Follow him on Twitter @maxresetar.