There was 3:12 left in the Gold Medal Game of the 2008 Olympics. Team USA was trying to fend off Spain, clinging to a 104-99 lead. Pau Gasol, his brother Marc, the sharpshooting Juan Carlos Navarro and the veteran captain Carlos Jimenez were shifting around in a 2-3 zone defense. The fifth Spanish player on the floor, former Trail Blazer Rudy Fernandez, had to fly out to the perimeter. Kobe Bryant had just caught the ball on the left side of the three-point line.
Bryant jab-stepped towards the middle once with his right foot. Fernandez bit. Bryant quickly rose up, and in an effort to recover, Fernandez made contact while the shot was in-motion.
This was prime Kobe, fresh off winning the NBA MVP award, a total killer with a vast array of weapons at the ready.
Bryant drilled the three-pointer, Fernandez was whistled for the foul and with 3:10 left, the Americans had some breathing room.
Bryant stood frozen, with one finger on his lips. I'm here. This is my game.
The moment stands out in a career full of unbelievable clutch baskets. Team USA wasn't even supposed to be in that position. They had been dominating everyone they played up to that point. But they needed Kobe to deliver. And in front of the world, on the Olympic stage, he absolutely did.
There's another layer to the monumental moment, though. Bryant wasn't wearing the Nike Kobe 3, and the Kobe 4 was still months away. He was wearing a new sneaker, instead. The Nike Hyperdunk had just had its first moment in the sun.
***
The suspension cables that hold bridges up caught Jay Meschter's eyes at some point in the mid 2000s. Meschter, a designer in Nike's running department, noticed that most bridges are supported by these seemingly weak-looking ropes. But engineers and architects had figured out that a strategically placed foundation can support enormous weight, even when it's under stress.
Meschter wanted to translate that practicality to footwear. He went on to identify the zones on the foot that would need to be reinforced. The process to cut unnecessary weight was underway.
Eric Avar, a veteran Nike Basketball designer, was keeping up with Meschter's progress and thinking of ways to incorporate the tech into a hoops silhouette.
"This was one of those projects that created a lot of debate among the team early on," Avar said, via Nike, about the original Hyperdunk.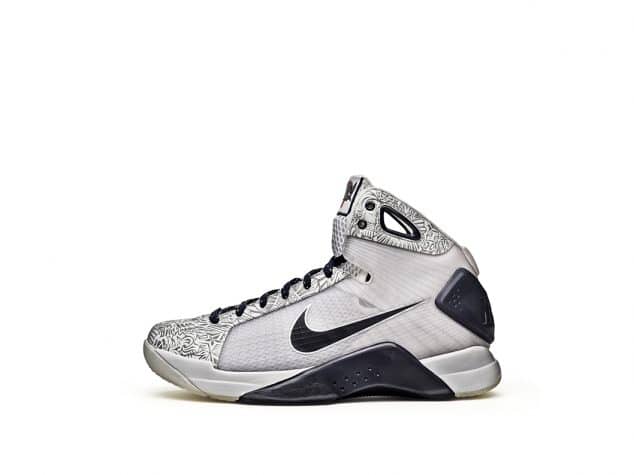 Everything was brand new and the road to innovation can be tricky.
"We were looking to do it in an expressive way — let's reduce everything else around it and let the Nike Flywire come to life," Avar said.
Flywire became Meschter's claim to fame and it became Avar's muse, a way to reinvent the basketball sneaker. Avar used super-strong nylon filaments for support and a cushioning system that was making its debut on a Nike basketball shoe; Lunarlon. The soft and bouncy foam material would go on to become a staple of the Swoosh's sneakers across all categories. It mixed perfectly with Avar's mission to make a light sneaker. He added a mesh tongue, a rubber outsole that featured a new traction pattern, synthetic overlays and a big Swoosh on the medial side.
"Flywire construction allows you to pull point-to-point on the midsole without dispersing that energy," Tom Luedecke of Nike's Innovation Kitchen told Nice Kicks in 2008.
"Using this Flywire technology, we were able to get rid of a lot of the extra overlays and really have a minimal upper that holds next to your foot," Fred Dojan of Nike's Innovation Kitchen also told Nice Kicks in 2008. "It's all orientated to work with your foot for cutting and transitioning."
"We were trying to accomplish creating a high-performance, modern basketball shoe," Avar said back in '08. "The game of basketball has changed. The team really thought that the days of the pure post player and point guard are numbered. The players have changed. They've become so much more athletic. That was really the goal of this product. It was the goal with the 2K4, the ultimate basketball shoe."
Avar, a longtime designer on the Kobe line, brought the Hyperdunk to life by using the Black Mamba.
Bryant was about to flip the basketball sneaker world on its head with the Nike Kobe 4, which would be released a few months after the '08 Olympics. The Mamba, coming off his MVP season and always down to push the limit, was the perfect player to introduce the Hyperdunk to the world.
***
Kobe Bryant jumped over an Aston Martin.
Ok, whatever, he didn't actually. But he was wearing the Hyperdunks and it looked like he could fly.
He would continue to wear the Hyperdunks for the first part of the '08-'09 season, only further solidifying its reputation as one of the best and most influential basketball sneakers of all time.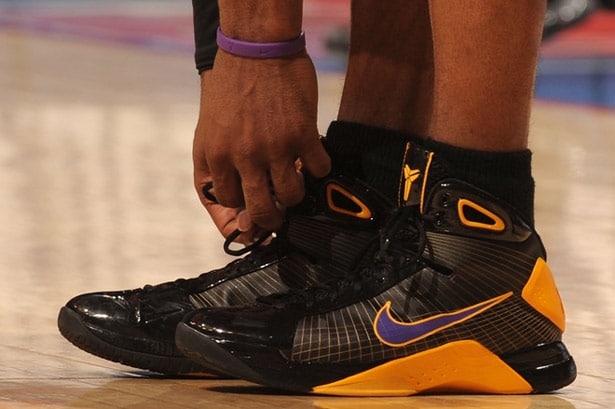 Related
Kobe Bryant Kicksology
Kobe Bryant on LeBron James, The Warriors, Giannis Antetokounmpo, Jersey Retirement and Filmmaking
DeMar DeRozan, Gordon Hayward, Derek Fisher and More Remember Kobe Bryant's Career
Max Resetar is an Associate Editor at SLAM. Follow him on Twitter and Instagram. Photos courtesy of Getty and Nike.