Since the debut edition of KICKS hit newsstands in 1997, NBA Stars have graced the hardwood in countless fire sneakers. To celebrate KICKS' 20th anniversary, we're counting down the 20 best we've seen over the past 20 years—and the moments that defined them. At No. 5 is the Nike Kobe IV, the Black Mamba's first low-cut sneaker. –Ed.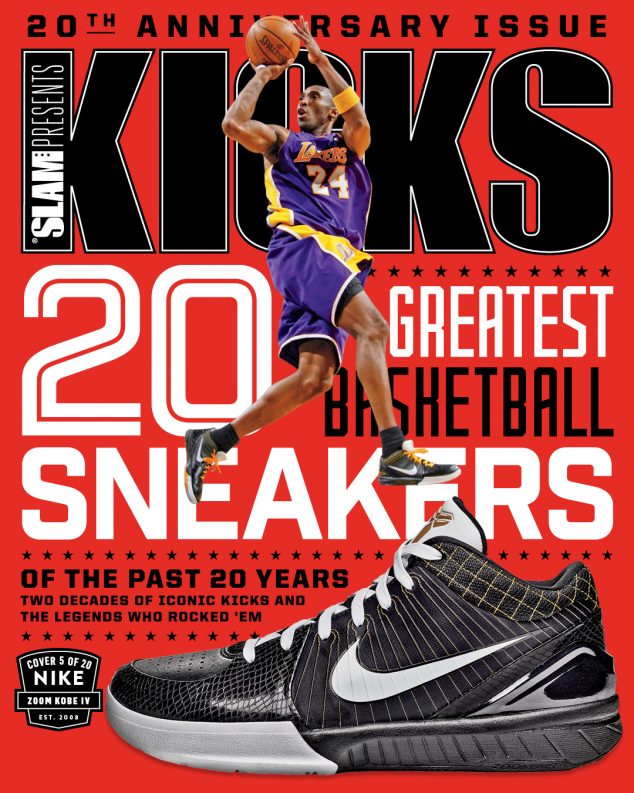 The Sneaker: When Kobe Bryant wasn't obsessively working on his craft, he was watching soccer. As a kid in Italy, he developed a love for the beautiful game's fluid movements. Even as he became one of the world's greatest hoopers, he still kept up with what was happening on the pitch. And he noticed that soccer players, making similar movements to basketball players, were wearing low-tops.
Ballplayers had been wearing high-tops for years and years. Common knowledge said that highs provided the support that was needed for all the stress that NBA players put on their wheels.
But Kobe was ready for a sneaker revolution.
He worked closely with Nike designer Eric Avar to take advantage of the Swoosh's innovative Flywire technology. Flywire was still hot off the presses before the duo brought it to the Kobe IV. It debuted in the Nike Hyperdunk, which Bryant had rocked at the '08 Olympics.
Flywire played a huge role in the progression of the low-cut silhouette. It provided the lockdown needed to keep Bryant secure.
The IV also helped to usher in Kobe's new nickname—the Black Mamba.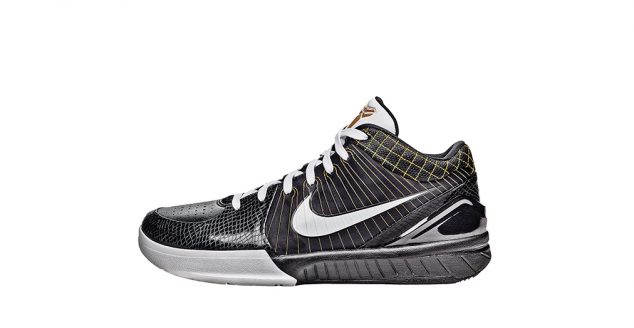 The Moment: "You can't win without Shaq. You can't play in a low-top sneaker." Kobe Bryant shut 'em all up, capturing his fourth ring in the groundbreaking Nike Zoom Kobe IV.
Previously
adidas adiZero Crazylight, No. 20
DaDa Supreme Spinner, No. 19
adidas The Kobe, No. 18
Under Armour Curry One, No. 17
Nike LEBRON 8, No. 16
Air Jordan XX, No. 15
adidas Harden Vol. 1, No. 14
Nike PG1, No. 13
Nike Kyrie 2, No. 12
Air Jordan XXXI, No. 11
Nike KD IV, No. 10
AND1 Tai Chi, No. 9
Nike Hyperdunk, No. 8
adidas T-Mac 1, No. 7
Nike Shox BB4, No. 6
Photos courtesy of Nike and Getty Images