Since the debut edition of KICKS hit newsstands in 1997, NBA Stars have graced the hardwood in countless fire sneakers. To celebrate KICKS' 20th anniversary, we're counting down the 20 best we've seen over the past 20 years—and the moments that defined them. At No. 9 is the AND1 Tai Chi, the sneaker that was flying through the air on Vince Carter's feet at the 2000 Slam Dunk Contest. –Ed.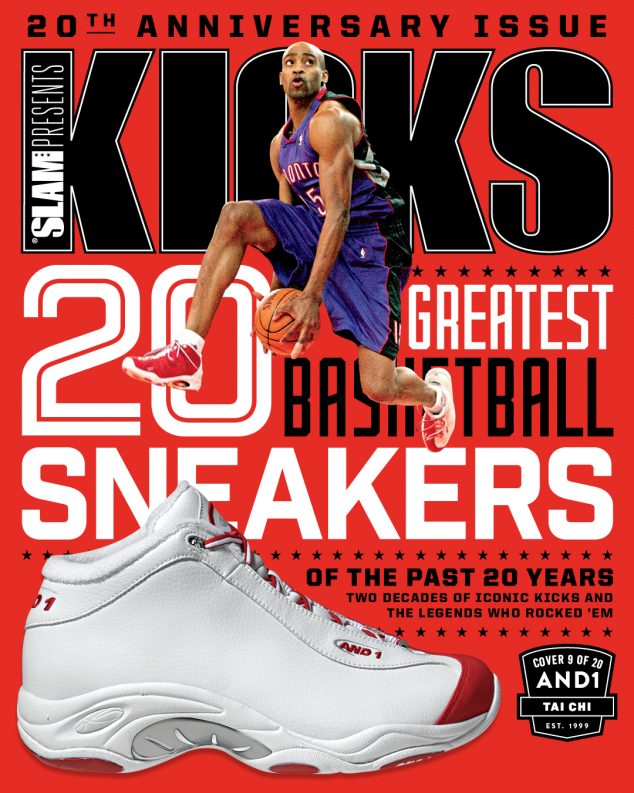 The Sneaker: The Tai Chi made its debut around the time folks were bugging out about Y2K, and by then, the AND1 brand was already rock solid. Between Stephon Marbury representing in the League and the AND1 mixtape series taking over in the streets, AND1 wasn't some fledgling company—they were serious players. Yet not until All-Star Weekend 2000 did the brand finally get its legacy moment for its forever-iconic sneaker. A bouncy young cat by the name of Vince Carter pulled up in Oakland and promptly pronounced "It's over!" with perhaps the single greatest Slam Dunk Contest performance ever. All with the Yin and Yang-inspired Tai Chis on his feet.
The Moment: While Vince Carter was hanging off the rim at the 2000 Dunk Contest, his white and red pair of AND1 Tai Chis were leaping their way into Hall of Fame sneaker status.
Previously
adidas adiZero Crazylight, No. 20
DaDa Supreme Spinner, No. 19
adidas The Kobe, No. 18
Under Armour Curry One, No. 17
Nike LEBRON 8, No. 16
Air Jordan XX, No. 15
adidas Harden Vol. 1, No. 14
Nike PG1, No. 13
Nike Kyrie 2, No. 12
Air Jordan XXXI, No. 11
Nike KD IV, No. 10
Photos courtesy of AND1 and Getty Images