Since the debut edition of KICKS hit newsstands in 1997, NBA Stars have graced the hardwood in countless fire sneakers. To celebrate KICKS' 20th anniversary, we're counting down the 20 best we've seen over the past 20 years—and the moments that defined them. At No. 17 is the Under Armour Curry One, Stephen's debut signature sneaker and the pair that helped him have one of the most incredible individual seasons ever. –Ed.
The Sneaker: When Stephen Curry joined Under Armour, there were no guarantees that he'd become a back-to-back MVP and a two-time NBA Champion. But what UA saw in the Warriors PG remains a plain truth in the sneaker industry: that a player like Curry, whose normal-guy stature is relatable and whose grounded personality makes him feel approachable, can move units. So with Chef Curry's blessing, UA cooked up a debut model in 2015 that defied expectations, both in its technological advances (the introduction of Charged Cushioning and Anafoam) and its bevy of colorways (like the "Candy Reign," "MVP" and "Dub Nation").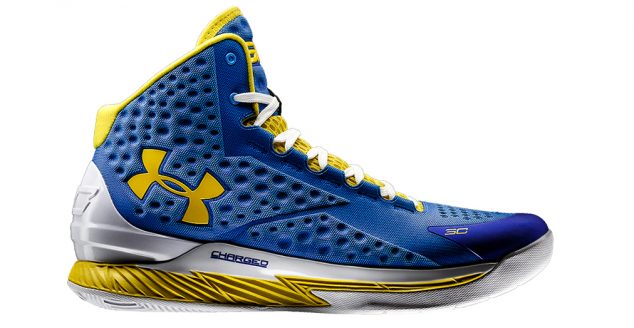 The Moment: Curry seemingly came out of nowhere to sucker punch the League with a barrage of three-pointers that earned him his first MVP and his first NBA championship in the same season.
Previously
adidas adiZero Crazylight, No. 20
DaDa Supreme Spinner, No. 19
adidas The Kobe, No. 18
Photos courtesy of UA and Getty Images