Since the debut edition of KICKS hit newsstands in 1997, NBA Stars have graced the hardwood in countless fire sneakers. To celebrate KICKS' 20th anniversary, we're counting down the 20 best we've seen over the past 20 years—and the moments that defined them. At No. 3 is the Nike Air Zoom Generation, LeBron James' first signature sneaker. –Ed.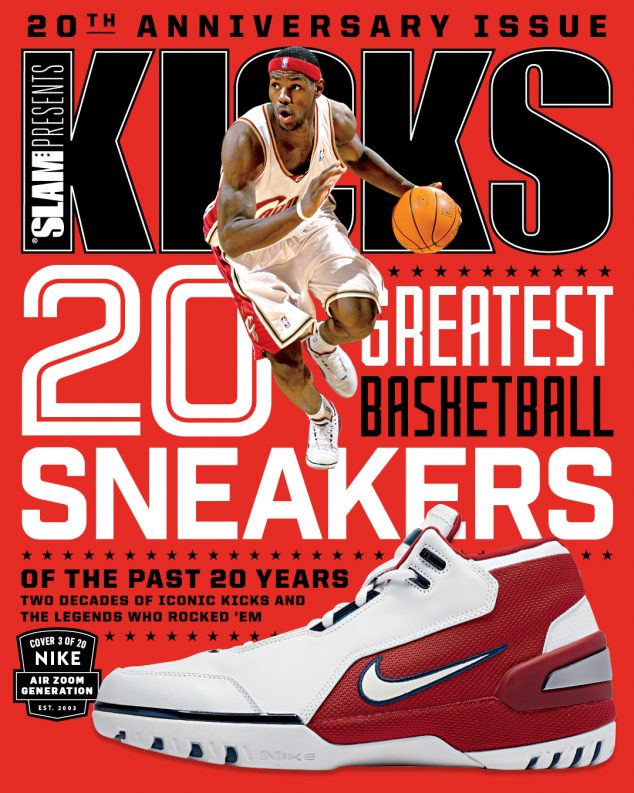 The Sneaker: $90 million. That's how much Nike promised to LeBron James in his first contract. News of the seven-year deal spread well beyond the basketball world. Nobody could understand why an 18-year-old kid from Akron, OH, was worth so much money. That's too big of a gamble, they said. Too much has to go right, they said. It will never work, they said. The critics, loud and impossible to sway, had a point. James was fresh out of high school, and though the spotlight had been on him for years, he still hadn't played an NBA game yet. And paying nearly $100 million for an unproven commodity is always a risk.
The pressure was on. Nike had to deliver a sneaker that transcended basketball, one that would stand the test of time.
They cooked up the Air Zoom Generation, the kicks that would help LeBron attack the League with military-like precision.
The AZG's mid-cut was complemented by Zoom cushioning and a mix of mesh and leather. The sneaker launched LeBron's legendary career and its recent retro release, which brought a rabid reaction from sneakerheads, proved that the $90 million deal was a genius investment. Worth every penny.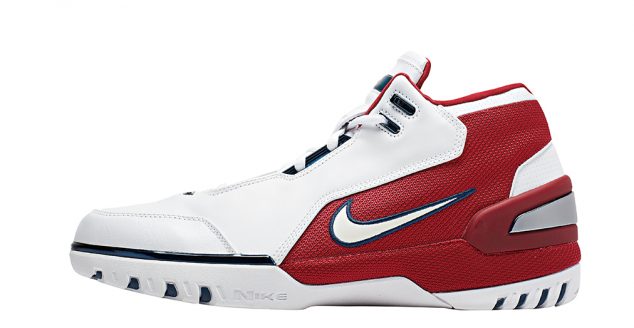 The Moment: With a steal, a dribble and a soaring tomahawk dunk, LBJ's career took flight in the Nike Air Zoom Generation.
Previously
adidas adiZero Crazylight, No. 20
DaDa Supreme Spinner, No. 19
adidas The Kobe, No. 18
Under Armour Curry One, No. 17
Nike LEBRON 8, No. 16
Air Jordan XX, No. 15
adidas Harden Vol. 1, No. 14
Nike PG1, No. 13
Nike Kyrie 2, No. 12
Air Jordan XXXI, No. 11
Nike KD IV, No. 10
AND1 Tai Chi, No. 9
Nike Hyperdunk, No. 8
adidas T-Mac 1, No. 7
Nike Shox BB4, No. 6
Nike Kobe IV, No. 5
Nike 2K4 Huarache, No. 4
Photos courtesy of Tom Medvedich and Getty Images