Since the debut edition of KICKS hit newsstands in 1997, NBA Stars have graced the hardwood in countless fire sneakers. To celebrate KICKS' 20th anniversary, we're counting down the 20 best we've seen over the past 20 years—and the moments that defined them. At No. 2 is the Reebok Answer IV, Allen Iverson's cutting-edge MVP sneaker. –Ed.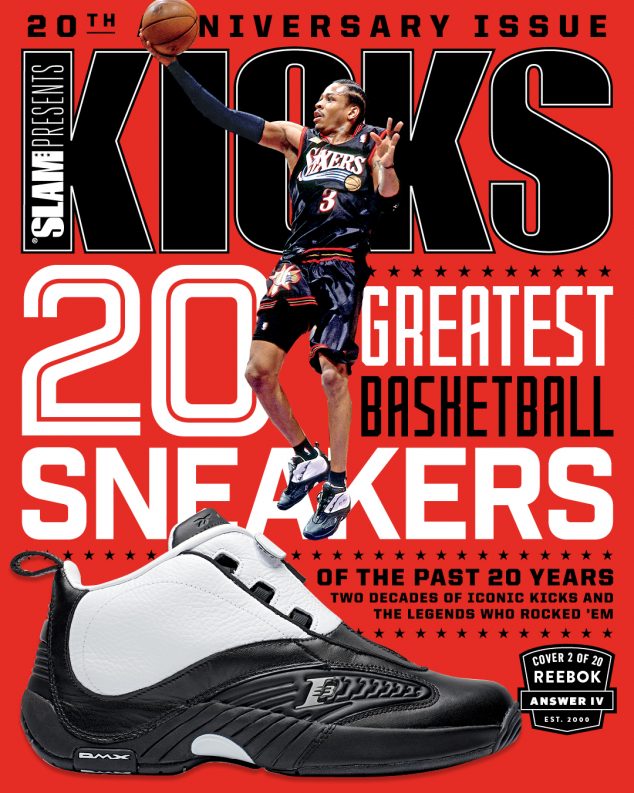 The Sneaker: Allen Iverson's first signature sneaker, the Reebok Question, was an instant classic. The three models that followed—the Answer I, II and III—were cool and all, but they were far from the kind of smash hit shoe destined for future campouts anticipating its retro. The technology was there: The Answer IV had full-length DMX cushioning, plus a unique shrouded upper and an innovative lacing system complete with zipper. As for the cultural appeal, well, Iverson took care of that. AI wore the IV during his 2000-01 MVP season, and that same year carried Philadelphia to the NBA Finals against the Lakers. There in Game 1 of the biggest stage in his sport under the bright lights in Los Angeles, with the IVs still on his feet, he delivered one of the most iconic moments in basketball history: The Step Over. A moment so damn cool even the unflappable Marv Albert was taken aback on the air. And, thanks to replays and images captured of that move that include such a clear shot of Iverson's black and white Answer IVs, the shoe's legend has grown with AI's, making it one of the most iconic moments in sneaker history, too.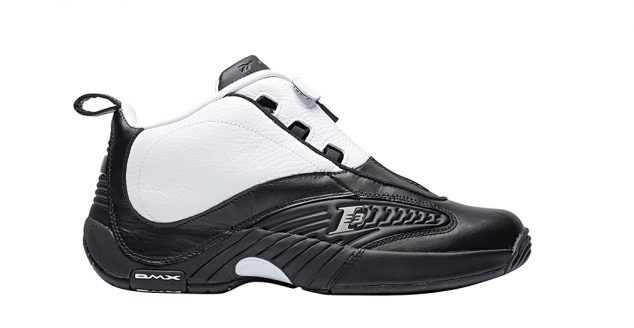 The Moment: Allen Iverson punctuated his 48-point outburst in Game 1 of the 2001 Finals by walking over a fallen Tyronn Lue in a fresh pair of Answer IVs.
Previously
adidas adiZero Crazylight, No. 20
DaDa Supreme Spinner, No. 19
adidas The Kobe, No. 18
Under Armour Curry One, No. 17
Nike LEBRON 8, No. 16
Air Jordan XX, No. 15
adidas Harden Vol. 1, No. 14
Nike PG1, No. 13
Nike Kyrie 2, No. 12
Air Jordan XXXI, No. 11
Nike KD IV, No. 10
AND1 Tai Chi, No. 9
Nike Hyperdunk, No. 8
adidas T-Mac 1, No. 7
Nike Shox BB4, No. 6
Nike Kobe IV, No. 5
Nike 2K4 Huarache, No. 4
Nike Air Zoom Generation, No. 3
Photos courtesy of Tom Medvedich and Getty Images
Abe Schwadron is the Managing Editor at numberFire and a former Senior Editor at SLAM. Follow him on Twitter @abe_squad.