Twenty years ago, high school hoop mixtapes weren't a thing. Neither was Twitter, nor Instagram. Hell, back then logging onto the internet was a long, arduous process, the thrilling result of which was at best a creepy computer voice announcing "You've got mail!"
So when the Toronto Raptors drafted a kid from Mount Zion Christian Academy in North Carolina with the ninth overall pick in the 1997 NBA Draft, nobody—outside of true hoop heads—knew a goddamn thing about him. Sure, he was a McDonald's All-American and USA Today's National Player of the Year. But back then, that didn't carry as much weight. See, the crown jewel of  the '97 Draft Class was  a four-year college starter who played high-level ACC ball in the same state—No. 1 overall pick Tim Duncan.
And after riding the bench during a rookie season that he'd later describe as "hell" and a second year shortened by a lockout, the kid's Q rating wasn't exactly skyrocketing. That is, until All-Star Weekend in 2000. There, on a Saturday night in Oakland, McGrady's distant cousin and then-teammate Vince Carter put on perhaps the greatest Slam Dunk performance in the contest's history. It was such a spectacular show that it's easy to forget it was Tracy who threw him a perfect pass on one of VC's 50s, earned a perfect score on one of his own dunks and reached the final round, too.
Tracy McGrady was, that summer, a 21-year-old who'd shown flashes of greatness but had never even been a starter in the League. And yet, the Orlando Magic backed up the Brink's truck to make him their franchise player. Out from under his bouncy cousin's shadow, over the next seven seasons T-Mac earned seven straight All-NBA nods and won a pair of scoring titles over time split in Orlando and Houston. McGrady joined the likes of Kobe, AI, Shaq, Jason Kidd, KG and Duncan as one of the unquestioned top-10 players in the NBA.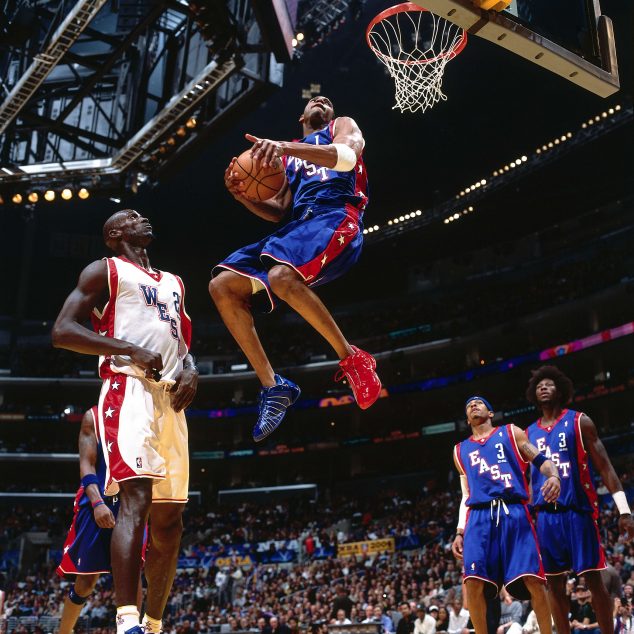 Meanwhile, adidas, too, banked on T-Mac becoming a bona fide superstar. Since his days alongside Kobe at ABCD Camp, McGrady was a Three Stripes lifer. In high school, he rocked the Top Ten, and early in his pro career, T-Mac laced up a myriad of adi models, including the Real Deal, the Silk, the Mad Handle, the KB8 II and the KB8 III.
In 2002, adidas introduced the T-Mac 1. It was a silhouette no one had ever really seen before: low-cut with a durable rubber shell toe, and perforated leather on either side of the toe box. McGrady slipped on a silver and black pair of his 1s for the NBA All-Star Game that season, during which he threw himself an alley-oop pass off the backboard in traffic and flushed it. The iconic All-Star Game moment helped propel the popularity of the T-Mac 1 to the masses. adidas made dozens of different colorways for specific teams and players—including the next HS phenom, a do-it-all kid from Akron, OH, named LeBron James.
For the '04 All-Star Game, McGrady rocked a mismatched pair of T-Mac 3s—one red, one blue—and threw himself another of his signature self-assisted alley-oops. T-Mac graced the cover of KICKS 6, 8 and 9, and considering the amount of ink we've devoted to him in this magazine over the years, it's about time he got the sneaker HOF recognition here, to go with the Naismith HOF honors he'll be earning this September. Before debilitating knee and back injuries took away McGrady's explosiveness late in his career (which ended with brief stints in New York, Detroit, Atlanta and San Antonio), adidas made six signature shoes to his name, and his on-court dominance led to massive sneaker culture influence.
—
Abe Schwadron is the Managing Editor at numberFire and a former Senior Editor at SLAM. Follow him on Twitter @abe_squad.
Photos via Getty Images