Stephen Curry is unlike any superstar athlete in the history of sports. No, not because of his three-point shooting prowess. Not because of his ability to handle the rock as if it's attached to the palms of his hands. And no, not because he can get his shot off in extremely tight spaces over the outstretched hands of 7-footers. Sure, those things make him unique. But what makes him unlike any superstar athlete in the history of sports has everything to do with his squeaky clean public repute off the court. You've never seen the baby-faced assassin make headlines for anything negative—not even a speeding ticket. He's mild mannered, he's intelligent, he's strong in his Christian faith, he adores his family, he's humble and he looks like a kid who could, at times, be mistaken for Riley Curry's big brother by someone not familiar with his family tree. His public image, encompassing everything mentioned above, even transitions into how he carries himself, fashion-wise.
Steph enjoys fashion like any other NBA player. Except he doesn't.
You won't see the two-time NBA MVP in a raw-tattered collared shirt with hem stitching, nor will you see him in zebra-printed shoes paired with heavily destructed jeans while toting a backpack. That's not Steph. He's the exact opposite of the Craig Sagers, the Clyde Fraziers and the Russell Westbrooks of the NBA fashion world.
Instead, you're more likely to find Curry arriving to a regular-season game in a herringbone blazer to go with a pair of slim-fit rinse wash jeans and a leather zip-top travel kit. Or you may find him in a pair of chaps picked out by his wife, Ayesha Curry, and a pair of Chelsea boots. Sure, there are times when Curry goes for the ornate look, like the blue velvet tuxedo jacket he once wore to the ESPYs, but for the most part, Curry detracts all of the fashion attention while still dressing in an elegant, fashionable way. His style is chic, contemporary and swank. Which is why the Curry Lux, Under Armour's new signature footwear collection for Golden State's PG, will be a seamless and consistent transition off the court for Steph and fans of his style.
"Curry is the classic American athlete that has great, simplistic taste," says Peter Ruppe, Under Armour's Senior Vice President of Footwear. "With the Curry Lux, we wanted to make a casual product with crossover appeal that allows one to dress up with it but also wear, athletically, off court. It's basically a representation of Steph Curry."
Curry has an affinity for simple looks and isn't inspired by anyone else's fashion sense. He wears what he likes and moves to the beat of his own drum.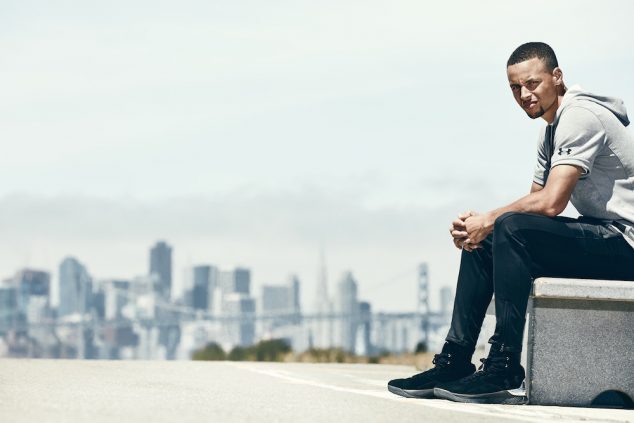 "He stays pretty true to himself but is still open minded to try new things," Sheraine Robinson, the stylist for the Curry family, told Fashion Bomb Daily. "He loves the sophisticated look more than anything else, and honestly, that looks best on him."
These collections don't get put together overnight. Beginning in April 2015, the Under Armour team worked closely with Steph while creating the Lux. They were blown away by his attention to detail in meetings and his taste for various materials and an overall luxurious product. Under Armour was able to get a great sense of his style, as Curry invited key members of the brand into his house—as he normally does—to allow them to draw inspiration from his everyday living. He expressed a passion for a classy, stylish look that he could wear off the court, and Under Armour responded by outsourcing fine materials for the Lux. To mimic the simplistic fashion eye of Curry, UA opted to use a variety of rich, minimal-printed, premium leather and suede materials combined with his pinnacle signature basketball silhouette, the Under Armour Curry One. They didn't set out to blend in with everything else on the market but, instead, to simply mirror Curry's fashion eye.
"A lot of the lifestyle footwear on the market today is very provocative. There's a time and place for that, of course," says Ruppe, "but this is a durable, honest and straightforward product that really outfits the consumer, 24-7, and allows you to transcend from the hardwood to off court."
Under Armour also drew inspiration from the Bay Area, a place Steph has called home for the past seven years.
"The Curry Lux collection is a reflection of Stephen, who represents what Oakland and the Bay Area is—visually stunning on the outside, easy to like and comfortable to know, but peel back the layers and you get something even more dynamic—evidence of hard work, grit, determination and unmistakable drive that fuels sustained excellence," reads Under Armour's official press release accompanying the announcement of the Lux line. "Stephen is connected to his city of Oakland and the greater Bay Area and its people through a combined work ethic, will to overcome and passion for culture. Curry Lux footwear takes this story off the court and onto the street."
Although the Lux is geared toward off-court wear, Under Armour did not ignore technology. Everything is intact from the original Curry One, a fan favorite, such as the stable heel counter and two of the most important creations in Under Armour's short basketball history: Charged cushioning and Anafoam.
"We're obsessed with material innovation," Dave Dombrow, Under Armour's Chief Design Officer, said at the Curry One debut event in January 2015. "We think Anafoam takes the comfort of our shoes to another level."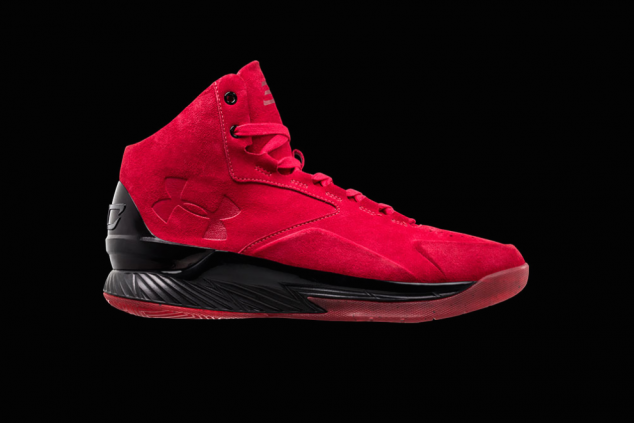 Anafoam is a lightweight, compression-molded shell that delivers adequate support and fit. The material has built-in support pieces comprised of foam and wrapped in compression-molded fabric. The Charged Cushioning is a unique system that provides dynamic footing and is responsive, featuring a high rebound effect and a bouncy feel.
"He was really delighted when we told him that we kept the technology of the shoe constant with the original," Ruppe says, when asked about the shoe's overall construction. "You know, he's a straight-forward guy, so his taste levels are honest and he loves attention to detail and comfort."
High quality and performance aside, there's a number of reasons to believe that the Lux will be a hit among his fans.
Marketing-wise, Curry is excellent. Beyond the tenacious competitor that he is on the court, Curry is extremely generous to everyone he comes in contact with in the Bay Area, where he's become a pillar of the community. He connects with kids in an authentic way—he'll take the time to snap numerous photos and sign a limitless amount of autographs before he leaves the arena, an appearance or anywhere else.
He's also reachable, in a sense, to all aspiring basketball players who aren't the highest jumpers, the quickest maneuverers or the fastest from baseline to baseline. Curry is your average-looking player who happens to be the best shooter in the history of the NBA and one of the best ballhandlers in the League today. He's strong but doesn't necessarily look like an iron-pumping athlete. And he's fast but never looks like he's in a hurry on the court. Simply put, kids gravitate toward the Warriors' two-time MVP and are drawn to replicating his style—from the dangling mouthpiece to his sneakers.
Lastly, timing-wise, there's no instance better than the present for the new collection's release. Since joining Under Armour in the summer of 2013, Curry has racked up two MVP trophies, one NBA championship, three NBA All-Star appearances, three All-NBA First-Team selections and has broken tons of longstanding shooting records. The Curry One sneaker debuted in February 2015—right smack in the middle of Curry's MVP and NBA Championship season. The company's overall sales rose 31 percent in the quarter, while profits were up 21 percent.
"It's a critical time for Under Armour hoops, and we're always thinking where do we go from our current standing to expand our reach," said Ruppe. "Our best vehicle to start the conversation is Steph Curry."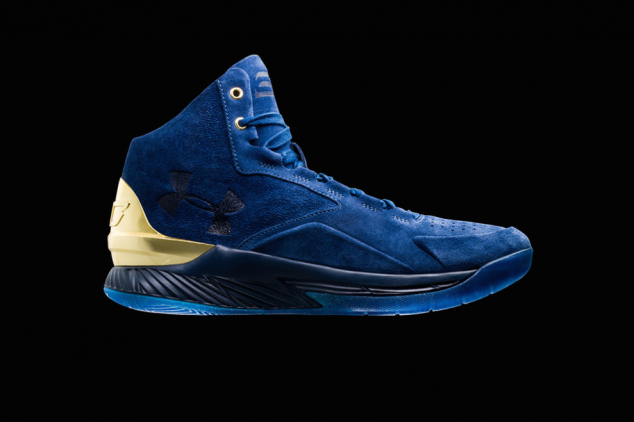 The opulent collection will include mid- and low-cut styles and high-end, premium materials, and will launch at retail with a limited run of five colorways, including a sleek black leather construction—that features a gum bottom, white midsole and tan leather lining—that dropped on August 5 at an event hosted by Concepts NYC. The brand is excited about partnering with a boutique to release the Lux line initially, as it will give Under Armour's footwear a sense of recognition in a new market. A different set of eyes is always best when sparking the conversation for a new product.
"Our biggest mantra is that we're just getting started with the lifestyle story," says Ruppe. "We will continue to elevate our craft with the lifestyle line for, not just basketball, but every sector of our brand moving forward."