Victor Oladipo's first three seasons in the NBA have been impressive. Career averages of 15.9 points, 4.4 rebounds and 4 assists per game suggest it's only a matter of time before he's an All-Star. Watching him play makes all that potential feel even more real—his game has all the makings of a versatile threat for years to come.
The folks at Jordan Brand have taken notice, and they're rewarding Oladipo with a sneaker. The Jordan Extra.Fly isn't technically Vic's signature line, but he'll be the leading face of the sneaker, which is decked out with Nike Zoom Air cushioning, flywire and a unique training-sneaker silhouette. (If you were paying close attention at OKC's media day, Vic was rocking the Extra.Fly already.)
The Jordan Extra.Fly releases on October 1, with a $120 retail price tag.
We caught up via phone quickly with the newest member of the Thunder to talk about the new kicks, which he says he "played in all summer."
SLAM: Was getting to be the face of a Jordan shoe something that the brand had talked to you about for a while?
Victor Oladipo: Kinda, sorta. The opportunity kinda just presented itself. Grateful and thankful for the opportunity.
SLAM: How involved were you with the design?
VO: Pretty involved. From the beginning they asked me what I looked for in a shoe. Also the colorways, what I wanted during the year. And what I wanted to do to try and improve the shoe. But it's a great shoe. The great thing about the shoe is that it's light, but it's sturdy at the same time. I know a lot of guys wearing lowtops will question ankle support but that's the great thing about the shoe, that it still has that lightness aspect of the shoe, but it supports your ankle as well.
SLAM: For a basketball performance shoe, it looks a lot like a trainer. Were you surprised by the different aesthetic?
VO: I like the way it looks. It throws you off a little bit, I like that. You can't really tell if it's a trainer or a basketball shoe, but that's the uniqueness about it.
SLAM: How is it to play in?
VO: I've had great results. I've been moving great. It's got me moving faster and jumping higher than probably I've ever jumped. That all starts with how comfortable your feet are.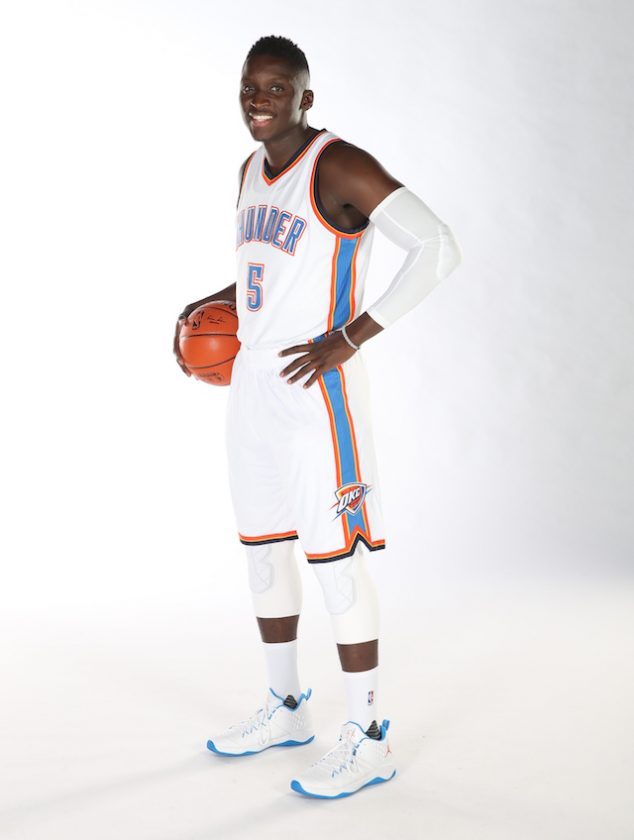 SLAM: Now that you're in OKC with Russell Westbrook, a fellow Jordan Brand athlete, are we going to see some new colorways this season?
VO: Yeah, I've been thinking about some stuff. You might see some crazy colorways, some feathery colorways.
SLAM: That dunk you had during the summer, the one where you hit a kid with a windmill? That was crazy. 
VO: It was my basketball camp that I have back home for some of the best high school players in the country. You know, he came in talking a lot of smack, asking if I would jump with him, that kinda stuff. I let him dunk on me, to build his confidence. I knew I was going to bang on him the whole week. Then I did it. I didn't try to embarrass him or nothing. I just tried to, you know, teach him a little lesson.
—
Photos courtesy of Jordan Brand