Thirty-five-year-old New Orleans rapper Curren$y, who releases so much free music that fans literally try to hand him cash at his shows, is arguably the hardest working MC in the game. If you were to compare him to an NBA player past or present, an obvious choice might be someone like Tim Duncan. Spitta and TD are models of consistency in their respective fields, constantly producing quality work without much fanfare.
But when he's out of the studio (which is, like, never) and on the basketball court, Curren$y has game like one of the illest PGs out of New York City.
"When I was a kid, I used to play like Kenny Anderson," he told SLAM recently. "Kenny Anderson had handles, he was a good guy, he was always smiling. I've seen him give up open shots for a cool pass, just because the pass looked cooler than the layup. That was me."
By the time he got to ninth grade, Curren$y realized his NBA dream was a bit far-fetched.
"Everybody was so much taller. I was like, I probably should just hit the books a little harder," he says. "When I showed up for high school, on the first day, I was like, Oh, hell no. I didn't try out, and I just started dressing cool and going to the basketball games." (During that same 1995-96 school year, a classmate stole his issue of SLAM 8 with Mike and Penny Hardaway on the cover, because it offered the first look at the Jordan X.)
Now, Spitta is giving young kids with a passion for basketball the chance to hone their skills. In early 2015, Curren$y launched the Jet Life Athletics AAU program, which includes teams in the 14U, 15U and 17U age brackets.
"My brother played basketball when he was younger, and he played a lot of AAU," he says. "I just saw the opportunity that it gave him and a lot of homies. But I also saw who wasn't allowed, or who didn't get a chance, just based on age. So I wanted us to do something that would be able to get more kids involved."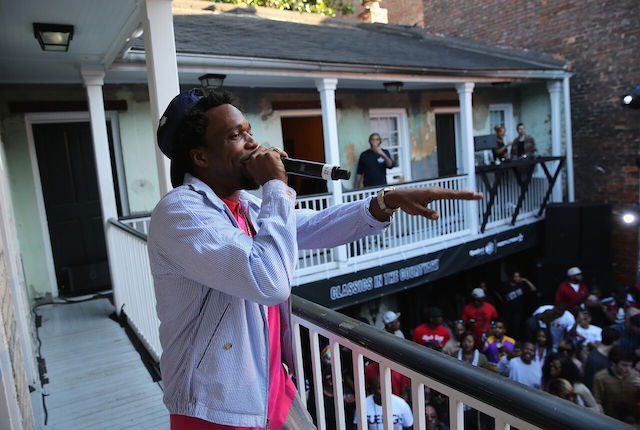 Jet Life Athletics has already won championships at tournaments like Southern Slam New Orleans, adidas Southeast Invitational and Battle of the Best New Orleans.
"They're putting up numbers, so with the way they're playing, that's making us support even more," Curren$y says. "I'm trying to do whatever I can for 'em, whatever opportunities we can open up for 'em, because they're putting 100 percent into their basketball and into their playing."
The Crescent City rhymer helped Reebok and Footaction host "Classics in the Courtyard," a pop-up sneaker customization store and concert on Bourbon Street on Saturday afternoon.
He wasn't in town when NOLA last hosted the event in 2014, but Spitta remembers attending the 2004 All-Star Game in Los Angeles when he was signed to No Limit Records. He went with Master P, who hosted a charity event for Louisiana flood victims prior to All-Star Saturday night, and participated in this year's Celebrity Game.
After this weekend's festivities are over, you can bet Curren$y will be back in the booth cranking out records. He just wrapped up his 14th year in the game (he inked the No Limit deal in 2002), just like his boy Kenny Anderson, who played 14 years in the L.
And even after dropping a whopping 12 mixtapes in 2016, he's preparing major moves for 2017.
"Who doesn't want to hear people cheering for 'em, man?" he says. "If I get the opportunity to put something out every month and have people be like, 'Yo, this Spitta tape is crazy,' why not do it?"
—
Photos: Sherman Williams for DopeMedia, Reebok Classics