The Golden State Warriors DJ, D Sharp, enjoys his job and loves being one of the reasons the crowd is always so amped at Oracle Arena. We caught up with him to talk about how he got his start in the music business and what it's like DJing for the Warriors' raucous home crowd.
SLAM: How did you first get into DJing?
DJ D Sharp: I used to love Run-DMC and I really admired Jam Master Jay. I wanted to be Jam Master Jay. So, you know, I got the adidas sneakers and the adidas sweat suits. He had this routine where he would say, "RUN, RUN, RUN." And I would just try to copy that. That's how I got good as a DJ.
SLAM: What kind of music do you focus on while performing?
D Sharp: For me, man, I am an open format DJ, meaning that I play everything. In the arena when I'm DJing, people will hear everything to rock to hip-hop to EDM. You hear everything, but my heart is hip-hop. I love music with a passion. I love house music. I love reggae. I even love some of the EDM. I love some of the trap stuff. I love everything, man. I don't discriminate.
SLAM: How are you able to put that all together?
D Sharp: That's one thing that that everybody in Oracle always gives me props for. They're like, 'Man, you mix everything pretty well!' I learned it really well in the arena because the demographic of the fans at games is just huge, right? So you gotta be able to play to everyone and make everyone happy. I definitely learned how to be good at it in the arena.
SLAM: What's some of the other feedback you get from the fans?
D Sharp: Well, a lot of the fans that I run into, they love Bay Area music. So it's like, 'Hey D Sharp, you gotta play that Mac Dre!' Or, 'Hey D Sharp, [you got] that new E-40 or that Too $hort?' I get a lot of feedback like that.
And like I said earlier, when I run into the older fans, they love how I mix the old with the new. It's just great to hear fans like, 'Wow, you're doing such a good job.' Or, 'hey D Sharp, pump us up tonight! We need you!' It's just great to hear that from them.
SLAM: So how did you get the gig with the Warriors?
D Sharp: It's kind of a bittersweet story. I was DJing with this group out here in the Bay Area called Blackalicious–they actually have a pretty cool commercial with Bleacher Report right now that runs during the Finals for their song, 'Alphabet Aerobics.' I was DJing with my man Chief XL and DJ Solomon, who was the Warriors DJ at the time, saw me spin records for Blackalicious and he was at a show here in the Bay Area and he came up to me afterwards. He was like, 'Yo, man, I DJ for the Warriors. It would be cool if you and me could do a two by fours thing and have you come through man.'
I was like, 'Yeah, it's all good. '
By the way, at this time the Warriors were terrible. We wasn't making the playoffs. We were bad. I would fill in for him and in '12, Solomon passed away and they offered me the job.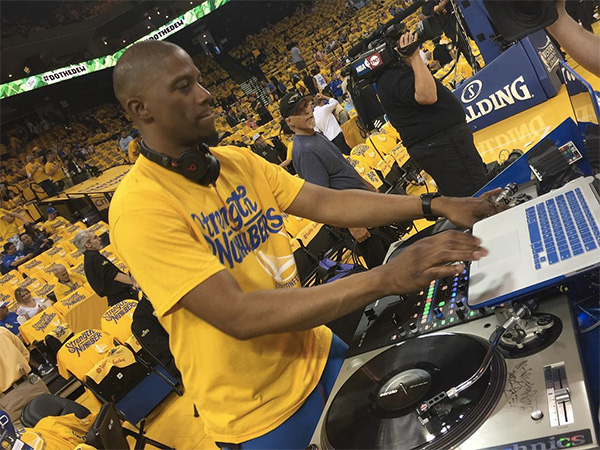 SLAM: How did it feel to take over after him?
D Sharp: It's been really bittersweet. Solomon was such a dope DJ and such a good soul and a good spirit and he had no issues with letting me fill in for him. He just looked out, man. It's like I keep saying, it's bittersweet 'cause I know he would hold it down. He was probably the best technical DJ I've ever seen in my life in terms of like mixing and scratching and timing and was like impeccable. I learned watching from him how to rock in the arena. It was a huge loss man.
SLAM: Yeah, I understand. I'm really sorry to hear that. How big of an influence was he on you?
D Sharp: He was huge. In fact, Solomon showed me how to use Serato. It was so long ago that I was carrying crates of vinyls to the arena when I met Solomon. Solomon was doing crates of vinyl and he was doing a computer at the same time, which was unheard of. He was using this program called Final Scratch and then Serato came later. This was like '02, '03 and he would show me this stuff when I would rock with him. I'm like, 'Dude, this is amazing!'
I went and got a computer and he was just slowly showing me how to use Serato in my sets. Then I eventually converted all the way in like '05 from vinyl to MP3 and it has been on computer ever since.
SLAM: Is there a huge difference in going from vinyl to MP3?
D Sharp: I walk in with a computer in my backpack. Before, at a club gig for instance, you have to have at least three crates of vinyls. And that's when all your buddies and friends came. Everybody had a crate. That's how everybody got in the club. It's a huge difference. As technology changes and things change with the times, everything is getting smaller and more compact and that's what's happening with DJing. Now, everybody is DJing off their computer. Some people off their iPhones. It's definitely crazy to see.
SLAM: My school, the University of Missouri, just hired a DJ for the football games last year. Is that a new trend nowadays hiring DJs for sports teams?
D Sharp: I don't know who originated the DJ thing with sports, but I really want to credit the Warriors for it because Solomon was DJing for the Warriors in like '99 or '00.  I want to say that Warriors were the first if I'm not mistaken. I know DJ Irie with the Miami Heat, he made in-stadium DJs really popular when they started winning all them championships.
The Sacramento Kings got a DJ, and the Nuggets got a DJ, and the Pistons got a DJ. Everybody got DJs now, which is dope because I know in Oracle, when it's a timeout, that time that needs to be filled, there's good stuff going on. A DJ adds to that if you got some type of like great entertainment act or some type of halftime act or you giving away T-shirts and you want to make it exciting for the fans, there's never a dull moment. I think the Warriors are really good at that.
SLAM: What's your go-to crowd pleaser?
D Sharp: I'll be honest, man, my go-to crowd pleaser is [DJ Snake and Lil Jon's] 'Turn Down for What' a lot. To be honest, anything with Lil Jon or Fatman Scoop because they have that commanding voice on those records. With Fatman Scoop, he's like, 'Let's go! Put em up now!' And Lil Jon, 'Yeah! Everybody, let's move it!' These phrases and those records just work really well. They get the crowd hyped and amped.
SLAM: What kind of music do the players like to listen to?
D Sharp: The players like all the new stuff. So we be talking Drake, Future, Boosie BadAzz and [Desiigner's] 'Panda' record that's big now. Young Thug. They like all of the Down South trap stuff.
SLAM: How about for Steph or Klay? Any specific songs for them?
D Sharp: Oh Klay loves 'Pull Up On the Kid' by Young Thug. I was out one time and he ran up on me and said, 'You gotta play that during warmups!'  He likes that. I noticed that if I'm out and I'm in the club DJing, I get a request to play some Young Thug for Klay Thompson.
SLAM: Anyone else like that? Anyone else go up to you requesting songs that they need?
D Sharp: You know what, man? I don't bother the guys when they're warming up cause I'm working and they're working. If I ever get a chance to see them before they walk into the locker room or maybe out and about or something,
I'll always ask, 'Yo let me know what I could play to get you into it. If there's something that I'm not playing, let me know.' And nine times out of 10 they always come back and say, 'Yo Sharp, you're doing your thing. Don't worry, we good. Keep doing what you're doing.'