The rookies had been moving all morning: front and center at the annual Panini Rookie Photo Shoot at the Knicks' practice facility in Tarrytown, NY, doing interviews, taking pictures, signing autographs, making funny social media videos. The day was dragging on but they never seemed to get tired.
And when we grabbed Markelle Fultz, Lonzo Ball, Jayson Tatum, Josh Jackson, De'Aaron Fox and Dennis Smith Jr after lunch for our shoot, they were ready. They didn't seem annoyed or bored or drained. In fact, they couldn't stop laughing at each other and everyone around them.
It can be tough to remember that these potential superstars, with millions of dollars and followers, still can't legally walk into a bar. They're just kids. They're all so damn good at basketball, so mature and ready for the spotlight, that it doesn't feel like they were just in high school.
Fultz, Ball, Tatum, Jackson, Fox and Smith Jr are, for lack of a better phrase, cool as shit. They can hoop—more on that in a moment—and they carry themselves with the utmost confidence. Their personalities are so different, too. They range from quiet to comedic to talkative to boisterous. That's why we wanted to get them together.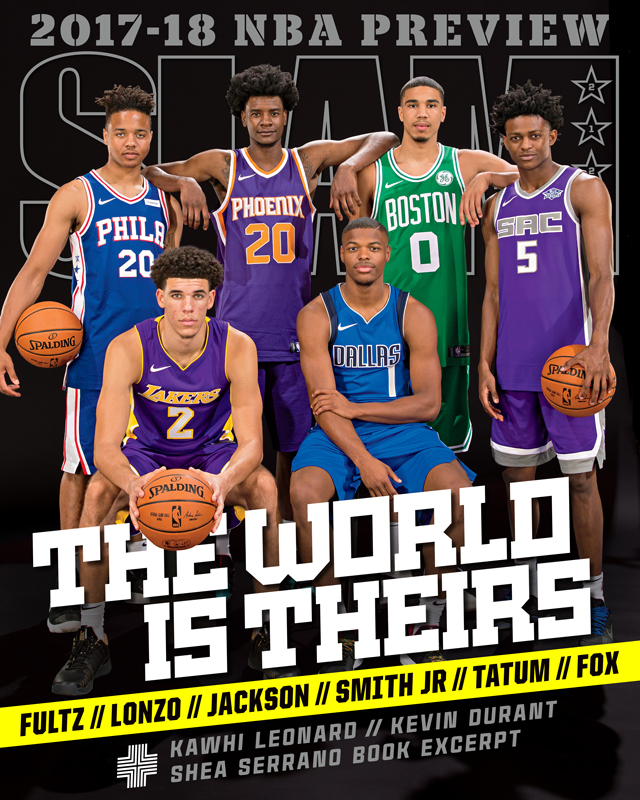 Members of the '96 and '14 classes were also featured as a crew on our cover. We don't know how Andrew Wiggins, Jabari Parker, Joel Embiid and the rest of the '14 rooks will fare in their careers, but early returns are promising. The guys from '96? Well, a few of them are Hall of Fame-bound.
So there's pressure on this year's crop. We have high hopes.
The Sixers traded up to take Fultz, the supremely confident 19-year-old from the University of Washington, with the No. 1 pick. The 6-4 guard is a threat from pretty much everywhere on the floor. His jumper is pure and he's big enough to brush off smaller opponents on his way to the rack, where he can finish over the top. He's a scary pick-and-roll ballhandler, capable of dissecting the defense as he drives to the rack and kicks to open shooters. And his spin move is deadly.
The second pick in the draft was Lonzo Ball. His story's been well-documented by SLAM and he showed flashes of his brilliant passing skills and ability to lead a team on his way to winning Summer League MVP. The ever-coy Zo is fearless, just as self-assured as his famous father. Ball's been under a microscope for about a year now and he's using all the hate to fuel what's shaping up to be a Rookie of the Year-qualifying campaign.
Standing in his way for the ROY could be Dennis Smith Jr, the absurdly athletic ninth overall pick. He bounces off the floor so quickly that he's drawing comparisons to Russell Westbrook, Dwyane Wade and Derrick Rose.
Quickness and hops aside, Smith Jr's early ROY candidacy can be traced back to his playmaking, defense and elite competitiveness. He's a killer on-court, jetting around the floor, looking for any advantage. Whether on offense or defense, he's running all 94 feet, doing everything possible to win.
The 19-year-old from Fayetteville, NC, has already linked up with J. Cole, another 'Ville product, getting the seal of approval from one of music's biggest names. That right there would be enough for a cover spot, as far as we're concerned.
Former Kansas Jayhawk Josh Jackson's potential rests in his versatility. At 6-8 with long arms and a mix of agility and power, Jackson has the potential to be one of the best two-way players in the NBA. He's a locomotive when he's going to the rim and he's already a dangerous shot-blocker. He can reject shots from anywhere, trailing in transition or coming from the weak side.
De'Aaron Fox is another rook who's out there to cause havoc on D. His social media handle is "swipathefox," a nod to his love for stealing the ball from unassuming dribblers. Fox is fast, and as simple as that might sound, he can go into hyperspeed when he gets his paws on the ball.
Off court, he's smart and articulate, unselfish and polite. On it, he's a true floor general, setting up his teammates at every turn. Coming off one year at the University of Kentucky, Fox can control the show whether he's in the middle of a fastbreak or calling out plays in the halfcourt. He's not afraid to step up in the clutch, either.
The smoothest scorer in the Class of '17 promises to be Jayson Tatum, out of Duke. His midrange game is devastating, his catch-and-shoot three-pointer is good money and he can catch bodies at the rim. He's not a brash talker and he's not out there chirping recklessly to the media. He lets his game do the talking.
He'll have help from a reloaded Celtics roster that will make his shooting numbers extra cushy and allow him room to continue to grow his impressive offensive arsenal.
After years of playing with and against each other at countless AAU and high school showcases, and after spending months together at pre-draft events, the members of the Class of '17 are friends after all. They dap each other up, they make fun of each other, they have inside jokes. They laugh throughout most of our cover shoot, light and carefree. Almost like they aren't aware of the expectations that await them. Or maybe they're just that confident, that ready, that the weight of the future doesn't bother.
–
Max Resetar is an Associate Editor at SLAM. Follow him on Twitter @maxresetar.
Portrait by Nathaniel S. Butler
Videos by @VASHR