Freshly established Hall of Famer Allen Iverson polarized the world with his unique personality and incredible basketball talent.
He was a No. 1 overall pick, Rookie of the Year, 11-time All-Star, four-time scoring champ, 2001 League MVP and a bonafide superstar respected by every single player that he ever crossed paths with. He's been misunderstood, mischaracterized and mistreated over the years and therefore hasn't always let too many people get too close.
But someone who has gotten close to The Answer over the years is photographer Gary Land, who met Iverson at a Reebok shoot back in the 1990s. By building trust and a strong rapport with Allen, Land captured some of the sickest photos of Iverson anyone has ever seen.
SLAM sat down with Gary to talk about his experiences with one of the most famous and popular basketball players ever and his new Iverson book, which is limited to 1,996 copies at IversonBook.com.
SLAM: Can you tell us a little bit about yourself?
Gary Land: I grew up in Virginia Beach. I was really into skateboarding and surfing and that's how I got into photography. I was just shooting my friends doing that stuff. I loved basketball and played a lot of it. I never really shot it growing up, but I stayed in the loop as far as who was doing what in the game. Extreme sports was really the launching platform of my career. I ended up moving to the mountains in Vermont where I became the first snowboard photographer to really capture snowboarding on the east coast. I worked for all of the mags, traveling around, shooting everything. That was how I got into photography.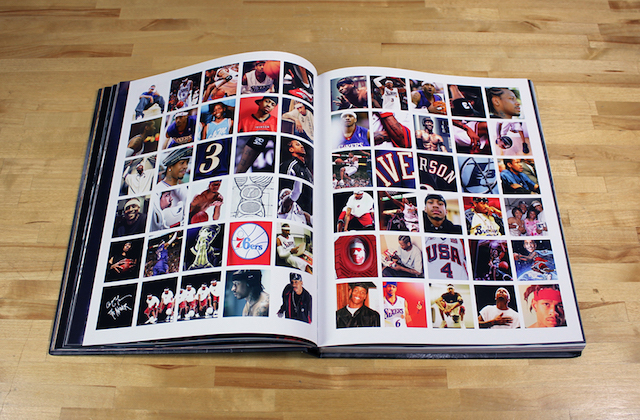 SLAM: How did you come to start shooting Allen Iverson?
GL: I got lucky and landed a job at Reebok, managing their image library. At the time, there was no digital. It was prints, negatives and slides. I would provide duplicate and and prints for people to use our assets. I was pretty new at Reebok and someone wanted me to go to a photoshoot to check out the process. It was a big shoot with big lights. It was a big deal. Then I heard it was going to be Allen Iverson. He was our biggest athlete. He was a super relevant, young dude killin' it. I was real excited about it and I remember sneaking my Pentax K1000 camera and a roll of film into my backpack and I was like, I hope I get to see him to take a couple shots! Luckily for me that's when it all went down. That was literally the first time I ever worked with him. It was at the Reebok New York City gym. A big photographer was shooting him in the gym and I was basically going there to watch.
I heard his car was pulling up outside so I got to the elevator and ran down there and sure enough I got to the street and his limo pulled up. I just walked right up to him, put my camera out and put it in his face. He put up two fists like a boxing pose and I shot my first photo of Allen. I said, What up man? My name is Gary, I'm with Reebok. He was like, "Cool" and just walked in. That day was pretty crazy, but he went in, did the shoot and the shots were cool.
The crazy thing was that right next door Esquire Magazine had a photographer there and they were trying to get time with Allen and the only time they could get was right after the Reebok shoot. I went back into the shoot and the photographer wasn't letting me get any behind-the-scenes shots.
I overheard Allen's manager say they were going to the Esquire shoot after so I used that and said, "I'll make sure Allen comes here if I can get some behind-the-scenes shots behind your back." Allen came over to the Esquire shoot about an hour later and I ended up getting some behind-the-scenes shots there.
Over the weekend I processed the film and created some 11 x 14 prints for my office. A week later the president of Reebok walked by and she said, "Hey, what's that?" I said, I took those photos on the set the other day, and didn't really go into detail. So she called me to her office and she said, "These are amazing. Can we use these?" and next thing you know it was an ad in Rolling Stone. Then they wanted me to shoot everything. My check didn't change, my title didn't change, but I just became the in-house photographer. So then every time there was a shoot with AI, I would be the one to go. And that's how we started building a relationship. I'm humbled. I'm very fortunate that I was in the right place at the right time.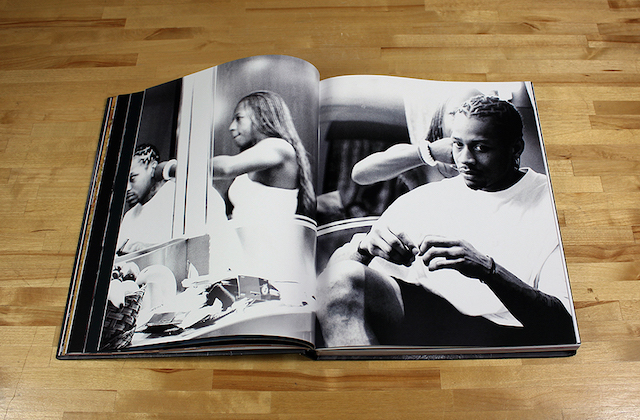 SLAM: Why do you think Allen trusted you on shoots so much?
GL: I think we had a lot in common, honestly. We're both from Virginia. We didn't have much growing up and had to overcome a lot of obstacles. We both didn't listen to our critics. Growing up, my family would say, "Photography is stupid. How are you gonna make a living?" and I just never listened, just like AI, who always had haters and critics.
SLAM: You spend time with AI during his prime. How would you describe him?
GL: He's Hilarious. He's die-hard. Just a fierce competitor. When it comes to competition he has to win at all costs. And giving. He's just real giving.
SLAM: What was your favorite part of shooting Iverson?
GL: I think just the relationship and getting to see sides of him that no one else saw. Everyone knows Allen Iverson the basketball player, but not many people know Allen Iverson the practical joker, the father, or the friend. So that was the fun part. Over time I was going to shoot him it was like, "What the hell am I going to see now?" I felt like it was the unknown. One, is he going to show up? Two, what am I going to see? It was always something crazy. But the idea of shooting Allen was the ultimate pinnacle for me. Allen was the dude. I miss the nerves. I can shoot anybody and not get nervous but with him, I always got nervous. I acted as the stylist, photographer, the lighting guy. I was just one dude going in there. He didn't want anybody else, so it was just me. We had a great relationship.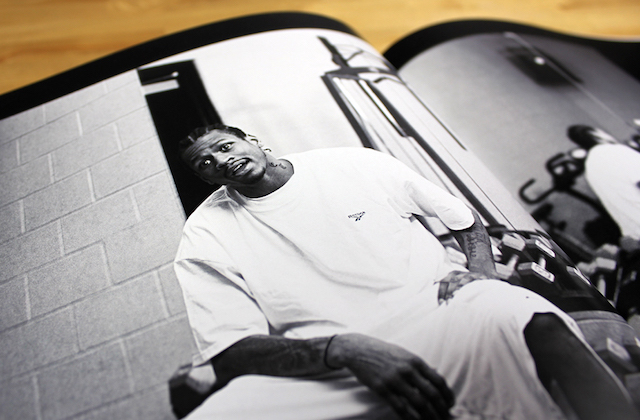 SLAM: What is your favorite photo you took of Iverson?
GL: My favorite photo of AI is the shot where he is dribbling up the stairs switching hands behind his back at the Philly Museum of Art. It was shot with film and was supposed to be in the portrayal of Rocky with Allen dribbling through the streets of Philly, then he finishes at the staircase where Rocky did. He was practicing it while the guys were loading the camera with film and he just one time caught the ball behind his back and kept going. I was shooting and he looked at me and said, "Did you get that?" and I said, I got it.
The director asked him to do it again and he said, "Nah man." He said he wouldn't be able to do it again, but he got it one time and it's one of my favorite shots. It's super iconic. I have a lot of shots, but there's something about that one. Such a little dude in a big space. It's metaphorical with him climbing those stairs, like going over the obstacles to get to where he got to. It's a very meaningful photo to me. It's very Philly.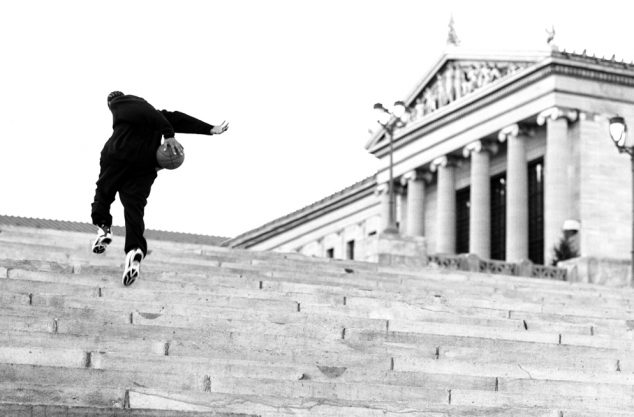 SLAM: What is your most memorable moment with Allen?
GL: I'd have to say it was the time we spent together during 9/11. I really got to see him striped of all his accolades and friends and jewelry. I was with him on 9/11 at Dave and Busters that night. We shot pool and had some beers and stuff. We were with a group, and it was just Allen in a t-shirt and sweats, ya know. He was just hurt. It looked he had just lost the biggest game of his life. He as very emotional talking about how he wanted to be there. He wished he could have been there to help, to stop the terrorists from doing what they did and he was dead serious. That was the first time I'd ever seen him like that. He's flashy, but that moment was like he was one of your boys that just lost somebody to an event like that. He was just crushed by it. That was real. That was one of the most real moments that I had with AI. I was actually in Philly to shoot Allen that day, but we ended up shooting the next day on the rooftop of the practice facility. Then, my son was born one year later on 9/11. Pretty crazy.
SLAM: You had a front row seat during Allen's time in Philly. What was it like to see him get inducted into the Hall of Fame?
GL: It was emotional. I actually cried a couple times. My son was like, "Dad, what's wrong with you?" Allen was very emotional up there too. He was super choked up. It was probably hard to for him to grasp that it's over. But when he went into the Hall of Fame, I kinda felt vindicated too. I think he feels at peace now being a Hall of Famer. He signs his name with HOF now. I always tell him to think of the people he has touched through basketball. He can set a good example for people who follow him.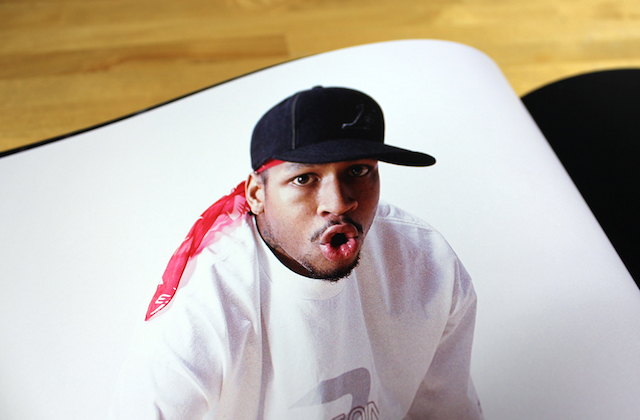 SLAM: How long have you been working on this book?

GL: I actually wanted to do a book back in 2003. I wanted to highlight what he had done for basketball and the culture. Then too many people to got involved. It felt like there was so much resistance and could just never get it off the ground. But I'm glad it took this long. It's more relevant now, more nostalgic and it's the year he was inducted into the Hall of Fame so it's perfect timing.

SLAM: How proud of the book are you?

GL: I'm super proud of the book because I wanted it to be detailed and ornate and complicated like Allen. I wanted it to feel like him. That's why I decided to publish it myself, because I wanted no rules with it. That's why I paid the money, because I wanted it done right. It made sense with this book to break the rules, to make it as cool as it can be because to me that's what Allen was and is, so I wanted the book to be a reflection of that. I wanted it to be like a scrapbook to show different sides of Allen. When I first got the book, I thought, "Oh my God. It's not just good, it's great." I'm very happy with it and Allen loves it. That was the biggest thing. If Allen liked it then I knew everyone else would too.

Photos courtesy of Jordan Hagedorn & Gary Land

630

[ngg_images gallery_ids='1914' display_type='photocrati-nextgen_basic_imagebrowser']